Menopause? Time to Hit Refresh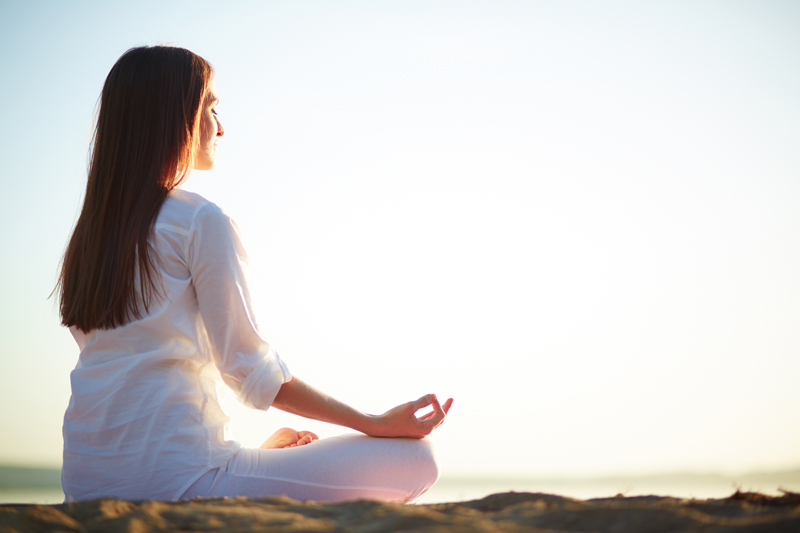 The word itself connotes negativity - men o pause ¡V the end of male interest; an unwelcome byproduct of this perception would be turning into an invisible woman, or worse, an old woman. No wonder as women approach this biological stage, they are overwhelmed with fears of mythic proportions, which fuel stress, depression, and shame. It is so ironic that strong women who have refused to be objectified and compartmentalized, and fought for this in the #MeToo movement, when they reach menopause suddenly mourn their loss of objectification.
Menopause needs better PR and to be reframed into a truer feminine reality: An end to pregnancy, monthly period discomfort and hormonal swings. Menopause presents a time to pause and reflect on what makes a woman happy and what she is free to accomplish, the emphasis is on liberation. A woman at this stage sees the panorama from a higher vantage point. Essentially, menopause is the age of wisdom, balance and creativity, transforming into a goddess version of the self.
Metaphorically, women realize that they don¡¦t have to bleed anymore; in other words, they are not responsible for everyone¡¦s happiness. They can unplug, cultivate the authentic self and most importantly, not feel guilty. Actually, sex is freer, more passionate and daring as there are no consequences of baby making which piles on responsibilities. Women realize they can ask and they shall receive what they want in the sexual experience. Every woman should know that there is biological age and chronological age. The youthful clock can be reset with a healthy, active lifestyle and flexible, curious thinking. One can ¡§age backwards.¡¨
Reframe it!
Menopause provides freedom of self-expression as there is a pause in self-suppression. At this point in life a can woman embrace the fact that she is no longer a naïve school girl, for she has amassed more life experience, instilling her with confidence. A woman¡¦s new purpose shifts to mentor. This is a stage for new beginnings to take inventory of one¡¦s life and lose what is no longer working.
So, don¡¦t regress and worry about appearance like a thickening waistline, or losing your biological purpose of procreating. Becoming a beloved aunt or grandmother means others are raising the children for you! If you are gaining weight or dissatisfied with your muscle tone, do something about it. Be consistent about exercising. Strengthen your body to house your powerful mind. If you are a little rounder, you have become a woman of substance. Soften the harsh lines of your face with moisturizer and joy.
Nothing ages you more than stress, wreaking havoc on your outward and inward appearance. On the contrary a smile, sparkling eyes and positive words make you more beautiful. Your motto is to let it go. How do you do that? With kinder, gentler interpretations of your conflicts, sadness or shortcomings. Keep practicing reframing and it will become a reflex action. You will see negativities with a more resilient lens.
Here are some physical and mental tools to create a positive transition to an empowering, new stage of life:


Adhere to a sunny Mediterranean diet for physical health and good mood ¡V you really are what you eat! You will reduce inflammation to ease on down the road.

Exercise to make yourself more powerful and clear your head. Strengthen your body to spur you toward your next happiness. Cardio, strength training and stretching are three vital components necessary to help you to turn stress into strength.

Leave your narrow context and take younger women by the hand to inspire and guide them. See yourself benevolently reflected in their admiring eyes which will give you a better sense of who you are.

Engage in creative compensation ¡§procreate yourself.¡¨ Creativity combats any feelings of loss and grief.

Rediscover the hidden girl within. Who were you before you became a wife, mother, worker bee? Recall this uninhibited playful creature to life. Remember your dreams ¡V there is still time.

Dare to be outrageous. When people say, ¡§What¡¦s gotten into you?¡¨ you are on the right track!

Manage your stressors as soon as they arise. Know that little stressors accumulate and inundate.

Hot flashes? You can put out the fire! Identify your triggers like angry thoughts, spicy foods, caffeine and alcohol. Dress in layers to cool off your body ¡V each layer reveals a new you. Breathe deeply and visualize cool waterfall scenes to cool down your mind and refresh your thoughts.
---
For more information on managing your stress and reclaiming your life read my book,
Addicted to Stress: A Woman's 7 Step Program to Reclaim Joy and Spontaneity in Life
. To listen to archived radio shows with guest experts visit
Turn On Your Inner Light Radio Show