Beer Tasting Tips - Evaluating Aroma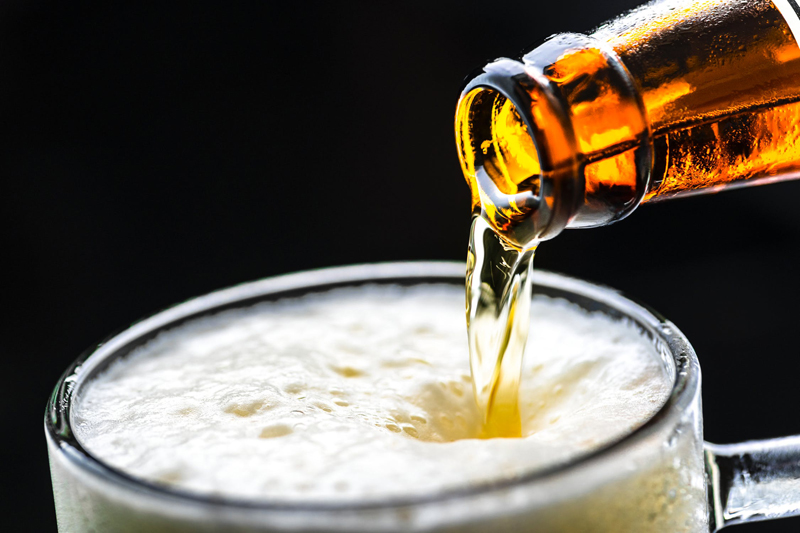 Your head turns with anticipation at the hissing sound of an opening bottle. As you hold your Chimay goblet at a 45 degree angle, your eyes are riveted by the sublime elegance of amber lights as you pour this brew from its protective bottle. As your beer climbs higher within its crystal surroundings, you bring the glass upright, where a trickling liquid forms generous clouds of creamy foam, sealing the golden liquid beneath it.

Aromas radiate like a den of pleasure, where they kiss your olfactory senses and release exotic memories of karmic moods. This is where the actual "tasting" begins.

"Taste" is actually loosely-threaded terminology for what we call "flavor." When the sensory indicators for taste and smell are activated, they combine with kinesthetic sensations (touch, texture and temperature) to form an overall impression known as flavor. In 1990, Dr. Susan Schiffman was quoted in the Chicago Tribune with her groundbreaking statement, "As much as 80% of what we call 'taste' is aroma." Interpreting studies on sensory research throughout the next decade, Dr. Alan Hirsch of the Taste Treatment & Research Foundation in Chicago concluded, "Ninety percent of what is perceived as taste is actually smell."

If you read beer reviews, you will notice that the descriptives used for aroma and taste are closely linked – when an aroma is detected, the "taste" follows in a parallel line. Smell is 10,000 times more sensitive than taste. You sniff and assess a greater volume of air in comparison to the amount of liquid that contacts the tongue. This is because aromas are chemicals that vaporize, permeate the nose, and dissolve in the mucus, leaving you with sensations that mix with your memory and emotions – a "full-bodied experience!"

It is beneficial to capture beer aroma in a glass that can deliver the enchantment of smell in a concentrated form to your olfactory sense. You obviously will not enjoy the nuances of a delectable brew if you drink directly from a bottle or can – this would impair your sense of smell and the ability to clearly define tastes within the beer.

The initial aroma that is released during the pour is the "dominating scent." This is often the sweet smell of malt or butterscotch, the warm scent of baked bread, or an intense, citric hop character. This is also the point of contact in which you can detect off-aromatics – the skunkiness of light-struck beer, the green apple or stale cidery smell of beer that has not had ample time to age, or the rancid, cooked-vegetable smell of a bacterial infection due to improper sanitization.

The "secondary scent" emerges after the beer settles in the glass. A moderate swirl will release aromatic compounds, and you will want to sniff these compounds gently, allowing them to permeate the interior surfaces of your nose. You will begin to detect floral and spicy scents, such as chamomile, pine, coriander, pepper, juniper or wildflower. You may also become aware of fruit tones like sweet apricots, sour raspberries, dried fruit, or citric lemon and orange. Fruity profiles, when present, are among the most familiar scents to the novice taster, creating involvement on a higher plane of consciousness.

As your sense of smell becomes dazzled with the delightful emergence of these bouquets, a relaxed ambience clears your head, and you begin to detect "residual scent." This is the point at which your mind becomes open to the experience of beer tasting. Unusual aromas meld with your heightened awareness, and you become aware of the subtleties associated with classic signature brews - horse blanket, candy apple, wet grass, earthiness, licorice or nuttiness.

Keeping a scoresheet is critical in your assessment of each beer. You may wish to keep a leather bound "tasting book" as a record of each beer you experience. Keep details of your discoveries within each category, and score each section to get an overall impression of the beer you are evaluating.

You have, thus far, assessed your beer for Appearance and Aroma. Next: Taste

Reference:
Beer Tasting Tips: Training Your Taste Buds
Beer Tasting Tips: Assessing Appearance
Beer Tasting Tips: Appraising Taste Profiles
Beer Tasting Tips - Judging Mouthfeel
Beer Tasting Tips - Impression & Drinkability
Flat Beer – Off Flavors & Stale Ale

For Leather Journals:

Smythe Sewn Faux Old Leather Wraps, Foiled, Lined
You Should Also Read:
Beer Tasting Tips - Assessing Appearance
Beer Tasting Tips - Training your Taste Buds
Flat Beer & Stale Ale


Related Articles
Editor's Picks Articles
Top Ten Articles
Previous Features
Site Map





Content copyright © 2021 by Carolyn Smagalski. All rights reserved.
This content was written by Carolyn Smagalski. If you wish to use this content in any manner, you need written permission. Contact Carolyn Smagalski for details.