Leptotes bicolor, a member of the Cattleya Alliance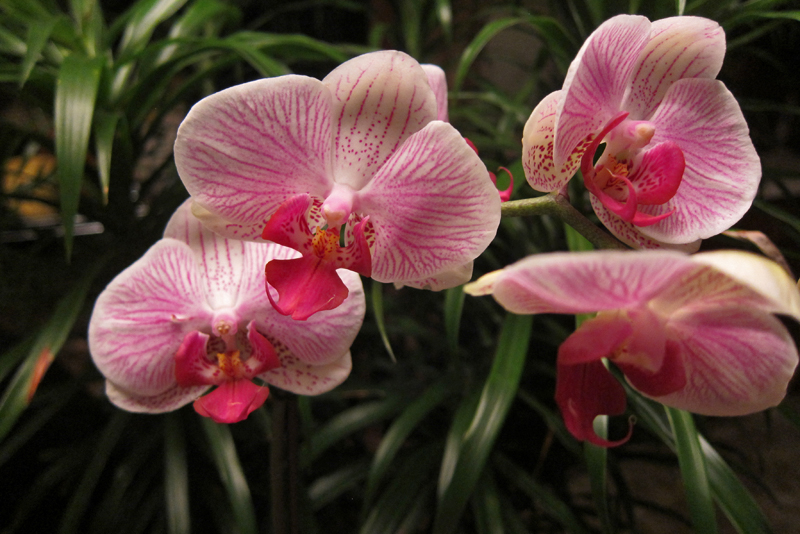 Leptotes bicolor
or the Bicolored Leptotes produces an inflorescence of white flowers with lovely magenta lips. When you click on the link above, be sure that you also look at the "inflorescence" photograph as it will give you a better idea of the beauty of the flowers and plant.
A member of the Cattleya Alliance and closely related to Sophronitis, Leptotes are found in Brazil and Paraguay as cool to warm growing epiphytes--although some sources list them as intermediate. They have terete or stick-like leaves with large flowers for the size of the plant and are commonly grown mounted. If you are familiar with Brassavola nodosa, the Leptotes resemble a miniature B. nodosa. The species comes from tropical areas, so are best grown in humid conditions with a brief rest period after flowering. Well grown specimens will bloom both in the spring and fall with numerous inflorescences. I saw one of these at a spring orchid show and fell in love with it.
The genus Leptotes has five or six species, depending upon the source you consult. They all display terete leaves and grow from cool to warm conditions. They are relatively easy to grow if the right conditions are present and will rapidly grow into clumps. They need bright light and will grow well with Cattleyas and Dendrobiums.
I found an interesting link to
Sharon's Orchid Page
which has a good series of pictures showing the pollination of a Leptotes bicolor. With her kind permission, I am sharing it with you. I believe you'll find it fascinating.
Here is a listing of some vendors who provide seed grown species. Of course, not all species are always available. If you're interested in something, talk to some of these vendors to see if there's another variety that is close. Often the only difference would be 8 inches tall versus 6 inches or a different colored flower. Also, please mention that you are calling as a result of seeing them recommended on BellaOnline Orchids.
Andy's Orchids
Bergstrom Orchids
Carter and Holmes
First Ray's Orchids
Miranda Orchids
Neptune Orchids
Norman's Orchids
Oak Hill Farm
Parkside Orchids Nursery
Tropical Orchid Farm
You Should Also Read:
Miniature Orchid Series
Dendrochilum filiforme
Equitant Oncidiums or Tolumnia


Editor's Picks Articles
Top Ten Articles
Previous Features
Site Map





Content copyright © 2021 by Susan Taylor. All rights reserved.
This content was written by Susan Taylor. If you wish to use this content in any manner, you need written permission. Contact Anu Dharmani for details.