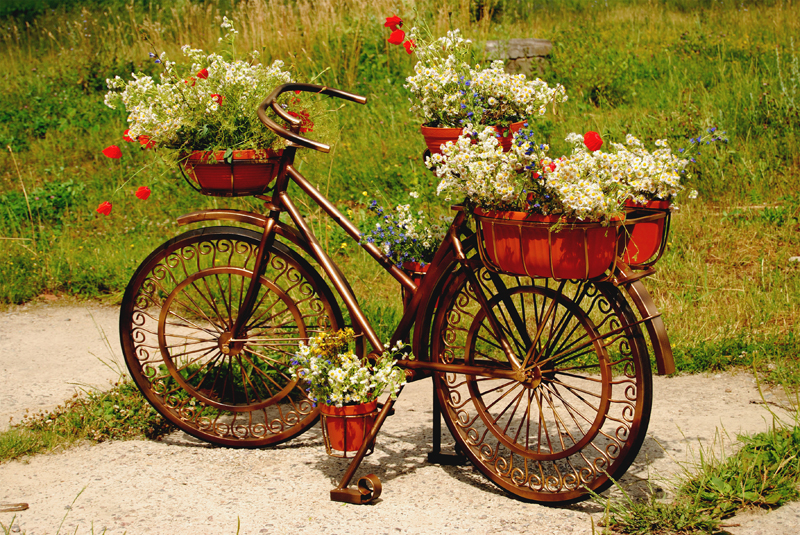 Container plants are naturally more exposed to the elements than in-ground plants because their roots have less protection. Cold temperatures can be especially hard on container plants and your garden will need a little extra care to ensure it survives for a rebirth in the spring. For especially cold climates, moving your plants to a warmed or protected area is ideal. If this is not practical, mulching and wrapping can help them survive the cold. And for warmer climes, watching the weather forecast and preparing for frost is a must for the successful survival of tender perennials.

MOVE YOUR PLANTS TO A PROTECTED LOCATION
If your container plants are rated hardy to zones one or two points less than your area, then they should survive being left outdoors with minimal protection for the winter. If, however, you plants are rated hardy to your zone or for warmer climates, it would be best to move and protect them.

Your first choice is to move them to a heated greenhouse. If you do not have one and do not have space to build a temporary one for the winter, then take advantage of the microclimates in your garden.

A raised area next to a wall in your garden which receives sun most of the day will be much warmer than a low area away from the sun where cold air sinks and collects. Adding a partial cover at night traps warm air and protects from freezing. If you can, move your cold-susceptible plants to the warmest, most protected area of your garden and cover them with plastic during the coldest periods.

Be careful that your plants will not freeze at night then thaw quickly in the morning when the sun hits them. This sequence of freezing and rapid thawing can burst the plant cells and damage or kill your plants.

NOTE ON FRUIT AND NUT TREES: Most fruit and nut bearing trees require a certain number of 'chill hours' during the winter for them to successfully flower and fruit the following year. Check the chill requirements for your trees and make sure they will get enough days of cold for them to go fully dormant. If you are concerned that the roots may freeze during this time, mulch and wrap as described below.

MULCH AND WRAP TO PROTECT ROOTS FROM FREEZING
Many plants will drop all their leaves or die back to the soil level at first frost. These will successfully survive the winter and return in the spring as long as their roots are not killed by prolonged cold or repeated freezing and thawing. Wrap the containers with straw or other insulating mulch and mound the mulch six inches high or more above the soil. Then wrap the whole container with plastic bags or large shrink wrap, such as the kind used by freight companies to wrap large shipments. This plastic wrap is available in rolls from most office supply stores. Other good insulators are old blankets, horticultural fleece, and bubble wrap taped around the pots or tied with twine.

Another option is to allow your containers to insulate each other by moving them all into one area as close together as possible. Then wrap and mulch the whole group for added protection.

If you live in an area with severe winters consider burying your dormant plants to prevent the roots from freezing. The "Minnesota Tip" method may sound severe, but it may be the only way to winter over your roses, maples, hydrangeas, and other hardy deciduous shrubs and trees. Dig a trench at least 15 inches deep (deeper, if needed, so that the entire pot will be buried when laying on its side) and as wide at the plant. Wrap or tie the branches of the tree together and tip the plant and container on its side into the trench. Cover with burlap, then cover completely with a 12-24 inch thick mulch of straw or leaves. Top this off with a plastic tarp and rocks to hold it all in place. In the spring when the soil starts to thaw, dig out the plant, set it in a protected area of your garden and start watering. If it is fairly hardy it may very well reward you with new growth.

PROTECT FROM WINDBURN AND SUNBURN
Broad-leafed evergreens can be damaged by wind and sun during the winter, especially if the ground is frozen and the plants cannot replenish water lost through their leaves. Shelter these plants with burlap, cardboard, plywood or lath secured on the windward side of the plant. Give filtered shade if very cold days are also bright and sunny.

PROTECT FROM FROST
Even in fairly warm climates frost is a possibility, especially when the air is still, there is no cloud cover, humidity is low, and the temperature is 45 degrees F or lower by 10PM. New growth on your plants is the most susceptible to frost damage. As the growing season comes to a close, reduce watering and fertilizing your plants to encourage the growth the slow or stop.

If you expect a frost, be sure the soil in your containers is moist but not wet. Moist soil holds and releases more heat than dry soil, and your plants may need the extra moisture to replace water lost through the leaves. If possible, move your plants under cover of an overhang, porch or even a large evergreen shrub or tree. Cover plants with burlap, plastic, cardboard or a blanket, being careful the cover does not touch the plant by using stakes, a trellis, or a wooden frame. Remove the covers during the daytime.

If your plants do sustain frost damage do not prune them right away. Pruning can encourage new growth, and unless all danger of frost is past further frost damage could kill the plant. It's best to wait until new growth begins to appear in the spring, then prune away the branches that are clearly dead.

WINTER CARE FOR CONTAINERS
Your containers can be damaged by freezing, also, especially if they go through several cycles of freezing and thawing. Porous containers like terra cotta are the most susceptible to frost damage, though others can break or split if damp soil is left in them to expand as it freezes.

If possible, move your containers indoors (above freezing temperatures) for the winter. If this is not practical, remove all soil from the containers and allow them to dry. Cover them lightly with plastic to keep them dry throughout the winter. Do not tightly nest your containers when stacking them, as varying temperatures will cause them to expand and contract and cause breakage.
You Should Also Read:
Geraniums in Winter
Fuchsia Care in Winter
Juliana Grow Rack Mini-Greenhouses - Product Review


Related Articles
Editor's Picks Articles
Top Ten Articles
Previous Features
Site Map





Content copyright © 2022 by Jessica Carson. All rights reserved.
This content was written by Jessica Carson. If you wish to use this content in any manner, you need written permission. Contact Lestie Mulholland for details.