Colours – Red and Pink Annuals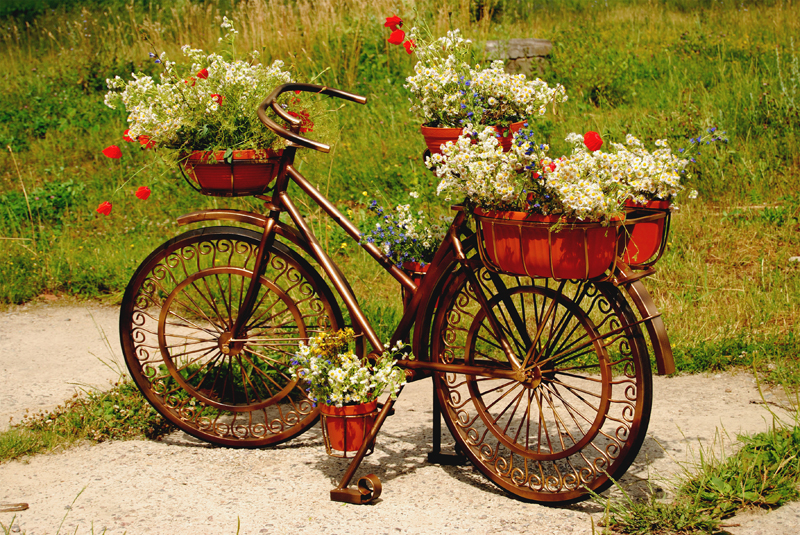 There are a wide variety of annuals available in colors of red and pink which do very well in containers. Here are ten of my favorites chosen because of their ease of growth, resistance to disease, and long bloom time.

Celosia (plumed) – Bright red paintbrush-like flower clusters rise on stems above light green to deep bronze foliage, depending upon cultivar. Blooms early summer through fall. Deadheading encourages re-blooming and branching. Full sun and moderate water. Grows 15" high x 8" wide, look best planted in groups of three or more plants. Upright. 'China Town' has nearly black foliage with red veins, very striking in containers with plants of bright green foliage.

Coleus – A huge variety of these colorful foliage plants are available, in many color combinations, shapes, and sizes. Most produce small blue flowers that are removed as the buds form to encourage branching and compact growth. Most prefer shade to part sun and regular water. Grows 10-24" high x 8-12" wide, depending on cultivar and how they are trained by pinching. Upright and bushy. Favorites: 'Giant Exhibition Tartan', 'Carefree'

Cosmos – Stay with the shorter varieties unless used as a center point of a very large container. Blooms summer through fall. Does not require deadheading. Full sun and moderate water. Shorter forms grow 12-20" high x 12" wide, upright. Tall varieties can grow as high as 6 to 8 feet. Favorites: 'Sonata', 'Cosmic'.

Impatiens – Impatiens walleriana are mounding plants covered with six-petaled two-inch flowers from early summer to fall. No deadheading needed. Prefers shade to part-shade, though some new varieties can tolerate sunny locations if not too hot. Regular water. Grows 12-15" high and wide. Bushy and mounding, great for hanging baskets, window boxes, and spilling over the edges of large containers. Favorites: 'Sunrise' – smaller blooms about 1 1/2" across that change color from deep salmon-red to lighter red with a purplish edge. 'Accent' hybrids – large flowers on strong plants.

Nasturtium - Available in climbing and bushy varieties. Climbers great for hanging baskets and tall window boxes, may need to be trimmed if branches trail too far. Full sun, moderate water. Dwarf mounding types grow 10-12" high and up to 24" wide. Climbers and trailers will grow up to 5 feet long. No deadheading needed. Favorite: Dwarf 'Princess of India' – deep reddish-orange with green leaves.

Pansy – Pansies are actually a perennial hard to zone 4, but with age they can get leggy and unattractive and are usually grown as an annual. Some varieties are compact and bushy while others are more trailing. Deadheading will keep plants more compact and blooming more profusely, though not required. Sun to part shade, regular water. Most 6-10" high and wide. Favorites: 'Chianti' - pink, red and white ruffled and striped with yellow center, 'Caramel Spice' in shade of red, brown, pink and yellow with black 'faces' and yellow/orange centers.

Petunia hybrida – Available in single and double flowers and Grandiflora (large flowers) or Multiflora (smaller flowers but more numerous). Can be grown bushy by pinching off branches half-way when plants are well established, or allowed to trail. Blooms summer through fall and into winter in especially mild climates. Occasional trimming of branches encourages re-bloom. Prefers full sun but most cultivars will tolerate part shade. Regular water. Grows 12-24" high and 2-3 feet across, depending on cultivar. Favorites: 'Red Wave' and 'Avalance Red' – great for hanging baskets or draping over the side of large/tall containers. 'Celebrity' Red, Pink or Raspberry Ice – compact and mounding plants. Absolute favorites: Dolcissima Flambe' (pink & yellow with white edges) and Fragolino (deep pink to red with understated yellow stripes.

Poppy – My favorite types of poppies for containers are California Poppies and Thai Silk. California Poppies come in many more colors and shapes than just the single orange state flower, and Thai Silk are delicate double flowers rising above compact mounds of foliage. Deadhead to prolong bloom, or allow seeds to form for re-seeding next-year's flowers. Full sun, moderate water. Grow 6-12" tall ad 6-15" wide. Favorites: California Poppy 'Wrinkled Rose' – ruffled double flowers in shades of pink, 'Mission Bells' single flowers in shades of pink, red, orange, yellow and white. I have only found Thai Silk poppies in seed mixtures, these range from yellow and orange striped to pink and white with red and some solid color blooms.

Salvia splendens - Brushy clusters of red flowers rise above bright green heart-shaped leaves. Most are heat and drought tolerant. Deadheading encourages branching and re-bloom. Blooms summer. Full sun and moderate water. Grows 10-18" high x 8" wide depending on cultivar. Upright. Favorites: 'Flare', 'Hotline'

Zinnia - Many are heat and drought tolerant and bloom from summer into early fall. Easy to keep looking fresh as new growth and flowers cover old and deadheading not necessary for continued bloom. Full sun and moderate water. Dwarf varieties grow 12-24" high and wide. Upright. Favorites: 'Red Spider' 24"x 12", 'Profusion' Cherry, Deep Apricot, and Coral Pink 12" x 8".


You Should Also Read:
Colours - Blue and Purple Annuals
Colours - Yellow and Orange Annuals
Cool Season Colour


Related Articles
Editor's Picks Articles
Top Ten Articles
Previous Features
Site Map





Content copyright © 2023 by Jessica Carson. All rights reserved.
This content was written by Jessica Carson. If you wish to use this content in any manner, you need written permission. Contact Lestie Mulholland for details.