Techniques - Bead Stringing & Beadwork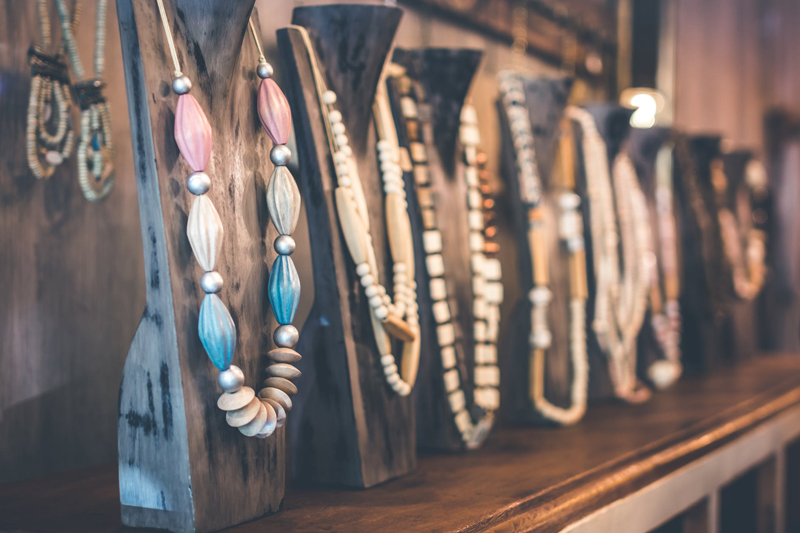 Click here to return to the Introduction to this article series.
Bead Stringing
Single and multiple strand necklaces, bracelets, and anklets can be made using simple bead stringing techniques. You'll need to have an eye for color and patterns, and a lot of patience. Beads and findings (premade components, like clasps) are easy to find and are available in a wide array of materials and designs.
The most popular bead "string" is actually nylon-coated steel cable, but you can also use nylon string, cotton cord, silk thread, stretch cord, and other materials for stringing. Beads can be strung with or without knots between them.
You can get started bead stringing on a relatively tight budget, as long as you resist buying more beads than you need on impulse (a challenge many of us struggle with!). Once you get the hang of it, bead stringing can actually save you money. You'll be able to mimic design themes you see in the stores for a fraction of the cost.
For me, the biggest downside of any strung bead jewelry is its tendency to break. In fact, all strung bead jewelry will need to be restrung from time to time if you'd like it to last for years to come. Of course, once you master the techniques of bead stringing, you'll be able to restring your own bead jewelry relatively easily.
Beadwork
Beadwork (or bead weaving) most commonly involves tiny glass "seed" beads, special stringing threads, and special beading needles. The beads are woven together using the thread, to create a kind of beaded fabric. Some weaves are performed using a small loom. The results are often complex designs that are nice to hold and play with as well as to wear as jewelry.
You'll need a sharp eye and relatively steady hand - and preferably a magnifier and good lighting - to be successful at bead weaving. Many very serious artists have chose bead weaving as their medium of choice, not only for jewelry making, but for sculpture as well.
Bead weaving is time consuming, but also very satisfying. There are lots of premade design patterns available in grid format on the Internet for you to experiment with, and when your skills increase you can design your own original patterns and designs.
Helpful Publications:
Other articles in the Choosing a Technique series:
You might also like:
Advanced Beadwork by Ruth F. Poris - Review
Links in this article point to websites not associated with BellaOnline.com. BellaOnline.com is not responsible for the material found there.
---
Chris Franchetti Michaels is a writer and jewelry artisan specializing in beaded designs, wire work, and metal fabrication. She is the author of the books Teach Yourself Visually: Jewelry Making and Beading, Beading Quick Tips, and Wire Jewelry Quick Tips. Visit her website BeadJewelry.net for more jewelry-making help and inspiration.


Related Articles
Editor's Picks Articles
Top Ten Articles
Previous Features
Site Map





Content copyright © 2021 by Chris Franchetti Michaels. All rights reserved.
This content was written by Chris Franchetti Michaels. If you wish to use this content in any manner, you need written permission. Contact Susan Mendenhall for details.