Fragrant Vines for Containers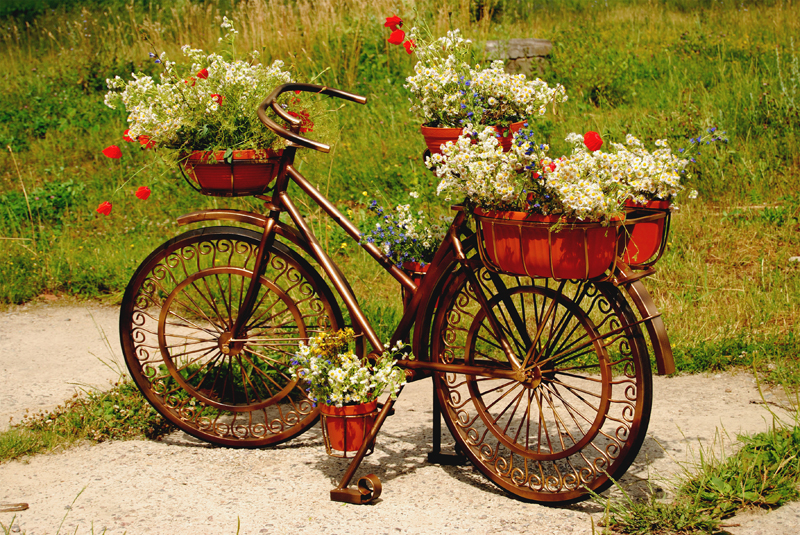 Of our five senses, the sense of smell is the one most fully developed when we are born. It also can trigger the strongest memories – just as the smell of baking bread can trigger fond childhood memories, a smell of Jasmine can instantly bring you back to some summer evening of years past. There are many beautiful, sweet-smelling flowers which grow very well in containers. Many fragrant flowering vines can be grown with great success in hanging baskets, window boxes, and on trellises. Here are eight of the favorites.

FRAGRANT VINES – ANNUALS
Corkscrew Vine – a perennial in warm climates. Curled 1 ½ to 2 inch blooms are lavender-pink and white, blooming from mid-summer to early fall. Grows up to 20 feet, so plant in a sufficiently large container. Leaves are three-fingered and up to 6 inches long. Part-shade to full sun.

Sweet Clock Vine – a perennial in zones 10-11, this vine has evergreen foliage and 2 inch white trumpet-shaped flowers from mid- to late-summer. Plant in well-drained soil in part- to full-sun. Fast growing, to 8 feet. Keep pruned if grown in baskets or window boxes.

Sweet Pea - some are perennials, though Lathyrus odoratus is an easily grown annual, blooming spring to summer in full sun. Plant from seed or buy six-packs from the nursery. Cut flowers daily to prolong bloom. Provide a trellis or string for vining, or plant in hanging basket or window box. Feed monthly for vines to remain vigorous. Keep away from wall or fence to provide air circulation. Can be susceptible to powdery mildew.

FRAGRANT VINES – PERENNIALS
Clematis – these can be deciduous or evergreen, not all are fragrant, so check before you buy. The roots prefer to be shaded, the tops in the sun, so plant accordingly. Clematis prefer rich, loose, well-drained potting soil. Carefully tie easily broken stems to supports. Spring-blooming clematis bloom on the previous-year's growth, so do not prune too harshly in the fall. Summer and fall-blooming clematis bloom on the current year's new growth.

Honeysuckle Vine – like clematis, honeysuckle can be deciduous or evergreen. Most prefer full sun, light shade in the afternoon in particularly hot areas. Can grow to 15 feet or more, so plant in a suitably large container and provide support. Prune lightly in the fall to maintain shape and remove dead branches.

Jasmine – also deciduous or evergreen, depending on cultivar. Not all are fragrant, so check before purchase. 'Star Jasmine' is not a true jasmine; it belongs to the genus Trachelospermum rathen than Jasminum. Jasmine will do well in full sun or part shade. Will grow from 10 to 20 feet, depending on cultivar, so choose you container and trellis accordingly. Prune in the fall or early sprig to shape, thin, and remove dead wood.

Passion Vine – most are vigorous growers and will need to be kept pruned. Passiflora 'Sherry' is a very nice compact cultivar with deep red blooms and grows well from shade to sun. Bring indoors before first hard frost, or keep protected from frost during winter. Prune larger varieties to prevent overgrowth and tangle, remove excess branches at base. Will grow in nearly any type of potting soil.

Wisteria – these are the most vigorous growing and long-lived of the fragrant vines. Choose a large container that can support the plant for many years. Choose cutting-grown, budded, or grafted plants for earliest bloom. When growing from seed the plants may not bloom for several years. Heavy feeders, be sure to give young plants plenty of fertilizer. Cut back fertilizer once established, as older plant will flower more profusely on less fertilizer and water. Prune back long young branches in summer before they entangle the main branch. Tie for support.

................................................................................

CASUAL VISITOR … and just browsing? Why not sign up to the Container Garden newsletter? It won't matter what space or how many pots you have or even how much time you have to spend in your container garden; what will matter is that you get our reminders and good advice and ideas all in one interesting article.

You Should Also Read:
Fragrant Bulbs for Containers
A Hummingbird Container Flower Garden


Related Articles
Editor's Picks Articles
Top Ten Articles
Previous Features
Site Map





Content copyright © 2022 by Jessica Carson. All rights reserved.
This content was written by Jessica Carson. If you wish to use this content in any manner, you need written permission. Contact Lestie Mulholland for details.