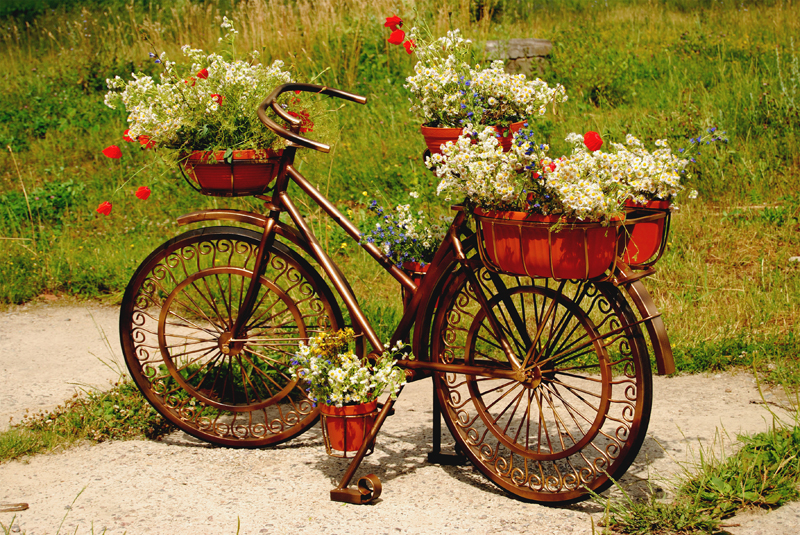 Of our five senses, the sense of smell is the one most fully developed when we are born. It also can trigger the strongest memories – just as the smell of baking bread can trigger fond childhood memories, a smell of freesia can instantly bring you back to some spring evening of years past. There are many beautiful, sweet-smelling flowers which grow very well in containers. Many spring and summer fragrant flowering bulbs can be grown with great success. Here are nine of the favorites.

SCENTED FLOWERING BULBS
SPRING
Tulips – some varieties are delightfully fragrant: 'Apricot Beauty', Princess Irene' and 'Electra' are only a few. Most gardeners treat tulips as annuals, as their flowering usually declines rapidly after the first year. Plant in full sun in the Fall (later for warm areas), 4-6 inches deep in rich, well-drained potting soil. If you live in a warm-winter climate (zone 9 and above) refrigerating the bulbs (away from fruit) for 4-6 weeks before planting will help ensure bloom.

Narcissus – N. Jonquilla and Jonquilla hybrids are the most fragrant. Most narcissus will naturalize well, blooming for several years if cared for well during the dormant seasons. Plant in full sun in the Fall, wait until late fall in warm areas. Water well. Control snails and slugs after leaves begin to emerge. After bloom, allow foliage to die back naturally. Every few years, when blooms become smaller and fewer in number, lift and divide bulbs during the dormant season.

Freesia - all are highly fragrant. Plant corms 2 inches deep, pointed end up in the fall – well drained soil in a sunny location. Can be grown from seed, plant in mid-to late-summer. Plants dry up after bloom.

Fragrant Gladiolus – G. tristis are smaller plants, with dainty 2 ½ inch flowers on 18 inch stems. They are most fragrant at night. Blooms March -April. Plant in mid-fall in well-drained potting soil. Hardy outdoors except in very severe winters.

Lily of the Valley – plant in the fall in rich, well-drained soil. Only grow to 8 inches high and will bloom in partial-sun or shade, year-after-year. Prefers an annual feeding of compost tea or well-composted manure in the winter. Since plants are small they are excellent as accent plants in larger containers, or plant in their own pot for ease of care during the dormant season.

Hyacinth – plant in groups in the fall, 6 inches deep (4 inches for smaller bulbs) in well-drained soil. Can be planted shallower, even just below the surface, if mulched well. Best adapted to cold-winter climates. Common Hyacinth grows to 12 inches tall with white, blue or deep blue flowers. Dutch hyacinth also yield flowers in shades of pink, cream and white. Flower size is directly related to the size of the bulb.

SUMMER
Tuberose – Native to Mexico, Polianthes tuberosa should be planted in pots indoors, moved outdoors after last frost. Plant 2 inches deep in slightly acidic, well-drained potting soil, or feed with acid-loving plant fertilizer. Tubers can be planted close together – up to 3 in a 6 inch pot. Bring pots indoors before first frost or dig tubers and store in a warm location over winter. Divide clumps of tubers every 3-5 years.

Oriental Lilies – Bloom Late Summer, with large (up to 9 inch) and heavily fragrant blooms. Most are tall (24 inches or more) but some dwarf varieties are available. Plant in the spring according to package directions, usually 6 inches deep or so. Most will overwinter well; move containers to a protected area or dig bulbs in areas of severe winter.

Lily species and variants – some of these can be quite tall, so plant in sufficiently large containers. Gold-Band Lily, Madonna Lily, Easter Lily, and Regal Lily are all good choices.

................................................................................

CASUAL VISITOR … and just browsing? Why not sign up to the Container Garden newsletter? It won't matter what space or how many pots you have or even how much time you have to spend in your container garden; what will matter is that you get our reminders and good advice and ideas all in one interesting article.


You Should Also Read:
Create a Butterfly Habitat Garden
Fragrant Vines for Containers


Related Articles
Editor's Picks Articles
Top Ten Articles
Previous Features
Site Map





Content copyright © 2023 by Jessica Carson. All rights reserved.
This content was written by Jessica Carson. If you wish to use this content in any manner, you need written permission. Contact Lestie Mulholland for details.