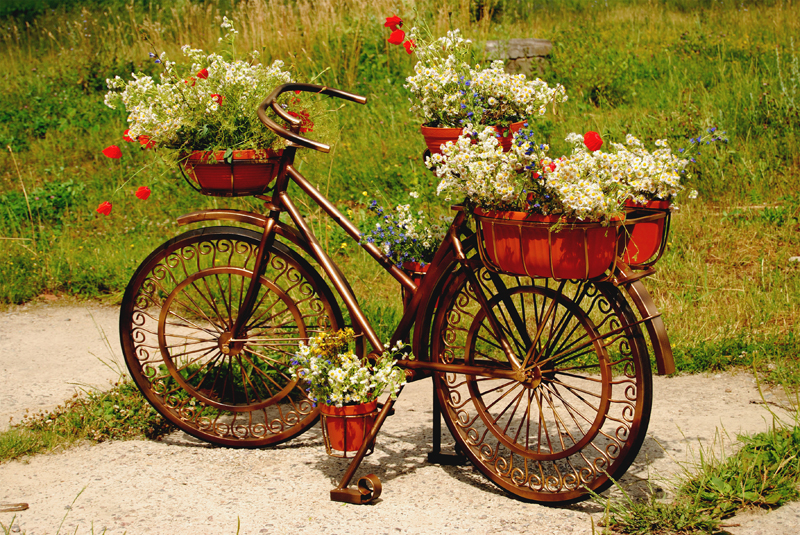 Hummingbirds are found in North, Central and South America, some migrating almost the entire distance throughout the year. They are heavy feeders, and are especially attracted to red and orange deep-throated flowers, though they are also fond of many flowers in the purples and blues. The primary requirement of hummingbirds is that the flowers be trumpet or tube-shaped, the blossoms stand away from the foliage so the tiny whirring wings are unimpeded, and the nectar contain at least 12% sugars (preferring about 25% sugars). Besides the flower nectars, hummingbirds also feed on insects and spiders, clearing your garden of pests as they feed and pollinate your flowers.

There are many easily-grown and attractive flowers which attract hummingbirds. Be sure to include several blooming in succession throughout the season, and several groupings, as well. Hummingbirds are quite territorial and you may have several stake out different areas of your garden as their own spaces in which to feed and, if you are lucky, to nest.

Columbine are a great hummingbird attractant, especially the red varieties. Plant one plant per 10 inch container, or several in larger containers. Keep well watered but not overly wet. They start bloom in the spring and will re-bloom throughout the summer if the spent bloom-stalks are pulled.

Fuchsia are much-loved by hummingbirds and will bloom from spring through frost. Hanging varieties are beautiful in hanging baskets and window boxes, and the uprights are beautiful in large containers on the ground. A particularly beautiful combination for a large container is one upright fuchsia with one or two trailing ones in complementary colors tumbling over the edge. Remove the blooms as they fade to prevent to formation of berry-shaped seed pods, and hence prolong the bloom.

The flame-red Cardinal Flower is a favorite of hummingbirds. This lobelia cultivar grows 2 to 4 feet tall with spikes of inch-ling flowers in summer. Cardinal flowers need a rich soil and constant moisture throughout the growing season.

Many of the sages are excellent hummingbird attractants and most bloom from early Summer through Fall. Mexican sage, with it's long flower spikes of purple deep-throated flowers, is a hummingbird favorite. Pineapple sage, giant blue sage, and scarlet sage are all excellent selections. Some plants are small and compact, others tall and bushy; some are perennials and others annuals. Check the growth habit of your selection and plant accordingly.

Monarda, also known as Bee Balm or Oswego tea, is a favorite of hummingbirds. It blooms primarily in the summer, preferring sun with light afternoon shade in hot areas. Monarda require ample water and can grow 2 to 4 feet tall, so they are best planted in large, non-porous containers. The leaves make a wonderful tea with a flavor between mint and basil; an added bonus from your hummingbird garden.

The Trumpet Creeper Vine is a deciduous vine which produces arching sprays of orange to scarlet flowers in August and September. This vine is a rapid grower and can extend to 30 feet or more, so keep it well trimmed and trained onto a trellis or other support. Can be trained into a beautiful espalier.

Other hummingbird favorites include many forms of Honeysuckle, Spotted Jewelweed (especially orange), India Pink, Shrimp Plant, Canna, Petunia, Daylilly, Gladiolus, Penstemon, and Coral Bells. Many beautiful container combinations can be made with these flowers for full sun through partial shade, and in the hot and dry through cool and moist climates.

Be sure to not use any harsh pesticides in your garden – instead allow the hummingbirds to keep the pests at bay. If needed, use a hose or sprayer to knock excess pests off of your garden flowers. It is also a good idea to provide additional food for the hummingbirds. Providing additional feeders well-stocked with a 25% sugar solution will make your garden even more attractive to these beautiful birds from Spring all the way through Fall.

................................................................................

CASUAL VISITOR … and just browsing? Why not sign up to the Container Garden newsletter? It won't matter what space or how many pots you have or even how much time you have to spend in your container garden; what will matter is that you get our reminders and good advice and ideas all in one interesting article.



You Should Also Read:
Colours - Yellow and Orange Annuals
Colours - Red and Pink Annuals
Colours - Blue and Purple Annuals


Related Articles
Editor's Picks Articles
Top Ten Articles
Previous Features
Site Map





Content copyright © 2022 by Jessica Carson. All rights reserved.
This content was written by Jessica Carson. If you wish to use this content in any manner, you need written permission. Contact Lestie Mulholland for details.