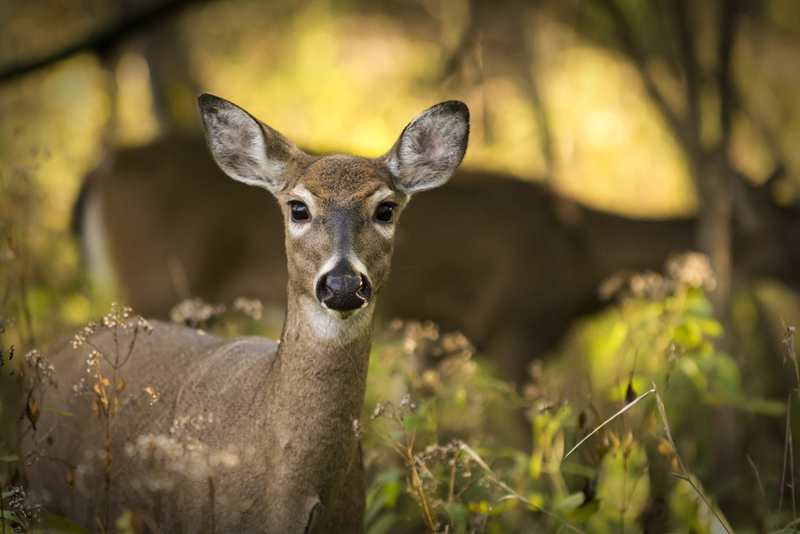 Whether on vacation, out for the day at the zoo, or looking out your kitchen window, taking photos of wild animals can be fun and rewarding. Animals are not the most cooperative when it comes to posing for photos though. Patience is always a good thing to take along when photographing wildlife. Having your camera handy when you want it is also nice. With today's small, compact digital cameras and cell phone cameras, it's easy to have a camera with you when you want to snap a picture.


Camera shake, or motion, is one of the main causes for pictures coming out blurry, or out of focus. While you may think you have a very steady hand, often times the slightest movement can blur a shot. When using small point-and-shoot cameras hold the camera with both hands. Avoid trying to shoot with only one hand. Try to hold your breath as you press the shutter button with gentle steady pressure. For heavier DSLR cameras, hold the camera with the right hand. Brace your left arm and elbow up against your chest with the left palm facing up and rest the camera on your palm. Using a tripod will significantly increase the chances of taking sharp photos.

Here are some other tips to help make your photos turn out better.

· Frame the animal so its natural environment surrounds it. Try to avoid shots that have fences, cages or unnatural elements in view.
· Avoid distracting elements in the background.
· An animals features and colors will show up better in sunlight.
· Focus on the animal's eye. If the eyes are not in focus than the entire animal will most likely be out of focus.
· Place the subject off-center in the photo.
· Consider using a monopod walking stick if you have the need for a tripod, but don't want to carry one. A small beanbag can also work in a pinch for a tripod to steady the camera on.
· Tuck your elbows into your sides to help steady the camera.
· For photo editing consider a program such as Photoshop Elements. It's a fairly inexpensive, useful program for working with digital photos.
· Carry a small umbrella in case you get caught in the rain and still want to take pictures. Carry a water repellent bag, or a shower cap to protect your camera.
· Take advantage of early morning and early evening light.
· Carry extra batteries especially if your taking pictures in the cold. If photographing in cold weather keep spare batteries in a pocket next to your body to keep them warm.

Practice using these tips next time your out with your camera and see if you don't come up with some great shots.






You Should Also Read:
U.S. Passport Card Use
Dare to go Digital with Travel Photos
Tips For Buying The Best Walking Shoes


Related Articles
Editor's Picks Articles
Top Ten Articles
Previous Features
Site Map





Content copyright © 2022 by Hazel M. Freeman. All rights reserved.
This content was written by Hazel M. Freeman. If you wish to use this content in any manner, you need written permission. Contact Hazel M. Freeman for details.