Beer Book Review - Ambitious Brew - The Story of American Beer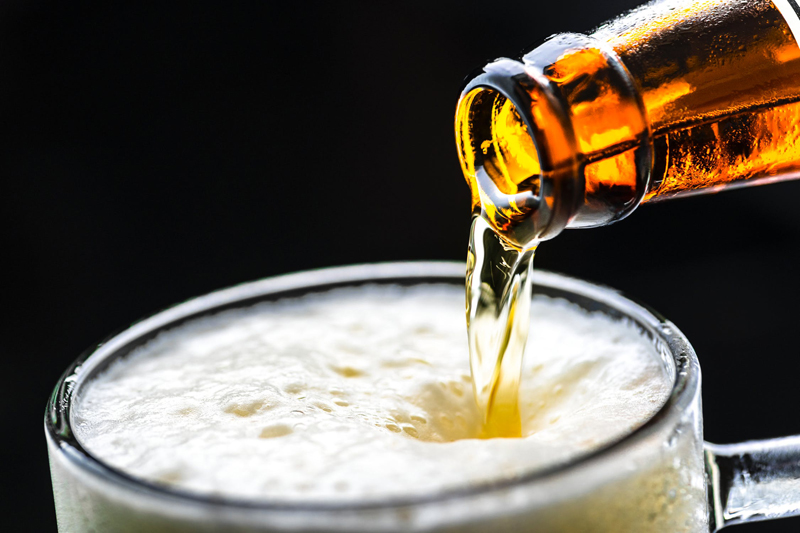 Maureen Ogle recounted her own life story – one that had teetered on the edge of failure before developing into a colorful palette beneath a historian's analytical pen, the fuel that gave power to her newest book, Ambitious Brew – The Story of American Beer, published by Harcourt, October, 2006.

Ogle might well be characterized as a "flower child of the early seventies," influenced by the drugs and booze of political turmoil in a national move toward societal freedoms - the civil rights movement, sexual liberation, women's empowerment, and opposition to the Establishment. Although it would eventually give richness to her historical analyses, such social reform set the stage for years of turmoil and tears in Ogle's life.

Under this influence, she flunked out of college. Low-paying, dead-end jobs wore her down. When she finally focused her skills as a carpenter's apprentice, the journeyman's view of construction opened her mind to the idea of re-building her life.

A few years later she headed for the University of Southern Alabama, PhD in hand. She had become an expert in the History of American Technology, opening the doors to academic Nirvana and what, she thought, would bring seeds of happiness. Commuting back-and-forth from Alabama to Iowa to sustain her marriage presented a new set of challenges. It was hard to admit that this life did not provide the rewards she expected. She turned to writing, where she engaged the general reader, (rather than the academia of college professors and PhD's), in tales of American innovation.

Ambitious Brew – A Review

Ambitious Brew takes you on a journey through America, often peering with a European's eye at the wealth of opportunity in an unfolding land. Her tale gives little attention to the colonists, but begins with German immigrant Phillip Best in the mid-1840's. Throughout this complex story, she is like Cezanne, creating the picture with pieces of paint until the canvas takes form and presents the picture as a whole.

Ogle not only tells of the development of beer, but also connects this development with key pivotal points in history – points that had served to initiate new patterns within American society. The story swings back to the seventeenth century, when rum from the West Indian and Caribbean plantations seized the market; then surges forward again, to the early nineteenth century, when "…fourteen thousand distillers were producing some twenty-five million gallons [of whiskey] each year..."

Her findings portray such giants as Adolphus Busch, August Uihlein, and Frederick Pabst as men who fell into brewing by accident, and not by design. They created their own empires during an age when business titans like J. P. Morgan, Charles Schwab and John D. Rockefeller used ingenuity and vision to shape new materials and technologies. This, in turn, opened the way for mass production of beer, aided by pasteurization and refrigeration.

Rivalries for market share between the largest brewers were a constant, dampened only by occasional waves of temperance talk, indirect prejudices aimed at specific groups – saloon owners, corporate magnates (seen as sleazy crooks by the general public), German immigrants (targeted as a result of anti-German sentiment following WWI), liberated, loose women, and those who professed atheistic beliefs.

Ogle closely analyzes the events that lead up to Prohibition, but passes quickly through the dark days like Alice through the looking glass. She compresses the years following WWII, portraying the post-war beer world as a conglomerate of marketers and accountants, vying for the bottom line.

The excitement picks up again at the launch of the microbrew movement, ignited with awareness for pure, locally-produced products, championed by people such as Mike Royko, Gordon Bowker, and E. F. Schumacher. Stories of guts and ambition abound – tales of Fritz Maytag - Anchor Brewing; Jack McAuliffe - New Albion; Ken Grossman - Sierra Nevada Brewing; the debut of light beer, based on the American preference for watery flavors; Charlie Papazian, the Great American Beer Festival, Zymurgy and the Homebrewers Association; Michael Jackson - The World Guide to Beer, a work that empowered a generation of brewers to see themselves as the large, complex community that they had become; John Siebel who developed brewing as a science; and Jim Koch - Boston Beer; expressing the exuberant brewers' climate that is still evolving throughout America.

The history is an exciting epic, filled with stories of fascination, competition for market share, and steady, unflinching focus by people who never saw themselves as particularly special.

An Epilogue

As is the case with so many others who become involved with the beer world, the end is only the beginning. Ogle admits that beer has changed her life. She summarizes, "I have enormous respect for these people… [They are] some of the most passionate and creative people I have ever met."

I asked Maureen Ogle for her list of the most influential people in the American brewing community. Her list:

The Anheuser-Busch Family – "for more than 150 years, the family has nurtured and built and fought, trusting almost no one but themselves to care as much about the company's name and its beer as they did."

John Siebel and Anton Schwarz – They introduced scientific methods to American brewers and taught in terms of science and chemistry.

Jack McAuliffe – New Albion only lasted five years, but it inspired West Coast brewers, demonstrating what can be done with scrap parts, guts, and determination. Ogle adds Ken Grossman and Sierra Nevada Brewing as another source of inspiration to West Coast brewers.

Fritz Maytag – He saw sooner than anyone that American gastronomy was changing into a core of Americans, thirsty for a new kind of beer – one made with high quality ingredients and a higher price tag that reflected such quality.

Charlie Papazian – "Microbrewing would have never coalesced into an industry as it did without him. He has an amazing breadth of vision." Papazian provided seminars where homebrewers could meet and exchange information, turning a scattered group of people into an energetic force.

Michael Jackson – He was one of the first Europeans to take American beer seriously. He promoted the idea of fine beer and helped to shape it in a different way, influencing such people as Charlie Papazian with his prolific writings on beer.

For more information, Click Below:
Ambitious Brew - The Story of American Beer

Cheers!
 
You Should Also Read:
Homebrewing - Books & Resources - Novice to Expert
Porter - History of Beer & Imagination
Beer & Molasses History - The Great Molasses Flood of 1919


Related Articles
Editor's Picks Articles
Top Ten Articles
Previous Features
Site Map





Content copyright © 2023 by Carolyn Smagalski. All rights reserved.
This content was written by Carolyn Smagalski. If you wish to use this content in any manner, you need written permission. Contact Carolyn Smagalski for details.