Beer & Molasses History - The Great Molasses Flood of 1919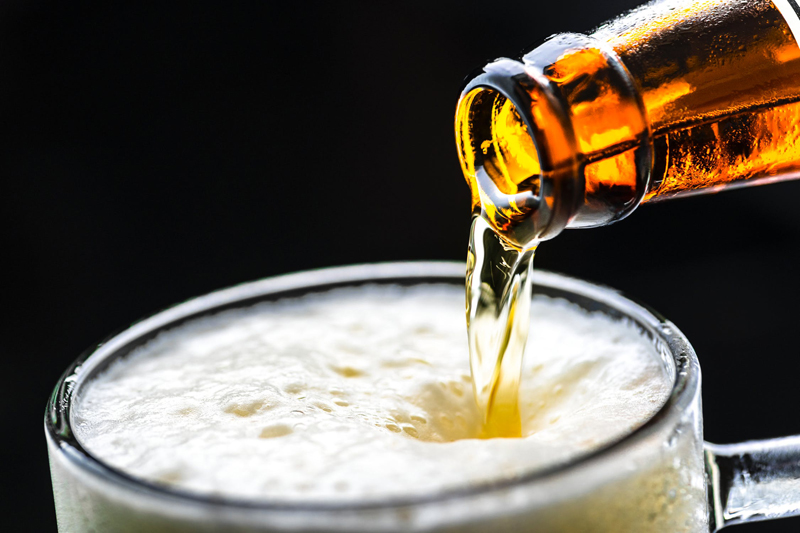 It is a lazy Sunday afternoon. The house is quiet as you sink into the doughy solace of your overstuffed lay-z-boy, its velvety fabric caressing your body like an old-fashioned featherbed. You raise a glass of Old Peculier Ale to your lips, and the kinesthetic tips of your olfactory senses awaken with malty caramel, nuts, dark fruit and...molasses. Molasses!

Your mind wanders back to childhood days when Huckleberry Finn wandered the riverbanks with a sweetened wad of molasses-taffy in his cheek. You recall odd stories of treacle mines – deep, ebony tunnels in which molasses oozed from the walls. Were they real? Did they exist? The imagination of a child would have tiny, soot-covered elves scooping up the sticky liquid with spatulas and slathering it into ceramic bowls – then magically transporting it to grandma's kitchen, where gingerbread cookie smells would embed themselves in your memory forever.

What of those treacle mines and wells? Through the looking glass, Lewis Carroll was sure his Alice would not be so gullible as to believe such absurd tales, woven with intense gravity by the half-dozing Dormouse. Throughout British literature, however, readers had been lured with preposterous stories about the raw form of the syrupy, brown salve.

Molasses, or treacle, is produced as a byproduct in the manufacture of sugar. By extracting, boiling, and re-boiling the juice of sugar cane, sugar beets, or various grasses of the sorghum family, several grades of molasses can be created. These may be used as a sweetener in gastronomy, as cattle-feed in farming, or as a carbon source for in situ remediation of chlorinated hydrocarbons. They may also be used in the fermentation of rum and beer.

Although sugar cane was brought to the West Indies at the end of the 15th Century, there is no clear evidence of its use as a fermentation agent in alcohol prior to 1640. Around this period, molasses-based alcohol began to appear throughout the islands of the Caribbean.

In the French West Indies, Father du Tertre wrote of his experimentation, in 1667, with distilling equipment that could process residue and molasses to make an alcoholic beverage. This beverage took on several names, from guildive and tafia to rhum (rum).

Twenty seven years later, a more refined apparatus, the still or alembic, was developed by Father Labat, and sugar refineries were often built to include a distillery for rum production.

During the 18th Century, colonists in the New World used molasses in the sweetening of foods and beverages, in the making of rum, and in the brewing of beer. It was difficult for the colonists to get hops, but the bitterness yielded by cooked molasses would serve to balance out the malt/corn sweetness in beer.

Many historical researchers believe that the Revolutionary War was not precipitated by the unreasonable tea tariff that launched the infamous Boston Tea Party. Rather, the Molasses Act of 1733 imposed a heavy tax on sugar and molasses coming from anywhere other than the British islands in the Caribbean. This duty was virtually impossible to enforce, and the crown eventually lowered it to more acceptable levels by 1764.

Popular use of molasses fluctuated with the price. By the mid 1800's, molasses was the most common sweetener in the USA. Due to its accessibility, it would have been a popular ingredient in the brewing of beer during that period. At the end of the 19th Century, sugar rates dropped, and molasses began to lose its popularity. It played a cat and mouse race with sugar and maple syrup into the early 1900's, but lost popularity after World War I (1918) when sugar prices again began to plummet.

The Great Molasses Flood of 1919

Boston, in the meantime, had become the distilling capital of the USA. In 1915, Purity Distilling Company had constructed a massive storage tank that was capable of holding two and a half million gallons of molasses. It loomed 58 feet into the sky with curved steel sides, measured 90 feet in diameter, and was held together with steel rivets. By 1919, there had been some reports of a brown liquid detected on the sides of the massive tank, but the company determined the cause to be light rust, and had given the tank a face-lift with brown paint.

On January 13, 1919, the temperature in Boston had been hovering at two degrees above zero Fahrenheit. A warm front brought in unseasonable, forty-degree weather the following day and along with it, the properties of physics (rapid expansion of a liquid when warmed) and the forces of nature.

Just after noon, those in the area felt a rumbling under their feet, akin to the vibrations of an earthquake, followed by the multiple-cracking sound of a machine gun. As the massive tank of syrupy liquid burst its seams, a tidal wave of amber-brown stickiness raged like hot magma from an angry volcano. Those in its path could not outrun the 35 foot wave of viscosity.

It flung trains through concrete walls, ripped the fire station from its foundation, and crushed the steel supports of the elevated train tracks. People in the area were suffocated by the glut in their throats, or cooked in the molasses juice. A dozen horses were hopelessly stuck in the mire, and they were shot in an act of mercy. Twenty-one people lost their lives, while 150 sustained injuries.

Ironically, those fighting for the cause of Prohibition had been furiously lobbying for the ratification of the 18th Amendment. On January 16, 1919, Nebraska added their vote in favor of the 18th Amendment, and prohibition was put into effect. This was one day after the Great Molasses Flood of 1919. During the tragic clean-up, church bells rang out across Boston, in jubilant celebration of Prohibition, The Great Experiment.

After the Molasses Disaster in Boston, its association with tragedy was so intense that the use of molasses experienced sudden death in the northeastern sector of the country.

Molasses in Beer

Although the American taste for molasses declined, it never fell completely out of the picture. The viscous liquid continues to be used as a unique adjunct in specialty styles of beer - most notably, in Theakston Old Peculier. T & R Theakston Ltd., North Yorkshire, U.K. It lends a butterscotch-caramel character to the Old Ale, along with nutty aromatics.


Many home brewers use molasses for brewing Old Ale, Chocolate Stout or Porter. In his book The Complete Joy of Homebrewing, 3rd Edition, Charlie Papazian presents a recipe for brewing Goat Scrotum Ale in a free-style porter beer of 18th Century sensibilities.

Molasses is also an ingredient in Poor Richard's Ale, the Commemorative Beer for the Ben Franklin Tercentenary, this year, 2006. For a loose guide to brewing your own Poor Richard's Ale, see Poor Richard's Ale 'Saluts' Ben Franklin's 300th Birthday at https://www.bellaonline.com/articles/art36104.asp.

When brewing with molasses, keep the following points in mind:

You may want to cut the quantity back a bit to keep flavors within the circle of modern taste preferences.

Molasses (treacle) is high in iron. Flavors imparted by iron can become objectionable in high amounts.

Bitterness yielded by cooked molasses balances out some of the sweetness of the malt.

Happy Brewing!

Cheers!
 
You Should Also Read:
Anheuser-Busch - Beer , Caffeine & Legendary Herbs
Porter - History of Beer and Imagination
Great Lakes Brewing Company Beer Legends


Related Articles
Editor's Picks Articles
Top Ten Articles
Previous Features
Site Map





Content copyright © 2023 by Carolyn Smagalski. All rights reserved.
This content was written by Carolyn Smagalski. If you wish to use this content in any manner, you need written permission. Contact Carolyn Smagalski for details.