Smoking with Beer in Alaska With Chef Mick Hug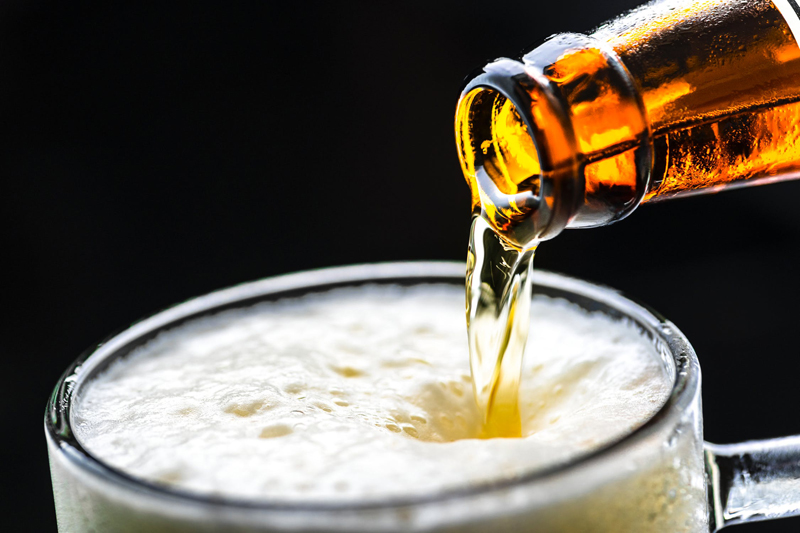 As the fog rolls in from the San Francisco Bay, aromas drift like feathers across your skin, titillating your nose. Street signs in the distance are cloaked by ethereal light, dulling your visual senses. This is the perfect setting – one that seems to magnify the sensations within your olfactory passages. You concentrate on the flavor in the air – Mediterranean, Asian, Moroccan, Indian and Spanish. It feels natural, organic, uninhibited. It is cutting-edge, yet traditional - European, Eastern, small-plate and supper club. Such creative stimulation produces the greatest chefs in the world, and San Francisco is known for this culinary abundance.

Mick Hug, Executive Chef at the Millennium Alaska Hotel in Anchorage, Alaska, is one of the most dynamic chefs you will ever meet. His culinary roots began in this taste-centric San Francisco Bay area. In his early stages as a chef, he recognized that exposure to cultural diversity, blended with the artful skills found in world-renowned kitchens, would make him the crème de la crème. Dedicated to enriching his range of experience, he reached for greater proficiency with his energized talent.

Hug worked as a Sous Chef at The General Store Restaurant in Carmel, California – you will recall that Carmel is home of world-class film star and former mayor Clint Eastwood. Chef Mick then moved into the position as Executive Sous Chef at the Strater Hotel in Durango, Colorado. As the most prominent landmark in Durango, The Strater Hotel has the distinction of being listed on the U.S. National Register of Historic Places. Victorian in style, the antique décor displays impeccable taste and opulence. This ultimate experience is highlighted by the gustatory richness discovered within its Famous Diamond Belle Saloon, Office Spiritorium and Mahogany Grille.

With this diversity added to his portfolio, Chef Mick moved to Anchorage, where he continued his career as Executive Sous Chef at Mama Nicco's, a restaurant with upscale dining traditions from Northern Italy; then onward to the elite Seven Glaciers, a four-star dining experience, located at the Alyeska Prince Hotel Resort.


When offered a position as Executive Chef at the Hilton Eugene in Eugene, Oregon, he seized the opportunity, followed by an even more prominent position at the Rocklin Park Hotel, a small, luxury resort and romantic rendezvous point in Rocklin, California. By 2003, his reputation was like a magnet to food aficionados, and he moved to Anchorage to open Mick's at the Inlet at the Inlet Tower. Currently, Chef Mick ignites the menu as Executive Chef at the Millennium Alaska Hotel, showing off his dynamic skills on occasional TV spots for the Millennium and as a guest chef at venues throughout the area.

His award-winning milestones include achieving the honor as Chef Rotisseur of the International 'Confrerie de la Chaine des Rotisseurs,' a global organization for culinary, hospitality and gastronomic appreciation.

With such a rich background, Chef Mick knows what sizzles in the food scene…where the center of focus is. That spotlight is on creating magic between the flavorful complexity of well-crafted beer and the complementary nuances of foods that have been well prepared by this excellent connoisseur.

As a guest chef of Aurora Productions, Chef Mick displayed his panache at the Alaska Women's Show on April 19-20, 2007 at the Sullivan Arena in Anchorage, Alaska. Paired up with side-kick and Beer Fox Carolyn Smagalski, he played to a packed gallery in two saavy displays of victual pleasure.


Chef Mick is such a class act, that he has provided his recipes so that you can enjoy the seductive pleasures of these tantalizing flavors. He has carefully selected beers that would marry up to match the sweetness and purpose of each recipe.

In the Smoked Porter Brine for Fish and Meat Smoking, Chef Mick has chosen Alaskan Smoked Porter, Alaskan Brewing Company, Juneau, Alaska. Traditionally, porter has been used as a choice ingredient in cooking due to its rich, tongue-teasing profile. Some of the olfactory and gustatory senses you will enjoy are caramel, graininess, nuttiness, toffee, and roastiness, with secondary layers of coffee, licorice, and biscuit or toast.

Geoff and Marcy Larsen, of Alaskan Brewing Company resurrected the porter and "rauchbier" (smoked beer) style of beer in 1988 after digging up historical data about the use of smoked malt during the gold rush era at the turn-of-the-century (1900's). This style had all but disappeared from the US beer scene during the German lager era.

The Larsens struck up a deal with Taku Smokeries to use their facility to "smoke" their porter with alderwood, a select wood indigenous to Southeastern Alaska. They chipped the wood themselves, and light-heartedly called their new process "chainsaw brewing." Five specially blended malts are cold smoked for 72 hours from smoke produced in a side-chamber, which controls the intensity of flavor. The smoke acts like a preservative in the beer, in the same way that it does in food.

Alaskan Brewing produces limited "vintages" of Smoked Porter each yer. They may be aged in the bottle and kept for several years, where the flavors will mature, blend, and soften. Ideally, store Alaskan Smoked Porter upright in your beer cellar for maximum success in the aging process.

For Chef Mick's Oatmeal Stout and Cheddar Soup, he selected Alaskan Oatmeal Stout, a beer with a brewing history that can be traced back to the Middle Ages in Europe. The practice of adding oats to beer nearly died out by the sixteenth century, but was again revived toward the end of the nineteenth century when "nutritious" beers became popular in Britain. Oatmeal stout has a smooth, sweetish, creamy and silky character to it that blends well with the creamy texture of this delectable soup.

Click on the link for Chef Mick's Recipes

Chef Mick Hug's Smoked Porter Brine for Fish and Meat Smoking
Executive Chef of the Millennium Alaska Hotel, Anchorage, Alaska

Chef Mick Hug's Oatmeal Stout and Cheddar Soup
Executive Chef of the Millennium Alaska Hotel, Anchorage, Alaska

Savor the joy in cooking with beer.
Cheers!
 
You Should Also Read:
Alaskan Amber Celebrates Iditarod
Great Alaska Beer & Barley Wine Festival - History Past & Present
Beer in Alaska - Humpy's - Sub Zero - Moose's Tooth


Related Articles
Editor's Picks Articles
Top Ten Articles
Previous Features
Site Map





Content copyright © 2022 by Carolyn Smagalski. All rights reserved.
This content was written by Carolyn Smagalski. If you wish to use this content in any manner, you need written permission. Contact Carolyn Smagalski for details.