Beer in Alaska - Humpy's - Sub Zero - Moose's Tooth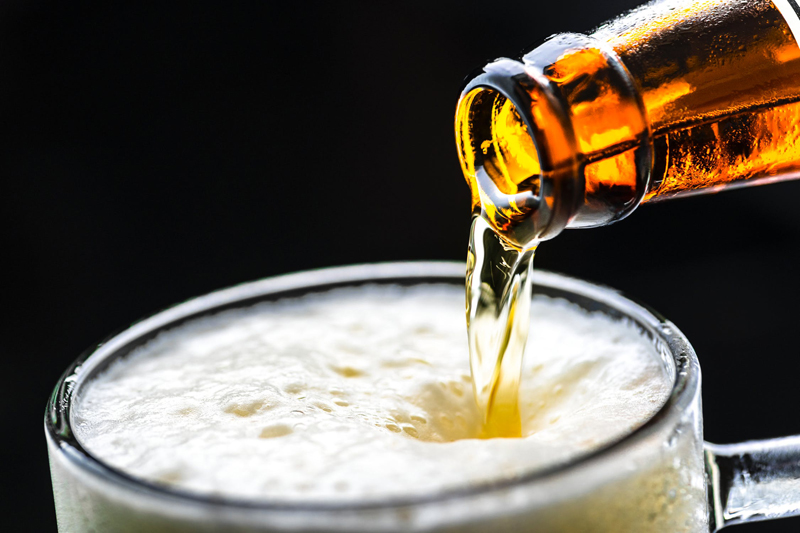 As residual strands of the Arctic jet stream nudge southward, my mind wanders back to my initial introduction to beer in Alaska, in January of 2007. Annie Chavez of Aurora Productions, with her engaging smile and warm, welcoming manner, was committed to exposing me to the wonders of Anchorage. As a first stop, Humpy's Great Alaskan Alehouse, named after the Humpback Salmon, was awaiting this weary traveler. The lime-jade walls and dark wood bar arrested me momentarily, reminiscent of the Ginger Man in New York City. Hundreds of decorative tap handles drew my eyes around the perimeter of the room at ceiling level.

It had to be a purposeful decision on the part of owners Billy Opinsky and James Mauer. The senses immediately crave liquid-bread, even before the mind is aware. With 40 beers on tap, and a superb bar menu, including a hefty selection of cuisine a la biere – ranging from Blackened Alaskan Halibut Salad or zesty Hummus and Pita to Alaskan Red Salmon and Sea Scallops –Humpy's resonates as a casual stop for business people and the museum crowd during the day. In the evening hours, it surrenders its life force to an entertainment-centered crowd, layered three people deep, with a focus on local musicians and an ever-changing menu of fresh draught beer.

Around the corner, Sub Zero satisfies those with a preference for a kitsch-centered martini bar. Designed by interior architect Dylan Thomas, the mood is set as you gaze through the windows, imaginatively treated to place you "inside a cocktail, looking out." Owner Billy Opinsky, hosting his annual Sub Zero Belgian Beer Dinner prior to the Great Alaska Beer & Barley Wine Festival, whets the appetite for good beer with treats from his Private Stock, aged and lovingly cared-for, and paired with superb food and upscale ambience.

During my respite at Humpy's, I was introduced to Moose's Tooth Fairweather IPA, the most popular beer in Opinsky's draught selection. Well-loved and strangely addictive, it is a hophead's delight, with a clean, citrus-and-pine profile. So sensual was my experience, that an introduction to Head Brewer Clark Pelz at Moose's Tooth became an undeniable necessity.


Annie and I met up with Clark Pelz and Steve Shepherd, President of Aurora Productions, at Moose's Tooth Pub & Pizzeria, on Old Seward Highway in Anchorage. Clark Pelz, a gracious representative of Moose's Tooth, explained his aim of creating beer "with more transient and ephemeral characteristics." The secret to Fairweather IPA lies in the blending of seven styles of hops – Crystal, Centennial, Cascade, Willamette, Chinook, Nugget and "Secret" – to produce an IPA of 64 IBU's and a compelling obsession among Fairweather enthusiasts. Originally developed by co-owner Matt Jones as a homebrew, Pelz affirms that it is "greater than the sum of its parts."

This piqued my interest. Matt Jones started as a homebrewer. I needed the whole story.

Owners Rod Hancock and Matt Jones had met in the Pacific Northwest while attending the University of Washington, and discovered similar perspectives for the future. Jones had a respectable amount of experience as a homebrewer, and grew up in Anchorage where he believed a family-oriented brewery/restaurant could be highly successful. In the early 90's they moved to Anchorage, with a loose plan in place. Hancock agreed to run the restaurant, while Jones would be in charge of the brewing. They had scavenged a cache of dairy equipment, a dogfood cooking kettle, and various other pieces of commercial kitchen equipment, and set to work renovating a defunct barbecue pit pizzeria on the edge of town. Although they expected the brewery to float the restaurant in the beginning, reality turned the tables on them. Even with Jones's experience as a homebrewer, "the first few batches left the brewery by way of the sewer pipes," said Pelz. However, they focused on quality from the start, and the Moose's Tooth soon became "the place to be," capturing a comfortable audience in Anchorage.


"You can tell the employees are an integral part of the operation rather than a labor cost," says Pelz. "Many have been around since the restaurant opened up, and are all treated as top-notch." They even have a 401K plan for the employees.

This sets the stage for an enthusiastically run operation. Pelz was aware of my immediate fondness for Fairweather IPA, and he was eager to introduce me to other styles of his superb line-up.

Klondike Golden – a golden, "small" pale ale, assertively hopped with Cascade hops, exhibiting a delicate lemon citrus profile – works well as a soft session beer.

Spenard Nite Life – Named after a sleazy, red light district, this premium American lager has a pre-prohibition character that dances on your tongue – crystalline yellow with very clean flavors.

Polar Pale Ale – The hop-forward aromas of this American Pale Ale immediately seduce the nose. The slightly hazy amber body supports a creamy head that leaves layers of lacing on the glass. Rich malts blend with the full hop profile, and paint the mouth with its medium-full presence.


Moonflower ESB – The Moonflower appellation honors a rock climb, as well as the 1977 music popularized by Carlos Santana. With a similar profile to the IPA [but with a lower ABV], aromas of pine and citrus embellish the air with a hop-forward character. Malts loom larger, requiring a characterful yeast for fermentation. Fuller's yeast makes for magical results, but demand a diacetyl rest and temperatures that remain above 64 degrees.

Prince William's Porter – As winner of a bronze medal at the Great American Beer Festival, the Prince shines like a dark, burgundy jewel, with a soft veil of creamy brown. Displays of dark fruit dress the palate, while a dryer mouthfeel mirrors a pale ale that features roasted malt rather than hops.

Pipeline Stout – Like liquid bread, this dark, full-bodied stout showcases sweet fruit flavors and a 6.8% ABV. As the Pipeline served to define Alaska, so Pipeline Stout defines Moose's Tooth with its attractive, deep-jeweled color, chewy profile and big specter.

Winter Warmer – Crystalline brown, this seasonal is less roasty and more malty than Bear Tooth. Pine and molasses rise in the nose, echoed on the palate as it rolls from sweetness to a satisfying, citrusy bitterness, followed by a long finish.

Bear Tooth Ale – This assertive American Brown won a bronze medal at the Great American Beer Festival. It is hopped exclusively with Centennial Hops, including a schedule of dry-hopping. Deep in the olfactory senses, aromas of Anton Berg chocolates and roasted coffee stimulate the mind. Based on Winter Warmer, the flavor profile rises spicy and toasted, yet drier, with a bitter finish that delights the hophead.

Darth Delerium – As a "tip-of-the-hat to Delerium Tremens," this big beer pours ebony black, with the punch of a single-malt scotch. Complex flavors, developed over a year of aging, titillate the tongue. You can imagine sinfully sipping this temptation - warmed, from a snifter, slowly allowing the seductive 10% ABV to overtake your soul. "Darth demands respect."

Barleywine 2007 – Aromas of cotton candy, pine, and apricot encircle this high-gravity beer. Clean malt blends with the immediacy of the hops, trailing off in lingering bitterness.

South Fork Special – Each month, one of the brewers is awarded the privilege of creating a beer called "First Tap Special," which showcases his talent when introduced to the public at the monthly "First Tap Party." Tyler Jones brewed this Belgian Style Beer using non-traditional ingredients while stepping up the yeast used for Darth Delerium. The hazy amber glow of the body is encircled by a wedding band of lace around the perimeter of the glass. Complexity looms supreme, as notes of melon, orange peel, tropical fruit and cocoa feather the nose and palate, creating a superb and memorable beer.

Cheers!
Photos (top to bottom): Humpy's Great Alaskan Alehouse; Moose's Tooth Pub & Pizzeria; Clark Pelz, Head Brewer inside Moose's Tooth Pub; Clark Pelz, Head Brewer at Moose's Tooth.
You Should Also Read:
Glacier Brewhouse & the Wall of Wood
The Great Alaska Beer & Barley Wine Festival - History Past & Present.
Great Alaska Beer Series - Beer in Alaska


Related Articles
Editor's Picks Articles
Top Ten Articles
Previous Features
Site Map





Content copyright © 2023 by Carolyn Smagalski. All rights reserved.
This content was written by Carolyn Smagalski. If you wish to use this content in any manner, you need written permission. Contact Carolyn Smagalski for details.