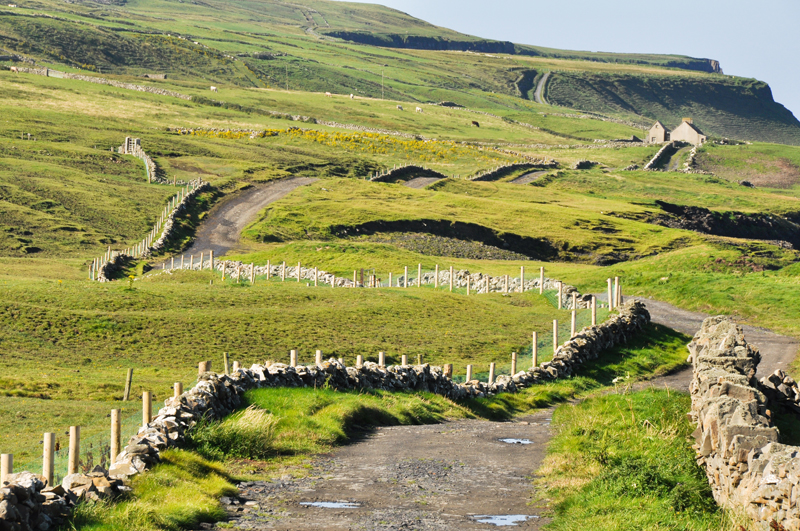 Dublin, as capital city, as well as a major travel hub, is visited by most tourists to Ireland, even if only for a few days. With the airport, ferry ports and the rail network all focusing on the capital it makes sense to plan your sightseeing time at either the beginning or end of your tour of Ireland. The problem for many tourists is that by the end of you trip you may have spent up the budget. This need not be cause for panic since Dublin, even though it can be expensive like other capital cities, does offer plenty of things to do and see for free.

With the Grand Canal and the River Liffey bisecting the city, there are miles of very picturesque walking. Whether you are walking in the daytime or at dusk you are bound to have many photogenic moments. One of my own favorites was capturing a rainbow caused by a Dublin City tugboat spraying the Samuel Beckett Bridge to give it a scrub up. But you might also capture the tall ship at St. George's Dock twinkling with fairy lights, and other architectural landmarks illuminated and reflected in the water. Grand Canal Square is noted for its Red Sticks lighting up the night, a more modern if less moody illumination than the iconic Ha'penny Bridge.

If Irish culture is your passion then you will be able to indulge yourself at the many free museums and galleries in Dublin City. If art is your passion then you can start by visiting the National Gallery. Nobel literary laureate George Bernard Shaw made a bequest in his will that has enabled the national art collection to acquire Picasso's and Caravaggio's as well as many works by Irish artists like AE or Jack Yeats. You can see some examples of the collection in the book ''Lines in Vision'', a collection of writings by Irish authors contemplating National Gallery works of art.

Ireland has a MOMA (Museum of Modern Art) just like New York City where you can go see artwork by the likes of Cezanne or Monet. If you are interested in what is going on in the contemporary Irish art scene then you need to slope along to the Hugh Lane.

While you are at the Museum of Contemporary Art you may want to nip around the corner to the National Library. If you are interested in the work of W. B. Yeats you will spend a very happy couple of hours in their special exhibition on the life and work of the first Irish author to become a Nobel laureate. Since 2015 is the 150th anniversary of his birth this is sure to be a popular attraction.

If you still have a rainy day to fill and have an interest in archaeology, natural history and science or decorative arts and history you have National Museums to choose from in each category. The Natural History museum is in the mode of Victorian tradition, while the Decorative Arts and History Museum tells the story of Ireland's past through artifacts. The Archaeology museum is where you will find the Celtic and Viking treasure troves although they are probably still hiding the Sheela na Gigs down in the bowels of the basement.

On fine days you have the Botanic Gardens and Phoenix Park to explore. The obelisk testimonial to the Duke of Wellington is the highest in Europe. It was erected during the Iron Duke's lifetime so it is called the Wellington Testimonial rather than the Wellington Monument. To rate the monument moniker you apparently need to have departed this mortal coil.

In between you have many miles of lanes and avenues to wander and watch. My friend Emer, a native Dub, gave me the single most important advice for sightseeing in an urban environment. "Look up!" She was absolutely right. If I hadn't lifted my line of vision I would have missed the sight of Trinity College's Climbing Wall - a rock climbing wall that you can see through the glass wall.

Dublin may not have much of the Georgian architecture left, but it has got great buildings from all eras. This is my hot tip for a free event. Every October the Irish Architecture Foundation runs a weekend called "Open House Dublin". Most events are first come, first served, and allow the public to get guided tours of private properties. In 2013, I spent a very happy hour touring the interior of The Georgian Society headquarters. The 2014 program was incredibly varied including a Blue Coat School as well as an example of a 1930s style flat on a municipal housing estate. Surprisingly, it also included the option of entering a lottery to get a ticket for a guided tour of the US Embassy in Ballsbridge. They also added guided walking tours in the 2014 program.

While this is not strictly free I will mention something that may help stretch your budget while sightseeing in Dublin. If you are fit and know how to bicycle there is now a bicycle sharing scheme DublinBikes.ie. You can buy a 3-day subscription for €5 (roughly equivalent to six bucks and a quarter). You pick up the bike from stations dotted all across Dublin, both north and south of the Liffey. An hour only costs 50 Euro cents or 62 US cents. But you get the first half hour FREE! If you plot your path across Dublin you can save yourself shoe leather or public transport fares.

Dublin is a city of much cultural charm and, like the best things in life, much of it is for free.

You Should Also Read:
W. B. Yeats Sesquicentennial
Book Review Lines in Vision


Related Articles
Editor's Picks Articles
Top Ten Articles
Previous Features
Site Map





Content copyright © 2021 by Bee Smith. All rights reserved.
This content was written by Bee Smith. If you wish to use this content in any manner, you need written permission. Contact Bee Smith for details.