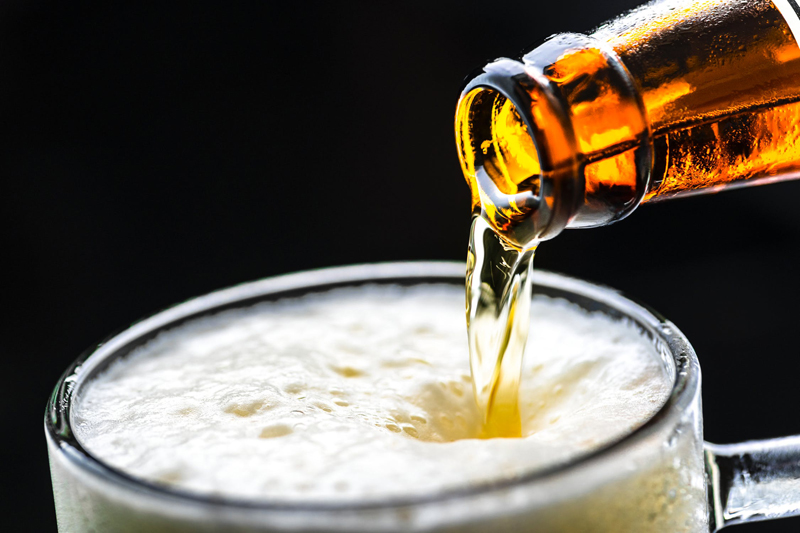 You close your eyes and lift that tall, sweating pint to your lips. Almost there, you stop, for just a moment, and breathe in the flowery Saaz aroma, honey, and assertive malt. You want to taste it…perhaps, gulp it, but your mind races. You wonder if you could successfully brew a beer like this. Not just any beer, but "extreme beer." Skip the common styles…go for something strong and gutsy…one that puts sparkle in your eyes!


You've seen the "how to" books that explain the method. Everything starts with the basics. Deep down, you know that you need to understand the basics, but you were never one for slowing down and reading the directions, especially for a complex project. You want to study the heavier chemistry of brewing after you brew a batch or two, when you can fully appreciate the science behind the art. A visual would help. So would being able to leap over the crowd, like an Evel Knievel of the Mash Tun. You turn to the Extreme Master himself, Sam Calagione, owner and founder of Dogfish Head Craft Brewery in Milton, Delaware, for the answers.

"Extreme Beer: An Enthusiast's Guide to Brewing Craft Beer at Home" covers the basics with Mr. Calagione's charismatic flair for titillating your senses. Textually, he presents brewing beer as an art form, but one that can be successfully done by anyone who has the desire to do so. He insists that brewers "must first have a strong grasp of the traditional brewing process before heading off on their own tangent to subvert and influence that tradition." Graphically, his book demonstrates, through the photographs of Kevin Fleming, the variety of ingredients and the simplicity of process behind the complexity of brewing.

Part I initiates a discussion about the basics of beer: the major ingredients, equipment, the basic "how" in step-by-step manner (with photos, so you don't become confused with the ambiguity of unfamiliar brewing vocabulary), and the art of extremes. Specialty topics are presented by experts in the brewing community, and highlighted in amber boxes so the reader can easily thumb through and glean these tips quickly. You will find advice on dry hopping by Vinnie Cirluzo of Russian River Brewing in California, Specialty grains by George Hummel of Home Sweet Homebrew in Philadelphia, and yeast by David Logsdon, the founder of Wyeast Laboratories.

Although many brewing experts would give guidance along the lines of Reinheitsgebot, (brewing beer using the four major components), Calagione takes you on a broader journey with greater possibilities. He introduces you to extract brewing, modified by the addition of specialty grains; fruits that can be added, along with thoughtful recommendations for the treatment of these fruits in the process; herbs and spices, (including whether they are measured as grams, threads, or sticks); various sugars and the character they convey to beer; and the properties that aging in wood imparts on a beer.

Part II takes you a bit deeper into the brewing process with recipes for crafting twenty-five extreme beers. Although novice brewers may feel intimidated in the shadow of the greatest American brewers, Sam Calagione brings advice from those great brewers to the reader as he introduces each to successive stages of knowledge. Ten of these recipes are those of Master Brewers Mike Gerhart, Rob Tod, Adam Avery, Bryan Selders, Tomme Arthur, and Vinnie Cirluzo – great brewers, willing to share their secrets.

As you gain experience, you may be compelled to dig deeper for more understanding of beer, so Calagione adds a brief overview of beer styles; then, delves into the subject of beer and food, including subsets on chocolate, cheese, and beer tasting parties.

"Extreme Beer: An Enthusiast's Guide to Brewing Craft Beer at Home" whets the appetite for exploring beer on a higher level. You will have enough confidence to move into brewing, and will feel compelled to expand your brewer's experience with Charlie Papazian's "The Complete Joy of Homebrewing, 3rd Edition," John Palmer's "How to Brew," Ray Daniel's "Designing Great Beers," and Randy Mosher's "Radical Brewing."

Click for more information on Extreme Brewing: An Enthusiast's Guide to Brewing Craft Beer at Home
by Sam Calagione.

Cheers!
You Should Also Read:
Simplified Chemistry for Brewers - Brew Chem 101
What is a Cicerone ?
The Beer Journal - The Best in Personal Logbooks


Related Articles
Editor's Picks Articles
Top Ten Articles
Previous Features
Site Map





Content copyright © 2023 by Carolyn Smagalski. All rights reserved.
This content was written by Carolyn Smagalski. If you wish to use this content in any manner, you need written permission. Contact Carolyn Smagalski for details.