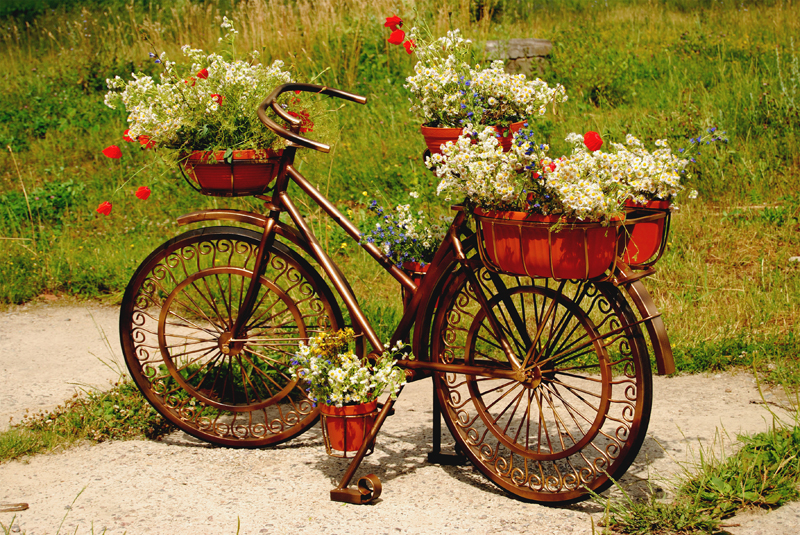 POPPY GO LUCKY? Goes hand in hand with happy-go-lucky as these friendly flowers surely have a Flower Fairy of their own.

Have you ever thought of growing poppies in containers before? No? Me neither. I always imagined them in or as impressionist style paintings if not in open fields or popping up all over the place in a rainbow presence in an open garden or meadow or alongside country roads. So how pleasing it was to read up and realise that these lovely plants can do well in containers and can make a 'meadow garden statement' for you on your patio and deck that suggests a friendly welcome to your home and a colourful addition to your style.

The genus Papaver includes most of the poppy species and there are very many … but the one I have chosen to write about in particular is P. rhoeas (say row-ays), and these are the red ones are used as a symbol of war and remembrance as in the Flanders field poppies of WW1. I am sure that these notes will work for growing other kinds of poppies too.

Poppies come in all sorts of colours (from red orange and yellow via pink, peachy, rosey lilac, and even the rare blue to cream); they are perennial in the garden in that they are self-seeding (but we will treat them as container annuals); they come in several cultivars with such popular names as Iceland, Shirley, Field, Flanders, Oriental and California; they can be tall and/or short; they come with single or double blooms (some up to seven inches across!); they can be co-planted with a variety of other container flowering plants for a real meadow mix (like Felicia daisies, lupines, coreopsis, gazania and black-eyed susans, lamb's ears, larkspur, Shasta daisies, and veronica); they are found all over the world in all sorts of gardens such as perennial or mixed-shrub borders and/or cut-flower gardens, some species even grow as big as shrubs and even trees; and in 2003 the Poppy was named the flower of the year. Now how is that for versatility?

Anyway, for our container purposes, the notes below give you all the info you need to add this delightful flower to your pots. It all seems possible with a Poppy!

GENERAL advice about growing poppies:

* They are frost tolerant, drought tolerant and germinate from seed better in cool weather. The soil should also be cool, and these factors alone help to promote lots of flowers over a long period of time. Use potting soil with a mix of compost and not garden soil that is too heavy in the long run for containers.

* There are many poppy cultivars and there will be one to suit you in a wide spread of areas USDA zones 3-9, check out which plants are available and most suitable for your area and growing conditions. There are a few suggestions at the end of this article.

* They like full sun though will tolerate partial shade.

* Poppies do not like being transplanted or root interference so seedlings bought from a garden centre in peat and biodegradable pots just need to be planted as is into your prepared containers. Regardless, plant your poppies on cool grey days and they will settle in sooner and produce many happy flowers!

* Use poppy plants as accents in your containers if you are going for a meadow mix look. They should be part of the chorus rather than the conductor! But, and this is what I have just done, if you plant up a whole container full of poppies, well then they become the whole choir!

By the way, I used instant grass as a base and as a natural mulch and covered the whole top of a large circular container (4 foot diameter/1 metre plus) into which I dug holes to plant my seedling pots. My mini meadow looks great so far even though the seedlings are still small; so now they have to grow and bloom. Up-dated reports on this later, that's a promise.

* I am told that my container poppy plants will grow to around 15 inches high and should bloom within the next 70 to 90 days if I care for them properly (soil, light, feeding and watering).

* Pests do not really bother poppies, which is good news indeed. They don't like sprays anyway and if you happen to get any aphids, then a quick splash of water should be okay. Spacing is important as is correct soil watering (not too much). Keep the plants tidy too by removing dead flowers and any spent leaves.

* Uses besides the really pretty and delicate blooms? Well, the birds like poppy seeds, so place some near your birdbaths to encourage visitors to your garden; then we use poppy seeds when baking along with poppy seed oil in the kitchen and of course certain plants are a narcotic (Papaver Somniferum) which is used to make opium, morphine and codeine. This is illegal to grow in a private 'garden' and it is unlikely that you find these plants or seeds anywhere commercial.

RULES for growing Poppies – yes there are a few.

* When you buy seedlings, look for plants with a few blooms and unopened buds. Have you read my article on Buying Container plants? Go to the site a look for it in the Starting Out link; the advice here is good for poppy seedlings too.

* Plant your seedlings as soon as you get home or within a couple of days latest and protect them from direct sun until they are planted. Plant them about 6 – 10 inches apart and depending on the size of your container; you may only need about three to four seedlings though poppies do grow easily from seed too.

* Soil must be loose, cool and drain easily – poppies do not like soggy soil, and while the soil should be moist and while watering is important, these plants can stand some dryness where others wouldn't. You can loosen your soil and improve it by adding some compost.

* Place your containers in their drip trays (saucers) and water them from the bottom. Let them soak the water they need upwards, that way they regulate what they want. I do this very successfully with my African violets and Cyclamens as well (bottom-up watering)

* Deadhead regularly to promote more flowers or allow some spent blooms to go to seed to collect your own seed for next year's mid-Autumn planting. To harvest the seeds let the flower die and dry then cut off the seed pods and let these dry completely. When dry, separate the seeds from the seed pod and store them in a cool dark place - a cupboard will do.

* The most popular and most readily available species of poppy plants available for the container gardener include:

Papaver rhoeas aka the field or Flanders or Shirley poppy (say row-ace)
Papaver nudicaule aka the Iceland poppy (say new-dik-or-lee)
Papaver commutatum aka the Caucasus poppy
Papaver eschscholzia aka the California poppy (say esh-kol-zia)
Papaver orientale aka the Oriental poppy

Planting this lovely flower was one of the easiest garden jobs I have done lately and if my meadow pot works well, I think I shall make this a permanent member of my container garden only I will try different plants for different looks.

STEPS to planting a container of Poppies are:

1. Place your container so you do not have to move it around when it is too heavy and full of soil. Remember poppies need sunshine.

2. Prepare the pot, clean it out if it was used before, check on clear drainage holes, and fill to nearly full with a good friable compost mix potting soil.

3. Place markers where you want to put your plants for a good spread and even design. Add your other meadow plants if this is the look you have chosen.

4. Plant your peat poppy pots in place, put to bed properly by pressing down with your fingers, plant the other flowers in between then top up with soil mix and use a natural mulch like bark or peanut shells or such. I do not think pebbles would be my choice, though they would not affect your growing.

5. Water thoroughly once first planted then feed monthly with a general fertiliser (though this is moot) There are those who say no need to do this as these are wildflowers and do not need much fussing. I think I will just monitor this for myself as wild fields are not closed containers.

6. Have a cuppa something while taking 30 minutes or so to enjoy your garden!


What do you want your container garden to do?


............................................................................

CASUAL VISITOR … and just browsing? Why not sign up to the Container Garden newsletter? It won't matter what space or how many pots you have or even how much time you have to spend in your container garden; what will matter is that you get our reminders and good advice and ideas all in one interesting article.




You Should Also Read:
Sunflowers in Pots
Roses in Containers
Cactus Containers


Related Articles
Editor's Picks Articles
Top Ten Articles
Previous Features
Site Map





Content copyright © 2022 by Lestie Mulholland. All rights reserved.
This content was written by Lestie Mulholland. If you wish to use this content in any manner, you need written permission. Contact Lestie Mulholland for details.