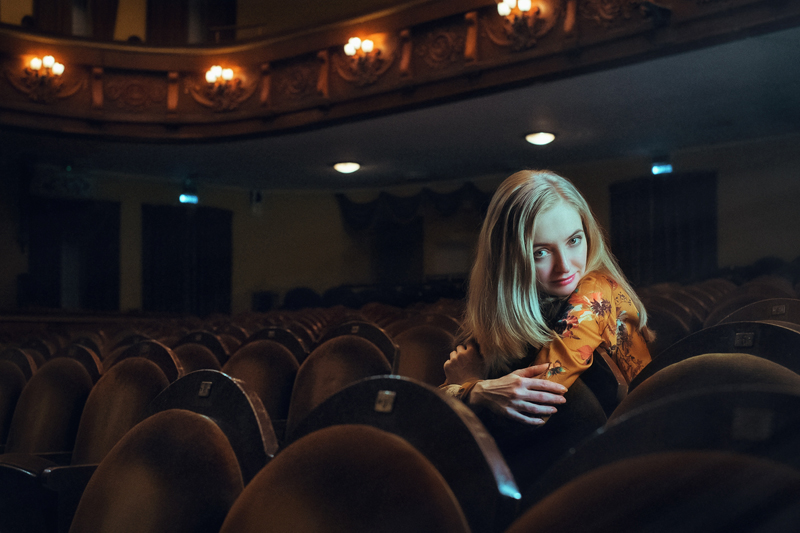 Frenchman Laurent Tirard is a fan of American movies; he studied film at New York University and worked at Warner Brothers before launching his career in France as a writer and director. "Up for Love" fits neatly into the romantic comedy genre and the soundtrack features English-language songs from chanteuse Emily Gassin. "Up for Love" is, however, a remake of the 2013 Argentine film "Corazon de leon" from Marcos Carnevale. He receives credit for the original screenplay which was revamped by Tirard and Gregoire Vigneron.

Both films open with the same sequence of events. Diane (Virginie Efira) loses her cellphone after a heated argument with her law partner, and ex-husband, Bruno (Cedric Kahn). She agrees to a meeting with the charming stranger who has retrieved her phone. Alexandre (Jean Dujardin) has a sexy voice and a disarming sense of humor, but Diane is shocked by his diminutive stature. Alexandre measures a mere four-and-a-half feet and although Diane is attracted to him, she is humiliated by the reaction of friends and family.

Alexandre's relationship with Diane's ex is played mainly for laughs. The street scene, when the two men exit their cars and are on the verge of a fistfight, is particularly funny. The bystanders root for the underdog, encouraging Alexandre by yelling "Go for the jugular, midget" and shaming Bruno for not picking on someone his own size. When Bruno surrenders, his capitulation is accompanied by applause from the other drivers.

The love scene between Alexandre and Diane is, thankfully, not marred by any attempts at cheap or vulgar snickers. Jean Dujardin and Virginie Efira, who have genuine chemistry onscreen, play it straight and the scene is effective. Near the end of the film, Alexandre's son tells him "you have dignity" and the romantic scenes between Alexandre and Diane emphasize that trait.

"Up for Love" features two eminently likable main characters. The film is, however, quite predictable in its outcome. The visual effects used to shrink Jean Dujardin (from his actual height of six feet) work for the most part. There are only a few shots where the use of compositing is evident and distracting. "Up for Love" fulfills the requirements of its genre and is an entertaining film for a Saturday night.

"Up for Love" was released in 2016. The film is rated TV-14 and is in French with English subtitles. Available on Amazon Video, I watched "Up for Love" at my own expense. Review posted on 2/25/2018.


You Should Also Read:
The Clink of Ice Film Review


Related Articles
Editor's Picks Articles
Top Ten Articles
Previous Features
Site Map





Content copyright © 2021 by Angela K. Peterson. All rights reserved.
This content was written by Angela K. Peterson. If you wish to use this content in any manner, you need written permission. Contact Angela K. Peterson for details.