Review of Yarn Substitution Made Easy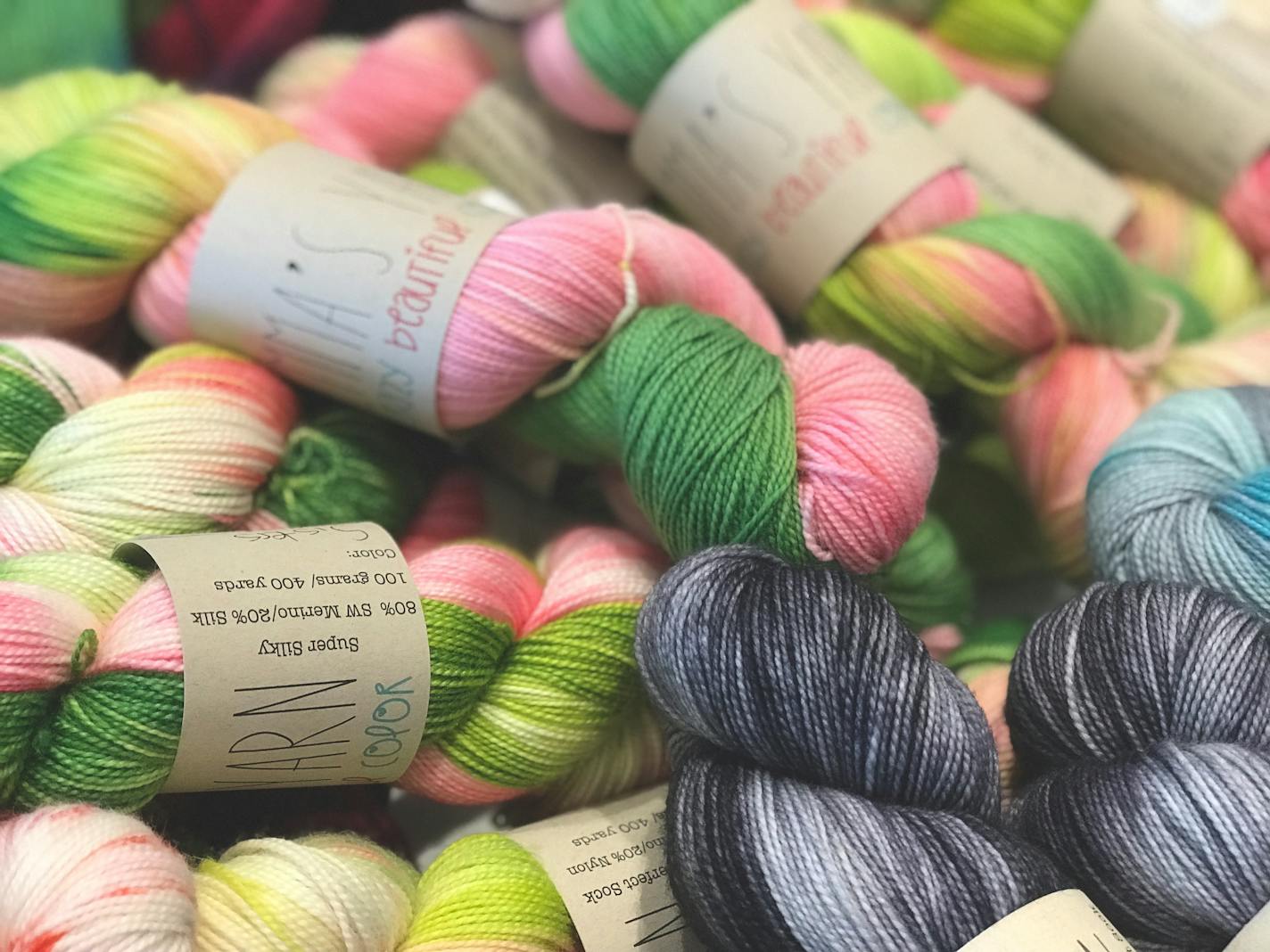 Long gone are the days when knitters had just a few kinds of yarn to work with. Today, the market teems with choices. Do you want to make that sweater in alpaca, linen, or yak? Would you like to use a solid color or a wildly multicolored, hand-dyed skein? Do your preferences run to bulky or to fingering? While this is definitely a quality problem to have, it does carry one particularly vexing issue: the yarn used in that amazing pattern may or may not be available at one's Local Yarn Store. Additionally, geographical considerations may bring with them a preference for cool cotton or warm cashmere instead of the original choice; the knitter may not like the available colorways for the target yarn. For any and all of these reasons, it is critical that knitters know how to successfully substitute one yarn for another.

Theoretically, adjusting a pattern from worsted weight yarn to fingering should be a fairly simple matter of mathematics, but the numbers are not the only issue. In the same vein, using a cotton yarn for a pattern that calls for wool carries with it challenges that go beyond matching the gauge. In her latest book, Yarn Substitution Made Easy, hand dyer and designer Carol Sulcoski demonstrates that changing yarns is not as simple as it might appear. Matching a pattern to a new yarn successfully takes some knowledge of fiber, yarn construction, and color theory; this tome illustrates why this is and what a knitter needs to do in order to come out with a nicely finished product.

Sulcoski has written six other books as of 2019, each of which covers the particulars of using a specific kind of yarn. Because of this, this latest volume feels at times somewhat repetitive; for example, if one has read Self-Striping Yarn Studio, one knows the basics of how to match hand-dyed yarns to patterns. In addition, knitters who have read any of Clara Parke's books on fiber will find Sulcoski's chapters on fiber content and yarn construction very basic.

Given these two caveats, Yarn Substitution Made Easy gathers together good information in a succinct, easy-to-read format. Newer knitters in particular will benefit from reading through this tome more than once; there are many concepts that take some hands-on practice to thoroughly understand. The focus on stitch definition, elasticity, drape, and gauge are central to yarn substitutions that work well, and Sulcoski presents each in such a way that the issues move from vague idea to fully understood concept.

At the end of the book, ten patterns are given. Each uses a particular yarn but posits three more yarns as substitutes, with Sulcoski's grade (green, yellow, or red light) on whether or not the change would work and an explanation of why the grade was given. The patterns are simple enough to be used more than once with different yarns, which of course is the point. Knitters will learn a great deal about yarn and finished garments from experimenting here, and the knowledge gained will positively inform subsequent pattern and yarn matches.

This is a great book for newer knitters, who will appreciate the clear introduction to different issues involved in yarn substitution. While experienced crafters may find some of the material repetitive, there are tips and ideas that will surely be useful. Frankly, the pattern section alone is reason to purchase this book, particularly if one enjoys trying new effects on familiar shapes.

Disclaimer: I am not affiliated with the author or publisher. I purchased my copy of this book with my own funds.

Sulcoski, Carol. Yarn Substitution Made Easy: Matching the Right Yarn to Any Knitting Pattern. Lark New York, an imprint of Sterling Publishing Company, New York, New York, 2019. ISBN: 978-1-4547-1063-9.

You Should Also Read:
A Primer on Yarn Sizing


Related Articles
Editor's Picks Articles
Top Ten Articles
Previous Features
Site Map





Content copyright © 2022 by Korie Beth Brown, Ph.D.. All rights reserved.
This content was written by Korie Beth Brown, Ph.D.. If you wish to use this content in any manner, you need written permission. Contact Korie Beth Brown, Ph.D. for details.