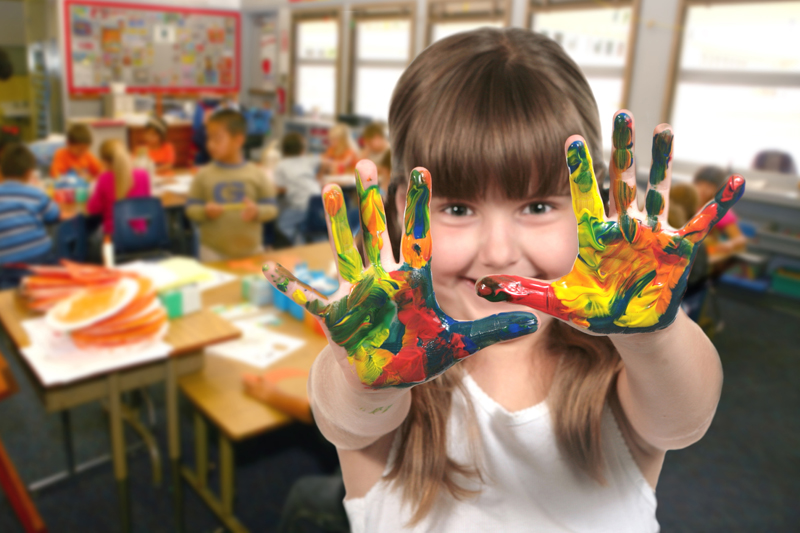 It had been hot and muggy for days and the kids really felt it. They were hot and sticky as they played outside. We had walked down to the buffalo corral about a dozen times that week. They spun on the swing in the tree; they wanted to ride their big wheels around the cement by the basketball hoops but it was just too hot. What could we do?

In desperation, I suggested going on an adventure hike. They got excited about it, but really didn't have a clue what I was talking about. One of the boys was sent into the house to get three brown paper lunch sacks, and a crayon. These were the basics of an adventure hike; the crayon to write their names on the bags and the bags to hold the treasures they would find.

Each boy wrote his name on his bag, and we started off. The plan was that we would walk around our housing area on the sidewalk that passed in front of the thirteen old brick duplexes. While we were walking each boy could pick up any treasures that he found. They could be man-made or from nature. We walked and we talked and the boys were thrilled with their wonderful treasures.

I watched as into the bags went the mundane and the exotic, little bits of nature and little scraps of trash. First, they all started to get leaves of every kind. Then one found a treasure trove of pine needles and some small pine cones at the base of a big tree. Soon, each found a few special items to add to their bags. There was some shiny silver tinsel hanging from the fence by someone's garden, each boy looked around to see if there were any pieces on the ground that had fallen off, and they were each rewarded with a few strands.

In our quest for exciting things we had forgotten how hot and muggy it was… and then we heard the tornado warning.

We hurried home and went down to the basement to wait it out. We had our bags of treasures and we could have done some really fun crafts . . . but the scissors were upstairs, and the construction paper was up in the boy's bedroom, and I really wasn't sure where I would find the glue.

The basement was pretty empty, we usually only came down here to do laundry . . . BUT wait . . . I think I took a glue stick out of someone's pocket when I did laundry last week. I felt up in the window ledge, and hurrah, there was a glue stick. Plus, we still had the crayon. They took turns drawing a face on their bag to make a puppet and then glued a variety of items on to decorate their bags.

My plan next week will be to gather a complete set of crafting items and some sort of container and store them in the basement for the next time I am forced to spend hours there with the boys.



Related Articles
Editor's Picks Articles
Top Ten Articles
Previous Features
Site Map





Content copyright © 2023 by Launa Stout. All rights reserved.
This content was written by Launa Stout. If you wish to use this content in any manner, you need written permission. Contact Launa Stout for details.