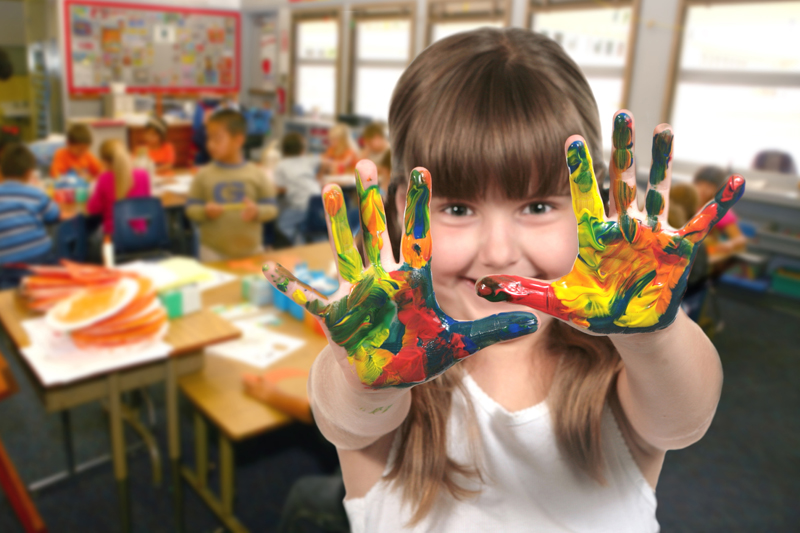 Crafting can be an enjoyable event if you keep the supplies organized. If you can put your fingers on the items when you want them then the crafting experience will be much more likely to happen – and be much more fun!
So – my advice is --- If you do crafts with children get organized.
I like the concept of two different craft storage areas:
1. Independent craft supplies
2. Craft supplies to be used with supervision
This can be a simple as designating specific shelves for independent crafting – obviously the lower shelves would be good for this and the higher shelves for the items that need to be used with supervision.
Clear plastic storage bins are excellent for storing supplies – and they always go on sale in January. I think the retailers realize that everyone got lots of additional items – and now we all need a place to put everything.
For crafting - plastic bins can be with or without lids depending on what you plan to put in them. They are inexpensive, come in many different sizes, and are easy to keep clean. Small to medium-sized bins with handles are easy for kids to carry and put back on their own. If your supplies need to stay out in the open consider baskets and bins and open containers. You can color code the baskets and bins per child or per type of items being stored in them.
Prior to shopping for bins get all your craft supplies out so you can make of list of what you have and how much of each item.
Some of my storage suggestions below:
Colored Pencils/Markers:
Store markers in a bin or plastic shoe box with a handle – this makes it easy for your child to take them to the coloring area. Until your child can care for the markers appropriately, store them out of reach.
this is especially true regarding Sharpies and other permanent markers.
Crayons and colored pencils fit nicely in an inexpensive plastic pencil box or upright in a large peanut butter bottle.
Paper:
Paper can be a difficult supply to store neatly. Kids tend to leave a mess after they find the perfect piece. If it is a problem at your house consider getting some of the 12" x 12" lidded bins from scrapbooks supply stores and use one for each color. Or you can store your paper in a three tier paper organizer by dividing into categories: construction paper, drawing paper, and card-stock. You can control some of the mess by putting out just a few sheets at a time.
Small Craft Items:
Sequins, beads, wiggly eyes, and other small items can be stored in clear plastic jars. Check the dollar store for little plastic boxes. Add labels to make it easy to find what you're looking for. Larger items such as pipe cleaners, pompoms, feathers, and craft sticks can be stored in zip-lock plastic bags.
Paint.
Keep bottles of paint and paint palettes together in one large bin. Save yogurt containers to use. Keep a large plastic peanut butter jar to store paintbrushes. Keep a basket of smocks (or old t-shirts) nearby.
Ribbon/String:
Toss these in a lidded box to contain the mess.
Other tools:
Scissors, rulers, hole punches, glue sticks, and tape can be stored in a utensil caddy with one type of item per compartment. The caddy makes the tools portable and the supplies easy to find. Keep only a couple of each item in the caddy.
Other supplies:
Designate a large box for collecting recyclables to use for crafting. As you come across things you think might come in handy for a craft, just toss it in the box: foam meat trays (well-washed), cardboard tubes, small cardboard boxes, colorful junk mail, etc.
When your craft supplies are easy to find, you'll be more inclined to get creative when you have time for a project.
A well-organized craft area becomes an enjoyment to use. It also makes it simpler for kids to help with cleanup and lets you see at a glance when crafting necessities need restocking.
Have Fun!
If you want to purchase something - this works well.


Related Articles
Editor's Picks Articles
Top Ten Articles
Previous Features
Site Map





Content copyright © 2023 by Launa Stout. All rights reserved.
This content was written by Launa Stout. If you wish to use this content in any manner, you need written permission. Contact Launa Stout for details.