Miniature Orchids – Masdevallia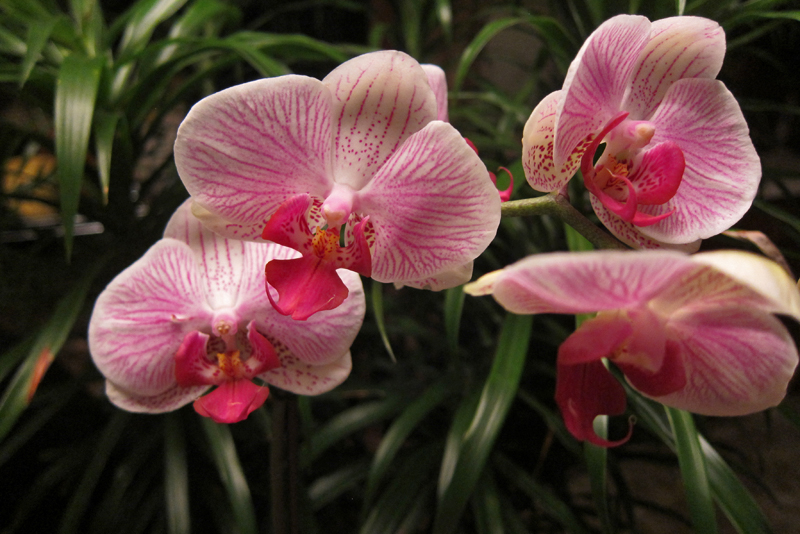 For the home grower, the
Masdevallias
offer one of the best choices for indoor growing. They are uniformly small growing, normally flower year round, and are fairly easy to grow. They belong to a genus of approximately 350-500 species, depending upon which expert you cite, which have been widely hybridized for their small highly-colored flowers. Most are from the higher reaches of the Andes Mountains where they grow as epiphytes (growing on trees), lithophytes (growing on rocks), or rarely as terrestrials (growing in humus on the ground). Their natural environment is the cloud forest which indicates that they need a quite humid and cool environment to grow well.
They do not resemble most other orchids but are truly unusual and extremely colorful. They are one of the best plants for terrariums since they stay small and generally bloom for long periods of time.
Most species and hybrids need cool to intermediate temperatures and will do best if night time temperatures are reduced to 60 degrees Fahrenheit or 15.5 degrees Celsius; daytime temperatures should be no higher than 75 degrees Fahrenheit or 24 degrees Celsius. They will grow and flower well under the same light conditions as Phalaenopsis and Paphiopedilums which makes them perfect for growing on windowsills or under lights. As noted above, they require good humidity at all times since their leaves are somewhat sensitive and thin – 60 to 70 percent is perfect.
Water is another important factor for these plants. They are particularly sensitive to salts in water, so the best thing to do is to use rainwater or distilled water. They should be kept uniformly moist and repotted yearly in good quality bark or sphagnum. What you use of course depends upon your culture conditions. When purchased, most come in a medium or fine bark mix which allows for very good drainage while still providing good moisture. Sphagnum is best used in a terrarium environment.
These little orchids are rarely seen for sale in the big stores where you can find Dendrobiums, Phals and Oncidiums. Your best bet is to purchase them from a reliable vendor at an orchid show or over the web. Be sure to plan on having these plants sent during the cooler months of the year so that they do not become overheated in transit. This is very hard on them and will keep them from growing well until they recover.
Two nurseries well known for their quality are
Hills View Gardens
in Portland, Oregon, and
Parkside Orchid Nursery
in Pennsylvania.
You Should Also Read:
Miniature Laelias
Windowsill Growing - Humidity and a/c
Growing Orchids in a Terrarium or Wardian Case


Related Articles
Editor's Picks Articles
Top Ten Articles
Previous Features
Site Map





Content copyright © 2021 by Susan Taylor. All rights reserved.
This content was written by Susan Taylor. If you wish to use this content in any manner, you need written permission. Contact Anu Dharmani for details.