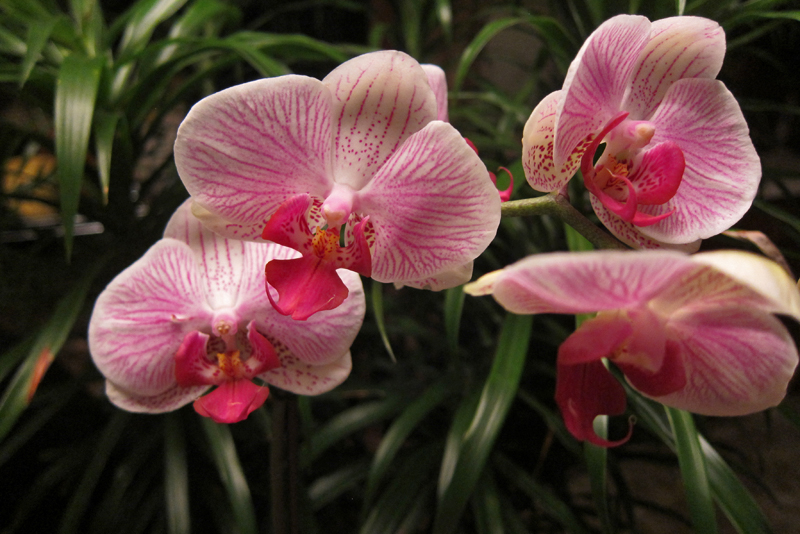 The genus
Laelia
has a number of species which qualify as miniatures. These little plants are mostly rupicolous (growing on rocks) and most are from Brazil. The flowers range from yellow to shades of purple to white and either are star-shaped or somewhat like a Cattleya. Most of them flower in the latter part of the year, summer through the winter. If you are unable to find the plants listed under
Laelia,
check out the genus
Sophronitis.
Recently, many of the Brazilian Laelias have been moved to the Sophronitis genus, but most vendors will still recognize the old names.
Laelias are considered to be part of the Cattleya Alliance and in many ways they are similar. The flowers can be Cattleya shaped and they can be crossed to make many of the smaller hybrids which are very popular today. Laeliacattleya, abbreviated Lc, and Sophrolaeliacattleya, abbreviated Slc, are among the fastest growing hybrids in the alliance.
For this discussion I've picked out six of the best miniatures, two each of yellow, purple and white. For yellow flowers, consider
Laelia itambana
and
Laelia bradei
. The flowers on both these little plants are bright yellow and well displayed on the plants. They are found only in Brazil and are both rock growing. They need extremely good drainage and need to dry out between waterings.
There are a number of purple Laelias so I picked what I consider to be the best of the miniatures. The type species for the genus
Laelia speciosa
with lovely orchid colored flowers with a white striped lip. I believe this is my favorite of all with the lovely coloring and contrast. This plant is from Mexico where it grows in extremely dry conditions so it needs to be kept dry and given a winter rest to encourage it to bloom.
Laelia lilliputana
is the smallest Laelia. It has a rose/purple flower held up over tiny leaves -- the whole plant is less than an inch tall.
The two white species are
Laelia fournieri
and
Laelia reginae
. L. fourneri is a cool growing species with a star-shaped flower originally from Brazil. The flower has a crystalline appearance and is truly lovely. L. reginae has 2 to six flowers and a bright yellow lip which provides a nice contrast with the white.
Here are some recommended orchid vendors who sell species raised from seed including some of the Laelias mentioned above:
Andy's Orchids
Bergstrom Orchids
Carter and Holmes
First Ray's Orchids
Miranda Orchids
Norman's Orchids
Oak Hill Gardens
Parkside Orchids Nursery
Tropical Orchid Farm
You Should Also Read:
Mounted Orchids
Enough Light for Orchids
Sophronitis cernua


Related Articles
Editor's Picks Articles
Top Ten Articles
Previous Features
Site Map





Content copyright © 2022 by Susan Taylor. All rights reserved.
This content was written by Susan Taylor. If you wish to use this content in any manner, you need written permission. Contact Anu Dharmani for details.