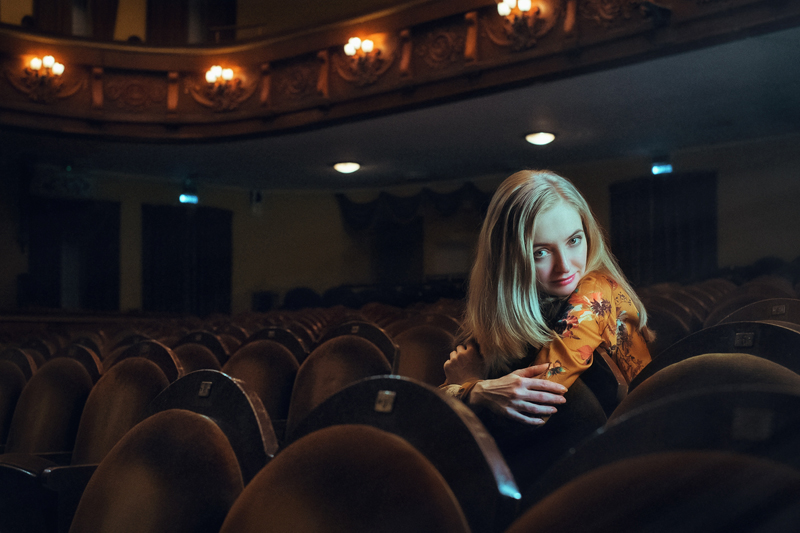 Filmmakers Kristina Grozeva and Petar Valchanov found their inspiration for "The Lesson" in a simple newspaper headline. Revealing the headline would give the story away, but Grozeva and Valchanov explore the circumstances that would drive an ordinary person to commit an aberrant act.

Nadezhda (Margita Gosheva), an English teacher and translator, is a diligent worker. The publishing firm that employs her, however, has not paid Nade in weeks. Then she discovers her husband has lied about making the mortgage payment and the bank is going to seize their property. Nade has forty-eight hours before her possessions are auctioned off to the highest bidder.

Nade pays a visit to her estranged father in order to secure a loan. She is pleased to see large photographs of herself and her deceased mother gracing a wall. When Nade walks further down the hall, though, she discovers a third photo has been added. It is of her father's much younger second wife. Incensed, she takes a black marker and destroys both the image and her chances at receiving any cash.

The economic noose continues to tighten around Nade's neck when, in desperation, she borrows money from a loan shark. Her ultimate moral dilemma occurs when she cannot repay the money. Will she prostitute herself in order to protect her husband and daughter?

Grozeva, who co-directed and co-wrote "The Lesson" with Valchanov, previously worked as a television journalist and knows how to structure a story. This is a tightly-wound film with tension that builds inexorably to its startling, yet somehow inevitable, conclusion. There is no music soundtrack, so the suspense is built by words and actions alone. Imagination is lacking in the visual presentation, however. Other than some effective hand-held camera movement, the framing is quite conventional.

"The Lesson" opens with Nade attempting to flush out and punish one of her students for thievery. After experiencing her own battle for economic survival, Nade loses her moral certitude and authority. When her students become puzzled at the change in her behavior she tells them, "There are many weird things in life. This is one of them."

"The Lesson" (2014) is in Bulgarian with English subtitles. The film is unrated, with graphic language in one scene that some viewers might find offensive. "The Lesson" is available on DVD, which I watched at my own expense. (The original title in Bulgarian is "Urok".) Review posted on 1/9/2016.
You Should Also Read:
Two Days, One Night Film Review


Related Articles
Editor's Picks Articles
Top Ten Articles
Previous Features
Site Map





Content copyright © 2021 by Angela K. Peterson. All rights reserved.
This content was written by Angela K. Peterson. If you wish to use this content in any manner, you need written permission. Contact Angela K. Peterson for details.