Cutting Business Cards without Perforated Paper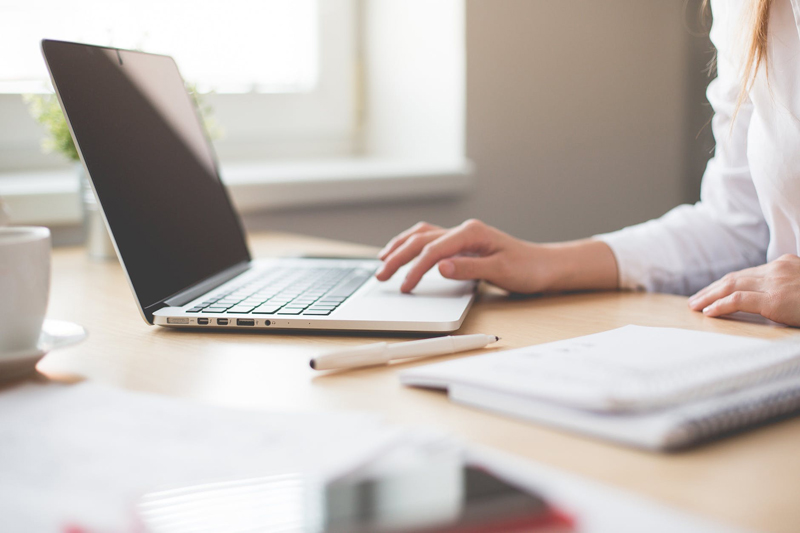 When creating business cards using Word, you could use one of the templates that come with the program. And then you can also purchase business card stock that is perforated for easy separation of the cards without using a cutter. Usually both of these go hand-in-hand where the template is setup to print on standard business card stock.

But, what if you want to use stock that isn't already perforated -- a nice linen stock or paper that is tinted? Or maybe you want your cards to bleed to the edge (that is when the ink color goes right to the edge of the card), but every time you put the paper through the cards don't quite line up with what you are printing?

You can still use a template supplied with Word for layout purposes, and you will need a paper cutter. There are ten business cards setup on the page. The template will have the margins, rows and columns all measured and set up. You design your card in the first space provided and then copy and paste it into the other nine spaces.

If you are using stock that is not already perforated you will need to cut the cards yourself. Here's an easy way for you to do that. First, a business card is 2" high x 3½" wide (we are assuming a horizontal card). The cards are arranged on the page two across and five down.

Two across at 3½" each equals 7", which when subtracted from 8½" leaves 1½", divided by two gives a ¾" margin on each side. If your printer doesn't print quite on center, cut off the right margin where the business cards end and then cut off the left side at seven inches.

Next you will cut off the top and bottom margins. Five cards down at 2" per card gives you ten inches total for the cards from the top card to the bottom card. That means you will have a half inch margin at the top and the bottom. That is if your printer prints exactly where it should.

When you cut the top margin, whether at the half inch mark or not if your printer is off, you can then flip your sheet around and cut off the other end at ten inches. Now you can cut every two inches across giving you five strips with two business cards on each strip. Cut those in half at 3½ inches.

Or, cut the cards down the middle at 3½ inches and have two columns of five cards and then cut every two inches. Either way works.

What you put on your card is up to you, but should most certainly include your name, company name, address, and contact information including phone number, email and web site address if you have one. A short line describing what you do should also be included and a graphic element or image relating to what you do. Keep it professional looking and remember, proofread, proofread, proofread! Nothing worse than designing, printing and cutting a bunch of business cards or paying to have it done and then finding a mistake!


This site needs an editor - click to learn more!

You Should Also Read:
Specialty Paper Online Stores
Making Custom Luggage Tags




Related Articles
Editor's Picks Articles
Top Ten Articles
Previous Features
Site Map





Content copyright © 2022 by Laura Nunn. All rights reserved.
This content was written by Laura Nunn. If you wish to use this content in any manner, you need written permission. Contact BellaOnline Administration for details.