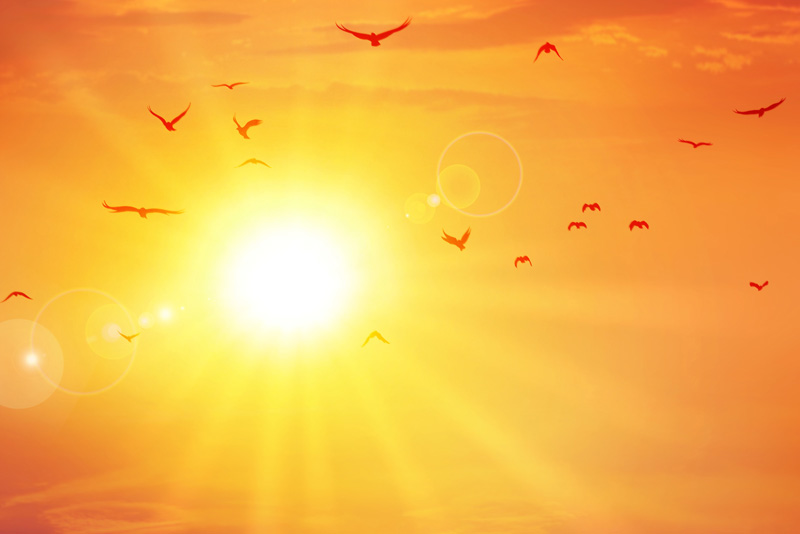 Ordain
The word ordain can refer to appointing someone to the priesthood. The
Hebrew word for ordination means to 'fill the hands' perhaps because an
Israelite priest's hands were filled with offerings for the altar. Ordain can also mean 'establish' or 'determine.'
God has the power to ordain all things. He ordained how King Ahaziah would meet his death. 2 Chronicles 22:7
Lamentations 3:37

"Who can command and have it done, if the Lord has not ordained it?"
Because of their loyaly, Moses ordained the tribe of Levi saying "Today
you have ordained yourselves for the service of the Lord" Exodus 32:29
Exodus 28:41
You... shall anoint them and ordain them and consecrate them, so that they may serve me as priests.
Rapture
This is when the Church (all believers) is taken to heaven at Christ's return.
The word rapture is taken from the Latin word rapere meaning to be caught up, plucked up or taken by force.
Christians will be called up and caught up at the return of Christ.
1 Corinthians 15:52 (NLT)

It will happen in a moment, in the blinking of an eye, when the last trumpet is blown. For when the trumpet sounds, the Christians who have died will be raised with transformed bodies. And then we who are living will be transformed so that we will never die.


1 Thessalonians 4:16,17

For the Lord himself will come down from heaven with a commanding shout, with the call of the archangel, and with the trumpet call of God. First, all the Christians who have died will rise from their graves.
17 Then, together with them, we who are still alive and remain on the earth will be caught up in the clouds to meet the Lord in the air and remain with him forever
Redeem
To make up for; make amends for some fault.
To obtain the release or restoration of, as by paying a ransom
To deliver from sin and its consequences by means of a sacrifice
See also
See
"Why Did Jesus Die?"
Redemption
1. Act of a redeemer who rescues someone else from loss or bondage; deliverer.
2. Aspect of the salvation of his people by Jesus Christ through his own substitutionary sacrifice on the cross as payment or ransom.
Romans 1:17
This Good News tells us how God makes us right in his sight. This is accomplished from start to finish by faith. As the Scriptures say, It is through faith that a righteous person has life.

Read Redemption Free and Clear.

See also:
Romans 5:9
Psalm 18:2
Galatians 4:5
Ephesians 2:8,9,10
Repent
From the dictionary:
To feel sorry, self-reproachful. or contrite for a past action, attitude, etc.
To feel remorse for sin or fault
In the Bible, repentance has the feeling of turning completely away
from the sin. Turning around and going in the opposite direction.
It is grief over previous actions that leads to a profound change of mind.
Psalm 7:12
Luke 24:47
Matthew 3:2
Mark 1:15
Acts 2:38
Acts 3:19
Acts 5:31
Revelation
It is an uncovering of something hidden.
The word revelation comes from the Greek word 'apokalupsis'. It means the unveiling, uncovering or the disclosing.
The book of Revelation in the Bible is the disclosing of Jesus Christ.
It is the revealing of the person of Jesus Christ or the revealing of what He intends to do.
In Revelation 1:11, the apostle John is told to write on a scroll what he is about to be shown. That scroll is Revelation.
Righteous
Morally right or justifiable
Characterized by uprightness or morality
The righteous
Those who are morally right and justified
Those who are characterized by uprightness and morality
Romans 4:5
But people are declared righteous because of their faith, not because of their work.
See also:
Romans 4:22
Deuteronomy 6:25
Romans 4:24
Back to the Glossary


Related Articles
Editor's Picks Articles
Top Ten Articles
Previous Features
Site Map



Follow @LynneChapman
Tweet





Content copyright © 2019 by Lynne Chapman. All rights reserved.
This content was written by Lynne Chapman. If you wish to use this content in any manner, you need written permission. Contact Lynne Chapman for details.