Innovative Measure to Clean Oceans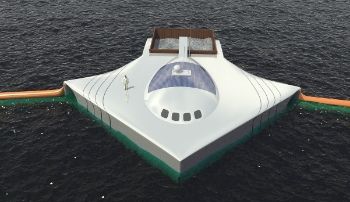 Each year, it is estimated that more than one million animals die from exposure to debris from "garbage islands." These "islands" are created by the five natural gyres, or oceanic vortexes found in the global water system, which consequently pushes trash together into giant masses. It is estimated that more than 90 percent of the debris floating in ocean gyres are plastic based fragments. These fragments look like edible plankton to wildlife. Since the animals believe they are consuming nourishment, they fill their bellies and many die, as a result. Additionally, plastic releases the chemicals polychlorinated biphenyl (PCB) and dichlorodiphenyltrichloroethane (DDT) into the water, which science has determined causes a chemical contamination chain reaction throughout the various food chains, from plankton life forms all the way up to humans.
Many people toss up their arms with the mindset that there is no solution to curb the destructive human behavior towards nature, and take the unaccountable outlook that it is a problem for future generations with which to contend. Then there is the mindset of Boyan Slat, who took the challenge head on as a college assignment. He stated, not only are people directly responsible for the ecological calamity. They are responsible for its repair. To do his part, he has developed a concept that has the potential to render a cost effective ocean cleaning system. Slat's determination shows people how taking accountability to repair damage can harmoniously be both a profitable and conscientious endeavor.
His college project concept was so successful that Slat started a non-profit organization, called the Ocean Cleanup Foundation. The purpose of his foundation is to design his Ocean Cleanup Array technology and test its effectiveness. His concept incorporates sound logic with the fundamental reasoning of how to turn a negative into a positive. The approach plans to use the natural force of the gyres to help capture plastic while filtering out plankton. The trapped plastic would then be stored in containers, picked up, and shipped to recycling facilities for reuse. To combat inclement weather conditions, Slat pointed out in his TED Talks lecture that basing the design of his filtering system to match the body style of a manta ray would theoretically ensure that the platform would remain functional. The Ocean Cleanup Array system has the anticipated ability to remove 7.25 million tons of plastic debris within a five-year period.
This ingenious approach to polluted waters would help nature clean itself, remove toxins from the water supply, and has the enormous potential to stabilize wildlife, which in turn would fortify the various food chains. A shining voice from the future generation has stood up with a "Yes, we can do it," attitude. The
Ocean Cleanup Foundation
deserves support and encouragement to bring this design to fruition. It is the innovative thinking the ecosystem needs and encourages the expansion of positive creativity within the human mind. For, when people stabilize the needs of wildlife and their habitats, they secure a reliable future for themselves and those not yet born.
You Should Also Read:
Animal Deaths are Rubbish
Can You Live Without the Support of Aquatic Life?
Clean Water for Healthy Animals


Related Articles
Editor's Picks Articles
Top Ten Articles
Previous Features
Site Map



Follow @WildlifeWelfare
Tweet





Content copyright © 2022 by Deb Duxbury. All rights reserved.
This content was written by Deb Duxbury. If you wish to use this content in any manner, you need written permission. Contact Deb Duxbury for details.