The Real Cost of Elephant Ivory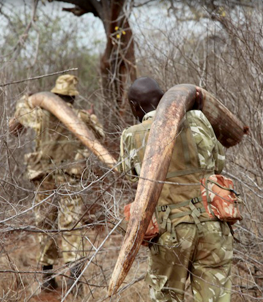 An elephant dies every 15 minutes at the hands of poachers. They butcher elephant faces for their tusks and leave the carcasses rotting in the elements. Equally tragic to that imagery is the realization that poachers do not feel the full effects of violating endangered species or human laws. A concerning trend is the elitist symbol of owning ivory. It is within reason to say that the United States and China go a long way in contributing to the ongoing problem. The increased interest in black market ivory has driven prices well over $1,000 per pound. Both countries see the possession of ivory as a misguided status of wealth, rather than what it actually is - murder. The high level of interest in ivory from the United States comes as a surprise to many. Particularly, after the Fish and Wildlife Service destroyed six tons of it in 2013. However, the distorted pull of 'perceived power' continues to keep its hold on the American imagination, and subsequently supports poaching. Perhaps to find clarity in perspective, it is important to examine what other activities' poaching sustains.
Homicide:
Each year thousands of park rangers from all over the world lose their lives defending protected species from poachers. Most, gunned down by AK-47s. These underpaid and under-supported civil servants combat poachers armed with automatic weapons, rockets, and even tactical air support. Equally distasteful to the actual crime is the lackadaisical approach to enforcing law. Poachers are able to bribe law enforcement officials so effectively that they literally get away with premeditated murder.
Criminal Conglomerates:
The illegal wildlife trade ranks as the fourth most profitable criminal syndicate, behind drugs, counterfeiting, and human trafficking. There is nothing that says, "You've made the big time baby," quite like the display of bone in league with the illegal kidnapping, abuse, and selling of children.
Global Unrest:
In addition to supporting criminal enterprise, the popularity of wildlife black markets directly finances rebel and militia groups, and known terrorist organizations. Any country that has ever had the misfortune to have dealings with factions like Al-Qaeda, the Lord's Resistance Army, the Janjaweed Militia, Congolese rebels, and many more have the illegal sale of ivory to thank. Author and International Fund for Animal Welfare (IFAW) supporter says, "the illegal trade has gotten so out of control that corruption is easily observed throughout the military, border guards, law enforcement officers, judiciary officials, customs officers, embassy personnel, and state diplomats. The corruption spreads like a disease so long as people continue to profit from the illegal wildlife trade."
An ornate piece of ivory around the neck or on the desk shows a weakness of character to the world, far more than it does the strength of an individual's bank statement. For those interested in teaching humanitarianism to future generations, become a part of IFAWs
Join the Herd
classroom movement, and take action for elephants.
You Should Also Read:
United States Stronger Stance on Poached Ivory
Zoo Found Guilty of Elephant Abuse
Elephant Tusks for Black Market Seized


Related Articles
Editor's Picks Articles
Top Ten Articles
Previous Features
Site Map



Follow @WildlifeWelfare
Tweet





Content copyright © 2023 by Deb Duxbury. All rights reserved.
This content was written by Deb Duxbury. If you wish to use this content in any manner, you need written permission. Contact Deb Duxbury for details.