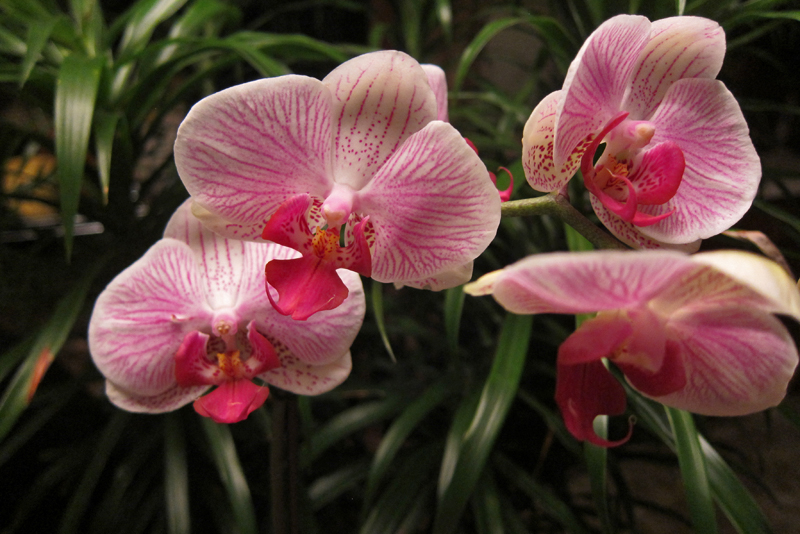 Clear Labels from your printer
Use clear plastic labels from your printer to label your plants. Avery 8667 labels (1/2 inch by 1 3/4") work very well for this application. Since you can make the labels say anything that you like, add the last repotting date. Labels from growers will generally last you a couple of years, but after that the plastic will become brittle. If the writing is in pen or pencil, that may become illegible. Do a new label each time you repot and you'll never have to worry about trying to read faded or broken names.

Time release fertilizer
Many growers recommend using a six month time-release fertilizer for Cattleyas, Dendrobiums and Cymbidiums and a nine-month fertilizer for Vandas and terrestrials or semi-terrestrials. The advantage to this is that you don't have to remember when to fertilize or how much to give the plant. You will be feeding at a steady rate to keep your plants growing at all times.

Small mounted plants
If you are growing inside and don't think you have a place for mounted plants, think about putting them on the sides of larger pots or just stand the mount up in a clay pot. The other advantage to doing this is that you are providing extra humidity to the plant from evaporation from the clay on the pot you're using as a stand. If your plants are small, several can be mounted on the same larger pot.

Moving plants from Sphagnum to fir bark
When moving new plants from a straight Sphagnum mix, use a 50% fir bark and 50% Sphagnum mix. For some reason this works better than going to a straight fir bark media. When ready to repot again, straight fir bark will work well. You plant will have had time to adjust and the roots will be ready for the bark.

Hanging mount holder
To display mounted orchids indoors, take an empty bottle and fill it with sand to provide a stable base. Insert a heavy wire about 12 inches longer than the bottle into a cork or bottle top. Bend the top of the wire into a hook and then use this to hang your plant.

Cut Back Vandas
When your Vandas get too big and you want a more manageable plant, cut off the top portion when there are at least four roots above the portion that will be in your pot or basket. Be sure to spray the cut portions with some kind of fungicide to prevent rot. Keep both the old and the new pieces. The older growth will start keikis around the bottom of the plant and each of these will flower. The top piece will grow and flower normally.

You Should Also Read:
Summer Orchid Growing Tips
How to choose an orchid
Potting Media


Related Articles
Editor's Picks Articles
Top Ten Articles
Previous Features
Site Map





Content copyright © 2022 by Susan Taylor. All rights reserved.
This content was written by Susan Taylor. If you wish to use this content in any manner, you need written permission. Contact Anu Dharmani for details.