Beyond the Baseline : Early Winter 2003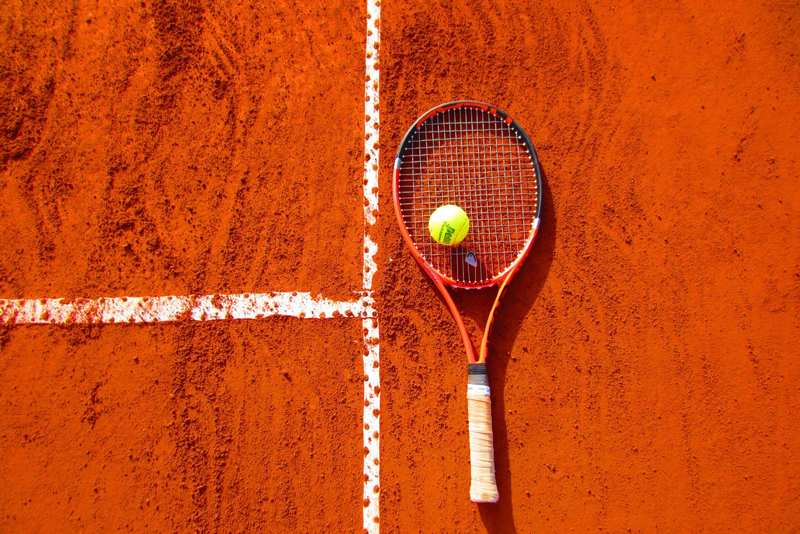 Welcome to
Tennis
at BellaOnline! You can find us online at
https://Tennis.BellaOnline.com
. Stop by and check us out, and don't forget to bookmark the URL.
We're glad you're here and hope that you enjoy
Bella Tennis
and
Inside the Baseline
. We are trying to put out our newsletter more frequently to keep you up to date on all the latest. Please let us know how you like the format, and if you'd like to see something different. As always, drop us an email at
Tennis@BellaOnline.com
if you have any questions, comments or suggestions.
IN THIS ISSUE
Announcements
:: Win $50 in Free Tennis Gear
:: Write For Us
Feature Articles
:: No Partner? No Problem!
:: Practice With a Purpose
:: Be a Better Doubles Partner
Pro Tour News
:: Matthew Perry, tour championships, SNL, Fed Cup, comebacks and more.
Recommended Reading
:: Total Tennis: The Ultimate Tennis Encyclopedia, by Bud Collins
:: Winning Ugly; Mental Warefare in Tennis, by Brad Gilbert
:: Tennis for Dummies, by Patrick McEnroe
Talk to Us
:: See you in the forum
:: Send us an email
---
A N N O U N C E M E N T S
Back by Popular Demand!
Win $50 in Free Tennis Gear
The contest has been extended to
December 31, 2003
. Enter daily for a chance to win $50 from RacquetGear.com. This website offers everything for your tennis needs including racquets, shoes, grips, strings, videos, gifts and more.
Enter now!
Write For Us
Calling all freelance writers and tennis fanatics. If you follow the game and it's players, would like to write a racquet review, or want to offer a tennis tip, we invite you to write for us.
---
F E A T U R E . A R T I C L E S
No Partner? No Problem!
Even if you don´t have a tennis partner, you can still work on your strokes. Many local parks and schools have a wall or backboard to practice against. If you´re near a tennis facility, you may also be able to rent time on a ball machine. Going solo doesn´t mean you can´t work on your game.
Practice With a Purpose
When you go out to the court to practice tennis, that´s what you should do. Too many of us get into the habit of just "hitting" and not working on strategy and shot placement.
Be a Better Doubles Partner
Most recreational tennis players play doubles, which means they´re not alone out there on court. The key to your happiness and success as a doubles player is to be the best partner you can be.
Be sure to check out the complete
article index
to help you get all the tennis information you want with fast and easy access.
---
P R O . T O U R . N E W S
RESULTS / RUMORS / GOSSIP / EVENTS / ETC
Mardy Fish wins first ATP tour singles title in Stockholm.


Russian starlet Anna Kournikova was back on the court for an exhibition in Thailand where she defeated Tamarine Tanasugarn. Kournikova hopes for a return to the tour by March 2004, and is preparing by hosting awards shows.


Tim Henman earned his second tour title of 2003 in Paris by upsetting Guga, FedEx and A-Rodd.


Already on the practice court after suffering a brain lesion last summer, Leander Paes will resume playing in 2004.


The Williams Sisters, Lindsay Davenport and Monica Seles plan to return to the tour in January 2004.


The USTA signs deal with CBS to carry the U.S. Open through 2008, providing 48 hours of coverage each year.


Justine Henin-Hardenne finishes the year as world No. 1, then loses to Ai Sugiyama and Amelie Mauresmo.


Kim Clijsters wins the WTA Tour Championship without losing a match, easily defending her title, but still without a GS title, finishes the year at No. 2.


We continue to see Friend Mathew Perry in the player/friend box of Jennifer Capriati. Perry is said to have been a top-ranked junior in Canada.


The FedEx Man, Rodger Federer, swept through the Tennis Masters Cup without dropping a match, and the Bryan's take the doubles to become the first brothers to finish as the No. 1 team.


Andy Roddick becomes second-youngest man to end season as world No. 1, then loses to Rainer Schuettler. Later he kicked it like a pro on Saturday Night Live.


U.S. defeats Belgium in Fed Cup tie with second-stringers, and Martina Navratilova improves record to 38-0 in Fed Cup play.
UPCOMING TOUR EVENTS
The
ATP
and
WTA
tour seasons are over for 2003, but tennis starts up again at the first of the new year, as players head Down Under in preparation for the first Grand Slam of 2004 at the
Australian Open
where Andre Agassi and Serena Williams will look to defend.
---
R E C O M M E N D E D . R E A D I N G
Total Tennis: The Ultimate Tennis Encyclopedia
This compilation from the colorful
Bud Collins
is a must-have for any tennis player or fan of the game. Makes a great gift!
Winning Ugly : Mental Warfare in Tennis--Lessons from a Master
Brad Gilbert
has coached Andre Agassi and Andy Roddick to world No. 1 with his "ugly" approach. Find out what he did for their game, and how it can improve yours.
Tennis for Dummies
Veteran tour player and Davis Cup Coach
Patrick McEnroe
gives you an insiders guide to great tennis with the basics, everything from the types of racquets and balls to the scoring of tennis to the types of court surfaces, and more.

Tennis 2004 Wall Calendar
Buy Now!


---
T A L K . T O . U S
Questions, comments, ideas and suggestions are always welcomed and strongly encouraged. Please feel free to
send an email
if there's something you want to know, an opinion you want to share, or just to say "hi". We're here to help, and are happy to be of assistance.
You are also invited to "talk tennis" in the
Bella Tennis forum
at
https://www.bellaonline.com/code/ubb/cgi-bin/ultimatebb.cgi?ubb=forum;f=105
We're a fun community of tennis fans and fanatics, so if you're interested in learning the game, improving to another level, or have a question about strategy, this is the place to be and be seen. Surf on over and join a discussion, or post a new message. We're here to help.
Thanks for reading, and have fun on the courts!
Until next time,
Sandra Eggers, BellaOnline's Tennis Host


Editor's Picks Articles
Top Ten Articles
Previous Features
Site Map





Content copyright © 2021 by Sandra Eggers. All rights reserved.
This content was written by Sandra Eggers. If you wish to use this content in any manner, you need written permission. Contact Sandy Eggers for details.