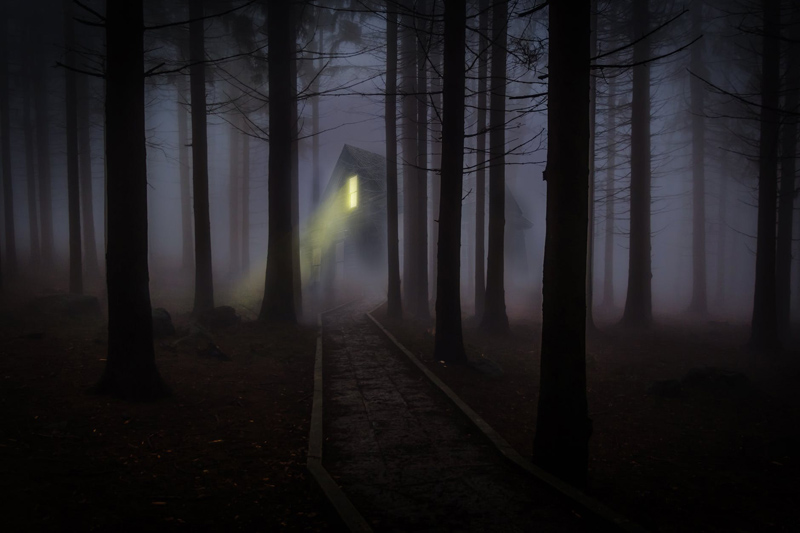 �Last night I dreamed I went to Manderley again.� These famous words mark the opening both of the Daphne du Maurier novel, and the movie of the same name - Rebecca. Released in 1940, Rebecca was the first movie directed by Alfred Hitchcock following his move from Britain to Hollywood.

Hitchcock himself did not consider Rebecca to be his best work, but millions of movie fans have regarded this as a masterpiece for more than seventy years.

The movie opens in Monte Carlo, where a naive young woman, a paid companion, has accompanied her employer, the dictatorial and socially ambitious Mrs Van Hopper. Staying at the same hotel is Maxim de Winter, a handsome widower. Although Maxim at first displays an embittered and despairing state of mind, in the young companion�s company his mood lightens, and he rediscovers his pleasure in life.

Laurence Olivier (1907 � 1989) plays Maxim de Winter with his customary charm and aplomb, creating a sharp contrast between the character�s dark and brooding side and his happier, more light-hearted aspect.

Joan Fontaine (b 1917) is quite superb as the young woman who becomes the second Mrs de Winter � we never know her given name. Fontaine claimed that she was badly treated by Olivier throughout filming, since he had wanted Vivien Leigh, his girlfriend, for the role. Hitchcock also behaved deplorably. Notorious for his awful treatment of actors, Hitchcock repeatedly told Fontaine during filming that the rest of the cast hated her. Perhaps it was in part due to these less than happy circumstances that Joan Fontaine was able to portray so convincingly the stress, tension and gut-wrenching fear experienced by her character.

Faced with the prospect of the young companion being whisked away from Monte Carlo by her employer, Maxim proposes to her with the classic line, �I�m asking you to marry me, you little fool�. Mrs Van Hopper, in a fit of spite, warns the bride-to-be not to fool herself that Maxim loves her, saying that he adored his late wife, Rebecca.

Mr and Mrs de Winter leave France and return to his family home in Cornwall, a beautiful house called Manderley. Here, the carefree early days of their marriage come to an abrupt end. It seems that the spirit of Rebecca pervades the house, constantly reminding the second Mrs de Winter that she is out of place and inadequate.

Rebecca�s memory is kept alive by housekeeper Mrs Danvers, who had been Rebecca�s maid when she first came to Manderley. Still devoted to Rebecca, Mrs Danvers will stop at nothing in her attempts to destroy the new wife who has stolen her place.

Mrs Danvers is played by the magnificent Dame Judith Anderson (1917 � 1992), whose unconventional, but striking, looks are perfectly suited to the role of the menacing, mentally unstable housekeeper. Dame Judith was a character actress who played many such parts. She was happy to do so, and once said, �I may play demons, but I�ve never played a wimp.�

The second Mrs de Winter, although faced with Mrs Danvers� hostility, and everywhere reminded of Rebecca, tries to find her rightful place at Manderley. One particular scene that stands out is when she attempts to become more the kind of wife she believes Maxim wants. Wearing a sophisticated black dress, and with her hair in a fashionable style, she tries to be alluring, but succeeds only in looking gauche, like a child playing at dress up. Maxim�s amusement at her efforts, and her humiliation at her failure, are heartbreaking to watch. Personally, I doubt that another actress could have portrayed the emotion in this scene as well as Joan Fontaine.

When the mystery surrounding Rebecca�s death is resolved, and the secrets that Maxim has been keeping are revealed, it changes the nature of the de Winters' relationship. Mrs de Winter grows up almost overnight, and it is she who must provide the strength of character to support Maxim through his ordeal.

Rebecca is a story with many layers. It is possible to watch the movie many times and come away each time with some new insight into the characters and their actions. This review cannot do full justice to this atmospheric movie, and I urge movie lovers to watch � or watch again � the mystery of Rebecca.


You Should Also Read:
The Best Classic Mysteries
More Great Classic Mysteries
Classic Mysteries


Related Articles
Editor's Picks Articles
Top Ten Articles
Previous Features
Site Map





Content copyright © 2023 by Grace Rostoker. All rights reserved.
This content was written by Grace Rostoker. If you wish to use this content in any manner, you need written permission. Contact Grace Rostoker for details.