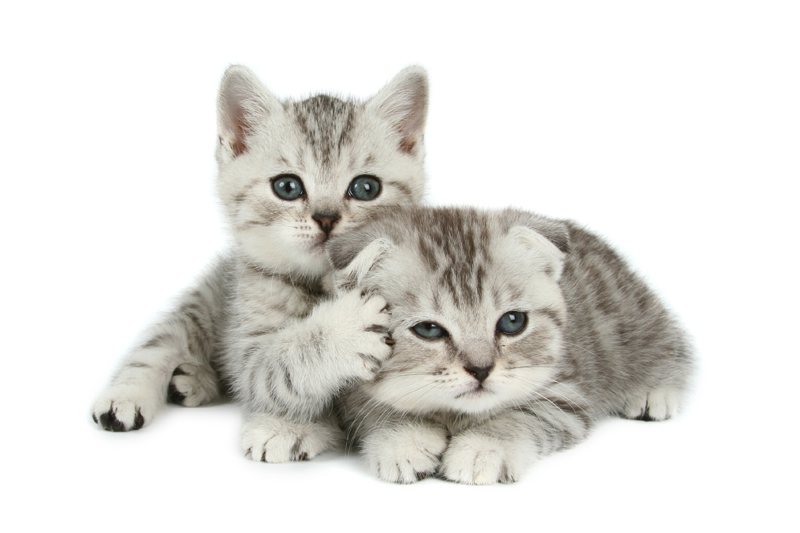 A feral cat is a cat who is born and raised in the wild, or who has gotten lost or been abandoned and reverted back to living in the wild to survive. Offspring of these cats add to the overpopulation of homeless cats. Female cats can get pregnant as early as 4 or 5 months old, and feral females spend a majority of their lives pregnant or nursing. One female cat and her offspring can produce around 420,000 cats in a seven-year period.
Typically feral cats are too fearful of humans and too wild to be handled. While some might tolerate limited human interaction, most are unlikely to approach people. The majority of feral cats live in colonies, with other ferals, near businesses or homes where food (i.e., someone who feeds them or a restaurant dumpster) and shelter (under a porch or house, or in an abandoned building) are available. The feral colony will occupy and defend its territory. Since they are generally afraid of strangers they are rarely seen, so it is possible that people might not even realize feral cats are living in the vicinity.
Stripes, a short-haired gray tabby, might look like your own cat, but he's feral. He lives his day-to-day life wherever he can – in abandoned buildings, alleyways, empty lots, or under porches or other structures. He most likely lives in your neighborhood within a feral colony. If his colony is unmanaged, his life will probably be short and tough. He will struggle for the bare necessities of life. He must endure the extreme weather elements, like cold and snow, rain and heat. Each moment of his life is threatened with the risk of starvation, cruelty, infection, disease and attacks by other animals. He is also at risk of being poisoned or trapped by humans in an effort to kill off feral cat populations. He and the estimated tens of millions of feral cats in the U.S. need our help.
Around half the kittens born feral die within the first year of their lives. Disease, exposure to the elements and parasites are usually the cause of death for these young cats. If a feral cat does survive kittenhood, his or her average lifespan is usually between two and five years. According to the ASPCA website, if a feral cat lives alone his or her lifespan is two years and if the cat lives in a colony he or she might reach five.

It's most unfortunate that many communities still try to control feral populations with outdated methods, such as euthanasia or relocation. These are usually not effective means of feral population control, and some of these methods can be cruel. Both the HSUS – Humane Society of the United States – and the ASPCA – American Society for the Prevention of Cruelty to Animals – endorse Trap-Neuter-Return (TNR) as the most effective means of managing feral cat colonies. TNR helps improve the quality of life for feral cats, while addressing public health, environmental and wildlife issues attributed to ferals. TNR, of course, also reduces the number of feral cats and, in turn, reduces the number of homeless cats.

Learn more:

HSUS – Resources for Helping Feral Cats
ASPCA – Feral Cats FAQ
Alley Cat Allies


© Melissa Knoblett-Aman


You Should Also Read:
How to Help a Homeless Cat


Related Articles
Editor's Picks Articles
Top Ten Articles
Previous Features
Site Map





Content copyright © 2022 by Melissa Knoblett-Aman. All rights reserved.
This content was written by Melissa Knoblett-Aman. If you wish to use this content in any manner, you need written permission. Contact Melissa Knoblett-Aman for details.