Wangari Maathai - Tree Woman of Kenya
Wangari Maathai was born in Nyeri, Kenya in 1940. She attended primary and secondary school in Kenya. Wangari attended Scholastica College and the University of Pittsburgh. She returned to Kenya and became a research assistant at the University of Nairobi. Eventually, Wangari earned a doctorate from the university – the first woman to do so in all of eastern and central Africa. She also became the first woman to become a professor at the University of Nairobi.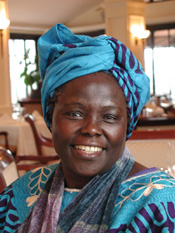 Wangari's husband left her and her three children. He was given a divorce on the grounds that Wangari was "too educated, too strong, too successful, too stubborn, and too hard to control." Wangari has been denounced by women's groups and the Kenyan government for violating African traditions and not submitting to men.
Wangari began Kenya's Green Belt Movement starting with a small tree nursery in her backyard in 1977. The goal of the Green Belt Movement was to replace the trees that had been cut down, to curb erosion, to protect the future of Kenya's land for her children and their children. Very quickly the grassroots movement spread. By the early 1980's, there were approximately 600 tree nurseries involving 2,000 to 3,000 women. In 1986, the Green Belt Movement established a Pan African Green Belt Network and introduced its approach to many other African countries. Over a 10 million trees have been planted and chapter have been started in more than a dozen other African countries. The woman in this group plant and sell seedlings to make a living from the land.
In 1988, Wangari stopped the building of an ultra-modern skyscraper at Uhuru Park in Nairobi. The financing was to come from foreign banks. Kenya was already in a debt crisis with people starving, needing medicine and education. Wangari's voice was loud enough that the foreign banks withdrew their support. President Moi labeled both Wangari and the Green Belt Movement as subversive and publicly stated that Wangari had insects in her head.
In 1998, Wangari brought on President Moi's wrath when she led a fight against the construction of luxury housing development in Karura Forest on the outskirts of Nairobi. They burned bulldozers and tree-cutting equipment. Police were sent to the area, but delegated their tasks to 200 hired men dressed as regular citizens wielding whips, clubs, swords, and bows and arrows. Their match was twelve women from the Green Belt Movement – most of them elderly – armed with tree seedlings. Wangari told the women to plant their trees outside the gate since they didn't want any trouble. As soon as Wangari planted her tree over 100 men came out of the forest and beat her and the women. Wangari was struck on the head. Wangari was brought to a police station about half a mile away. The police didn't want to handle her complaint. She insisted and signed her complaint with blood from her head wound. She was later brought to Nairobi Hospital where she received stitches and was held under observation for three days.
Wangari has received many awards including: the Nobel Peace Prize (2004), the Goldman Environmental Prize of the Goldman Foundation (1991), The Hunger Project's Africa Prize for Leadership (1991), the UN's Africa Prize for Leadership (1991), the Windstar Award for the environment (1988), the Better World Society Award (1986), the Alternative Nobel Prize and the Right Livelihood Award (1984), and many other honors. Wangari is also listed as a member of UNEP's Global 500 hall of Fame and helped to found the Women's Environmental and Development Organization.
"We have a special responsibility to the ecosystem of the planet. In making sure that other species survive we will be ensuring the survival of our own." - Wangari Maathai
Keep up to date with Wangari Maathai at her
official website
.
This site needs an editor - click to learn more!

You Should Also Read:
Mau Mau Women
Lola Faturoti - African Fashion Designer




Related Articles
Editor's Picks Articles
Top Ten Articles
Previous Features
Site Map





Content copyright © 2022 by Jeanne Egbosiuba Ukwendu. All rights reserved.
This content was written by Jeanne Egbosiuba Ukwendu. If you wish to use this content in any manner, you need written permission. Contact BellaOnline Administration for details.