Michael Jackson and Bill Moeller - Two Old Salts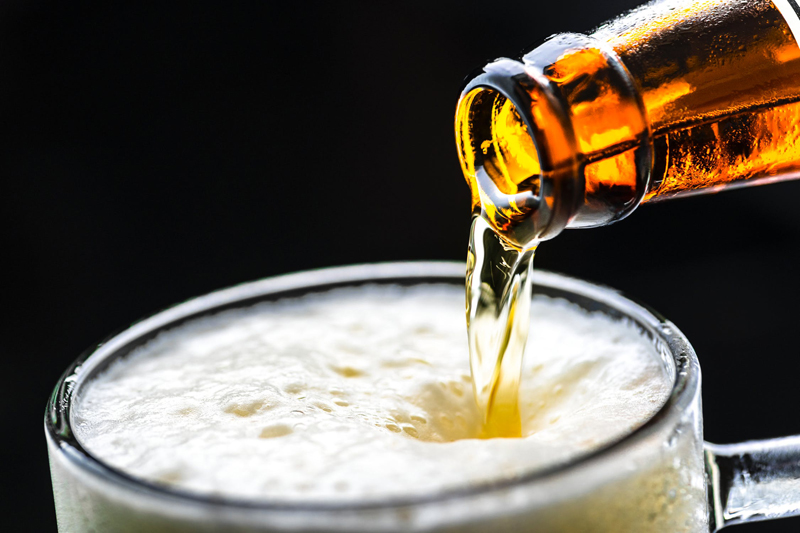 It was like listening to two old salts, sharing tales of adventure on the high seas. Bill Moeller and Michael Jackson, their silhouettes framed across the table. A beer writer's dream…a study in contrasts. The former, molded by a background starched with conservative tradition; the latter, unleashed by an innate spirit that gave definition to beer, demanding attention, like a caller outside a circus tent.

Aromas of malt and hops drifted like delicate Spring pollen into my nostrils. We were at Iron Hill in Phoenixville, Pennsylvania on Sunday, March 25, 2007. Since Michael was in town, Philadelphia beer writer Jack Curtin had initiated this meeting between the two Mavens of Malt. Iron Hill was generous with their samplers, as Jackson commented on each one that passed his lips … Anvil Ale: medium bodied and citrusy; Ironbound Ale: quite lovely hop profile; Pig Iron Porter: roasted, smoky, chocolate, malty; Abbey Dubbel: pears. Medium heavy, 8.6% alcohol; Irish Dry Stout on nitro: creamy head … and on it went. They began to reminisce.

Michael Jackson had just released The World Guide to Beer through Running Press in Philadelphia, © 1977. "I was on a quest to find the great American Ale," he explained.

During his stop at Ortlieb's in Philadelphia in 1978 or '79, the conversation between Jackson and Moeller turned to martinis and gin. Jackson was good friends with John Doxat who had just published Stirred Not Shaken: The Dry Martini through Century Benham, © 1976, including an "Aperitif" by Kingley Amis, and he happened to have the 192-page book with him. In friendship, he gave his signed copy to Moeller, which Moeller retained as a keepsake for nearly 30 years.

Moeller brought his treasure to this brunch, laying open a photo op that would fill with misty memories. The nostalgic piece passed through our fingers, a historic imprint that marked Jackson's early influencers in his genre of beer and whisky. On the inside cover, Moeller himself had added his own touch of personalization with a few favorite quotes:


"The martini is the only American invention as perfect as a sonnet."
H. L. Mencken

"America's most superb gift to civilization."
Bernard De Voto

"I must get out of these wet clothes and into a dry martini."
Dorothy Parker

Bill Moeller's entry into the beer world did not arrive as a bolt of lightning. His education began at Perkiomen Prep, a private preparatory school for boys in the suburbs of Philadelphia. World War II propelled young men to a call of duty, and Moeller obliged with a tour in the Merchant Marine that lasted from 1944 until '46. Afterward, he continued his education at the University of Cincinnati, majoring in Business - Engineering, before approaching his father with his desire for a career in the Brewing Profession.

Contrast this with Michael Jackson who left school at 16. With enough credits for an English certificate, he launched his long and successful career as a journalist and author, but eighteen years would pass before Jackson would be taken seriously in the world of beer and whisky.

Before Moeller's father could validate his wish to become a fourth generation brewer, he insisted Bill learn the business from the ground up. "You're not going to embarrass me," he insisted, and sent him off to work as an apprentice for 3 years under the tutelage of his uncle, Adolph Robert Moeller, at Drewry's in Indiana.


With experience in tow, he advanced to the U.S. Brewers Academy in New York for 9 months, graduating in 1953. He began his first actual brewer's job at the Reading Brewery. In 1956, Moeller attended a Brewing Seminar that was open to Brewmasters "by invitation only," and was associated with the prestigious Fürst-Wallerstein Brewery in Germany. To Moeller, this was tantamount to receiving an actual award for brewing. Historically, the princes of Oettinger-Wallerstein Brewery had cultivated impeccable brewing traditions since the days of Tsar Boris Goudonow of the late 1500s. To receive this level of recognition from his peer group at this early stage was an astounding accomplishment.

On his 30th birthday - April 2, 1956, he was hired as Assistant Brewmaster at Orlacher Brewing of Allentown, Pennsylvania and remained there for 12 years, covering every aspect of brewing and quality control. He then moved to the Henry F. Ortlieb Brewing Company in Philadelphia, where he brewed from 1968 to 1980. In 1981, Christian Schmidt Brewing Company bought the business and four years later, Bill Moeller retired from corporate brewing and took on the hat and cloak of a consultant, anxious to use his breadth of experience to serve others in the brewing community.

Moeller seemed most proud of the time he brewed at Ortlieb's. He and Jackson kicked around the stories:

Jackson noted that while Bill was busy brewing in those early days, he was traveling the world as a journalist – in Amsterdam … and South Africa … and there was that time he was kidnapped in India during the Punjab War, when he wondered if he would live through the day …

Neuweiler Ale, with its genesis in Allentown: "nichts besser!" they chimed in together.


McSorley's Ale, originally brewed by Rheingold, was made for the controversial Men's Only Club, where celebrities like Jack Kennedy and Joseph Mitchell of the New Yorker were served. Following a 1969 lawsuit, the club was opened to women in 1970, but the bathrooms remained "unisex restrooms," much to the chagrin of those demanding equality.

"But I digress," said Michael. "McSorley's Ale. It had flavor!"

"Michael loved it," continued Moeller. "And then there was Old English 800. We called that Kick-a-poo Joy Juice."

At Schmidt's, Moeller was charged with brewing all the special products from the Ortlieb days, but the most coveted was Pryor Double Dark, a take-off on Pilsner Urquell, but with a darker body and richer flavor. It mattered not where he moved to brew. Michael Jackson always found him, ready with journal and pen, taking notes feverishly and eager to taste everything in the house.

Moeller served as consultant to Steve Hindy and Tom Potter, founders of Brooklyn Brewery, and later, to Jeff Ware and Rosemarie Certo, when Dock Street was located at 18th and Cherry Streets in Philadelphia.

As the chatter ebbed, Tim Stumpf, Head Brewer at Iron Hill Phoenixville (schooled at the American Brewers Guild in Vermont), brought us a bottle of The Cannibal, a Belgian Strong Golden Ale, designed as a tribute to Belgian cyclist Eddy Merckx who devoured his competition throughout his cycling career. At 7.5% ABV, The Cannibal displayed a tropical profile, rich with citrusy fruitiness, exotic spice, and light effervescence on the tongue … a legendary beer to accompany these "legendary bookends in the world of beer."

Cheers!

Photos are (from top): Bill Moeller and Michael Jackson with the book "Stirred Not Shaken: The Dry Martini"; Moeller listens while Jackson makes a point; Moeller and Jackson at Iron Hill in Phoenixville, Pennsylvania, USA; The Cannibal, Iron Hill 
You Should Also Read:
Beer Styles - Tribute to Jackson , Eckhardt , Gatza & Papazian
Court Avenue Brewing Remembers Michael Jackson
Michael Jackson - A Final Farewell in London


Related Articles
Editor's Picks Articles
Top Ten Articles
Previous Features
Site Map





Content copyright © 2023 by Carolyn Smagalski. All rights reserved.
This content was written by Carolyn Smagalski. If you wish to use this content in any manner, you need written permission. Contact Carolyn Smagalski for details.