Michael Jackson - A Final Farewell in London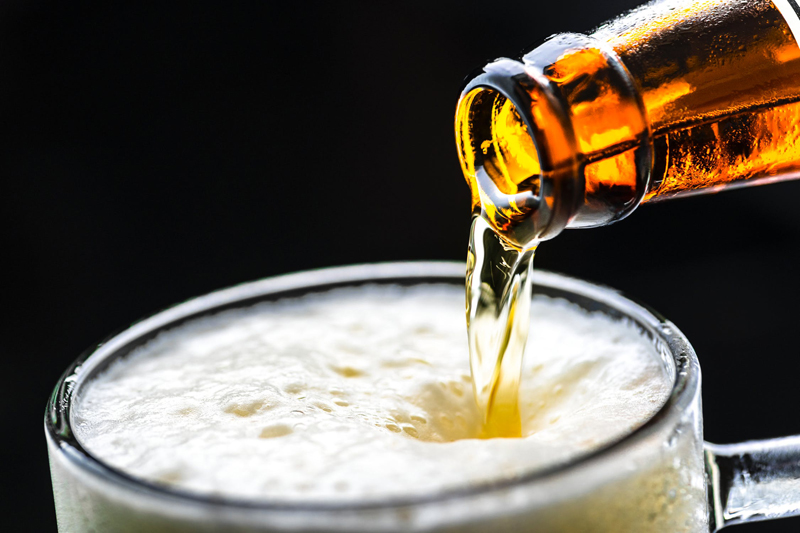 Some traveled across town…others traversed invisible borders from countries sprinkled throughout Europe or over the Atlantic Pond – travelers, invited to the inner sanctum of Michael Jackson's extraordinary life, journeying on a Mecca to pay their last respects to this leading world authority on beer and whiskey. It was Friday, September 14, 2007 and although Gore Verbinski's Weather Man would have ordered rain clouds for this somber occasion, the persistent sun and gentle breezes dissipated any semblance of smoky granite in the heavens above. By early afternoon, the sky shone bright azure, reminiscent of the twinkling eyes of this "gentle giant" of the drinks world.

Final Funeral Services for Beer Hunter Michael Jackson were held at Mortlake Crematorium, Kew Meadow Path, in the London Borough of Richmond. The name "Mortlake" alone would add a Dickensian twist to the imagination of those who knew it not, but the opening jazz embouchure that launched Jackson's service - Johnny Coltrane's "A Love Supreme (Part I: Acknowledgment)" - quickly served to dissolve any intellectual images associated with Victorian English literature.


Michael would have been proud. The entire event had been carefully orchestrated to include bits of significance from his own mental archive, carried out by his family, and vigilantly monitored in the two weeks prior by Owen Barstow, Michael's leading researcher and loyal assistant throughout 12 years of Michael's prolific life. Nicholas Redman, international whalebone researcher and orator, introduced a cast of worldwide renown who highlighted Michael's life with personal anecdotes, digressions, and a keen sense of wit.

Because of my close and personal relationship with Michael, much of the day appears as a nebula, a hazy blur, seeded with flashes of starlight or cloaks of caustic obsidian. Random happenings plunged me into the deepest levels of sadness - moments that, I acknowledge, will ring sweet in the future: the sound of the jazz music Michael particularly loved - Ben Webster & Coleman Hawkins performing "Tangerine" and the trickle of Rebecca Campbell's voice as she read Dylan Thomas' words - "Do not go gentle into that good night," for instance.

I am fortunate that my recall of the most touching anecdotes brings a soft smile to my lips. Michael's sister Heather Campbell told a captivating story about Michael, transforming himself into a fearsome Captain Hook as he read "Peter Pan" to her as a child – sweet, sweet memories. Her story echoed that of my own adult experiences with Michael as the dramatic performer, a role he filled by reading Dylan Thomas' "Old Garbo" to me with gripping expression on more than one occasion.

Mark Dorber, the most knowledgeable Cellarman in the world, spoke of Michael's life throughout many years of accomplishment and friendship, while Garrett Oliver brought laughter with hilarious tales of Michael's competitive verve for Rugby League. Ian Wisniewski, spirits specialist and one of several select authors in Michael's award-winning book, "Whiskey: The Definitive Guide," read a tribute from fellow author and friend Martine Nouet of France, who could not attend. Nouet fondly referred to Jackson as "My Brother in Drams." Michael's daughter, Sam Hopkins, delivered a touching tale as seen through her own admiring eyes - Michael, the well-meaning father figure. He would have been proud and delighted with her intense sense of wit. An A minus, Michael? A truly funny story!

Unquestionably, Michael Jackson was a source of inspiration who prepared the solid grid that defines beer and whiskey as it is viewed throughout the world today. His skills in observation, creative description and analytical analysis, infused with his innate connectedness with people, left a legacy that will be honored throughout history. Those present celebrated that legacy and toasted to his spirit in a reception at Fuller's Brewery in Chiswick, London, following the service.

Reception After the Funeral


The Hock Cellar at Fuller's Griffin Brewery in Chiswick (pronounced Chizz'-ick) served a reception following Michael Jackson's funeral service. A buffet table was set, and Fuller's beer was raised to toast the memory of the great Legend. Movies from Michael's Beer Hunter Series, clips that included a youthful Mark Dorber, graced the rear wall. A screen of sentimental photos zigzagged through the space, while family members and friends from throughout the world exchanged Michael stories.

Many of them, I had already met within the beer community, while others gained faces for the names and stories Michael had woven about beer and whiskey across the world – From the USA, Charlie Papazian, Tom Peters, Bruce Nichols, Kevin Cox (Hoosier and Beer Stalker), Alan Dikty, Dave Alexander, Garrett Oliver, Steve Hindy, Daniel Bradford, Charles and Rose Ann Finkel, Rob Imeson and Keith Johnsen from Michael Jackson's Rare Beer Club, Steve Hamburg; Mikko Montonen from Helsinki; Hans and Becky Offringa from the Netherlands; Michael's daughter Sam Hopkins, son-in-law Mikey, and grandchildren Ben and Ellie, along with his sister Heather Campbell, her husband Alastair, their children, and his past-partner Paddy; from the UK, Frances Kelly, Michael Hardman, Roger Protz, Owen Barstow (of course), Cathy Turner, Pauline Hayes and her daughter Natasha; his lovely and kind cat sitter Sharon; Mark Dorber, Jim Murray, Marcin Miller, Helen Arthur, Dave Broom, Peter Haydon, Glenn Payne, Roger Mallinson, Michael's neighbors Arnie and June, Tom of the Thatched House and Andover Arms, and Nicholas Redman; Ben Vinken from Beer Passion; Shuna from Suntory; Christian Bauweraerts from La Chouffe and Robin Brilleman, both from Belgium; drinks writer Ian Wisniewski, and scores of others.

Preceding the Funeral Service and after the Fuller's Reception, Tom and Moira, proprietors at the Andover Arms, Michael's neighborhood pub, served many of Michael's friends in the final page of his lifelong chapter. Mark Dorber hosted this final reflection, a tribute to his dear friend, and Hans Offringa read his touching tribute, "A Taste of Sadness", one that will long be remembered each time we recall Michael Jackson and his extraordinary accomplished life.
You have given us so much, Michael Jackson!  We shall miss you, Dear Heart, and shall love you forever!

Cheers!

Photos: (from top)Michael Jackson talks with fans at the University of Pennsylvania Museum of Archaeology & Anthropology, March 2007; Nicholas Redman, Master of Ceremonies; A toast to Michael Jackson at the Andover Arms, Hammersmith, London.
 
You Should Also Read:
Michael Jackson Passes Away - World Beer & Whiskey Authority
A Personal Look at Michael Jackson the Beer Hunter
Extreme Beer - Elegant Dining with Michael Jackson


Related Articles
Editor's Picks Articles
Top Ten Articles
Previous Features
Site Map





Content copyright © 2023 by Carolyn Smagalski. All rights reserved.
This content was written by Carolyn Smagalski. If you wish to use this content in any manner, you need written permission. Contact Carolyn Smagalski for details.