Last Call for Bruce Nichols - A Memorial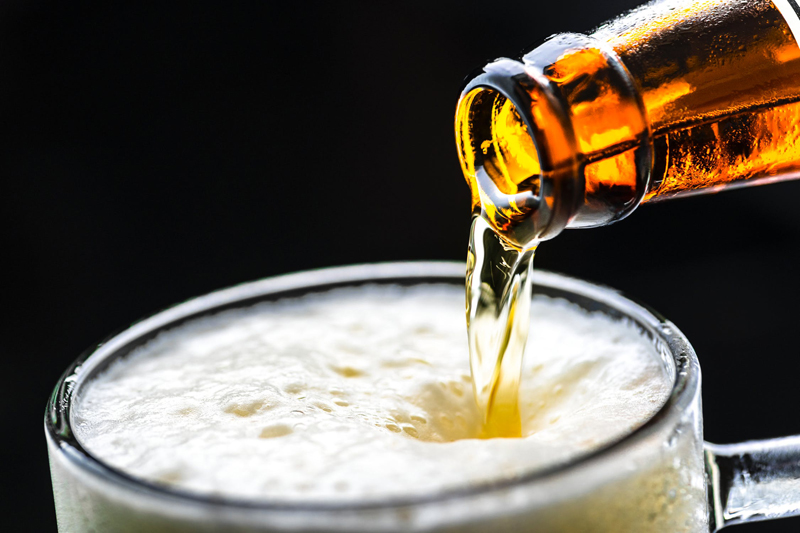 It was common for Stonemasons of 1848 to incorporate ornate columns, Gothic arches, and cloistered hallways into the architectural framework of the massive structures they built. It was their trade, their craft, their daily gift to God. The sense of awe they would instill in future generations would escape them. But to those who lost a friend and colleague, St. Mark's Episcopal Church on Locust Street in Philadelphia, Pennsylvania was an appropriate setting to remember a man who appreciated beauty. This was a perfect place for a Memorial Service in honor of Bruce Nichols, the gatekeeper of Philadelphia beer, founding member and Chairman of the Board of Philly Beer Week. It was Saturday morning, January 29, 2011, only two months after his untimely death.

Bruce Nichols passed away on 30 November 2010, after being diagnosed with a rare form of leukemia that barely gave him a fighting chance. Nichols had a remarkable life as a leader, established in his early accomplishments as an Eagle Scout, President of the Red Cross, a member of the Literary Society and of the Honor Society. His studies took him to England Ireland and Switzerland, where he was to meet Beatrice Leisch whom he married in 1972.


Following graduation with a B.A. at Hamilton College in Clinton, NY and his graduate studies at the Annenberg School of Communications at the University of Pennsylvania in Philadelphia, Bruce Nichols worked in research projects funded by the Lily endowment and as Director of Education and Studies at the Carnegie Council on Ethics and International Affairs from 1981-1988. It was through his work with the Carnegie Council that Bruce wrote and edited numerous works on Foreign Policy. He served on the Board for the U.S. Committee for Refugees and Immigrants, with a deep commitment to community-based organizations throughout the U.S.

In 1989, Bruce and Beatrice Nichols founded Museum Catering, and secured an exclusive contract with the University of Pennsylvania Museum of Archaeology and Anthropology for more than 20 years. They hosted such preeminent personalities as Julia Child, Lady Margaret Thatcher, President Bill Clinton, Henry Kissinger, President Mikhail Gorbachev, Philanthropist Bono, and Colin Powell. Through Rosemarie Certo of Dock Street Beer, Bruce was introduced to Beer Hunter Michael Jackson in the early 1990s, and brought him from London to the Penn Museum in 1991 for the first ever Michael Jackson Tutored Beer Tasting, in conjunction with the Book and the Cook event in Philadelphia.


That first beer event at the museum was disastrous. Fighting-back torrents of rain beneath wind-blown marquees in mid- March, Jackson, dressed only in a seersucker suit, felt the numbing cold. In his damp condition, he could barely focus on the task at hand, but the audience loved him. Nichols hosted Jackson, who became the world's leading beer authority, at the mummy museum annually for beer or whisky dinners and for Tutored Beer Tastings until Jackson's untimely death in August 2007.

After Jackson's passing, Bruce Nichols founded Philly Beer Week with Monk's Café Owner Tom Peters and award winning Beer Author Don Russell. In 2008, Philly Beer Week won praises as the Best Event of the Year in Philadelphia Magazine's 2008 Best of Philly issue. Nichols' leadership skills and vision served him well in his role as Chairman of the Board of Directors of Philly Beer Week, an annual, 10-day celebration of beer in Philadelphia. He continued to organize beer events at the Penn Museum, including the First Christmas Beer Fest, featuring Don Russell and the world's best Christmas Beers and Winter Warmers, and Zythos America, featuring rare and exotic Belgian, Trappist, and Belgian-style beers. In June 2010, he opened The Headhouse, a beer bar and restaurant focused on fusion cuisine and fine craft beer. After only one month, he drew his focus away from that project. He insisted he "had other irons in the fire, other projects that were more pressing." Unfortunately for the Philadelphia beer community, Bruce Nichols never had the opportunity to see those future projects become reality.


The Reverend Sean E. Mullen insisted that Bruce would have brought "good beer" with him into the afterlife. The Memorial Service at St. Mark's was reflective of Bruce's complex life and warm, engaging personality – one filled with vision, music and beauty, touched with solemnity, and attended by hundreds of family members, friends, and associates.

The solemn Requiem Mass was conducted by Reverend Sean Mullen, with the Reverend Dr. R. William Franklin, and a bevy of deacons and assisting attendants. Sunlight streamed in bands of rainbow colors through the stained glass windows above, while the gilded altars took on the look of lustrous, museum treasures. Immersed in a fog of incense, blessed water and candlelight, the Latin and English chants from the choir took on an ethereal quality, much like the Trappist Ales of Orval in the Valley of Gold.

Eight professional singers who make up the choir's "core" sang at the service, conducted by Matthew Glandorf of the Curtis Conservatory of Music. Veronica Chapman Smith, who sang with the Birmingham Opera, soloed during the service. Rebecca Harris, a member of the Teaching Artists Faculty of the Philadelphia Orchestra, accompanied the choir on baroque violin, bringing to mind the beautiful artistry of Nicola Benedetti in The Lark Ascending.

Tom Sheehan brought the background music to life on the Aeolian-Skinner organ, built in 1937. The instrument's tones are a sophisticated amalgamation of the early Austin/Carleton Mitchell pipework, the string organ of the Wanamaker Shop, and more recent updates by Cornel Zimmer. Sheehan is an award winning musician who, more recently, was presented as a "rising star performer," in July 2010, at the National Convention of the American Guild of Organists in Washington, D.C.

Perhaps, the most delightful gaffe was made by Reverend Sean Mullen during the homily. From his position atop the pulpit, he welcomed the attendees to St. Mark's Church for the Memorial Service of "saint" Bruce … he immediately laughed at himself, and commented, "I couldn't have said it better if I had planned it…"  Had Bruce been there, he surely would have sounded his approval on the Chinese gong within the Penn Museum, grinning from ear to ear.

Cheers!

Photos are (from top): St. Marks Episcopal Church, Locust Street, Philadelphia; The Lady Chapel inside St. Marks [Fernanda Henry Wanamaker is buried here in the crypt]; Bruce Nichols and Beer Fox Carolyn Smagalski at Monk's Cafe, Philadelphia; Interior of St. Marks Episcopal Church


You Should Also Read:
Bruce Nichols - Philly Beer Icon - Passes Away
Andy Musser - Anchor Brewing Beer Ambassador
Christmas Beer by Don Russell - Book Review


Related Articles
Editor's Picks Articles
Top Ten Articles
Previous Features
Site Map





Content copyright © 2022 by Carolyn Smagalski. All rights reserved.
This content was written by Carolyn Smagalski. If you wish to use this content in any manner, you need written permission. Contact Carolyn Smagalski for details.