Phil Farrell Wins 2011 Beerdrinker Title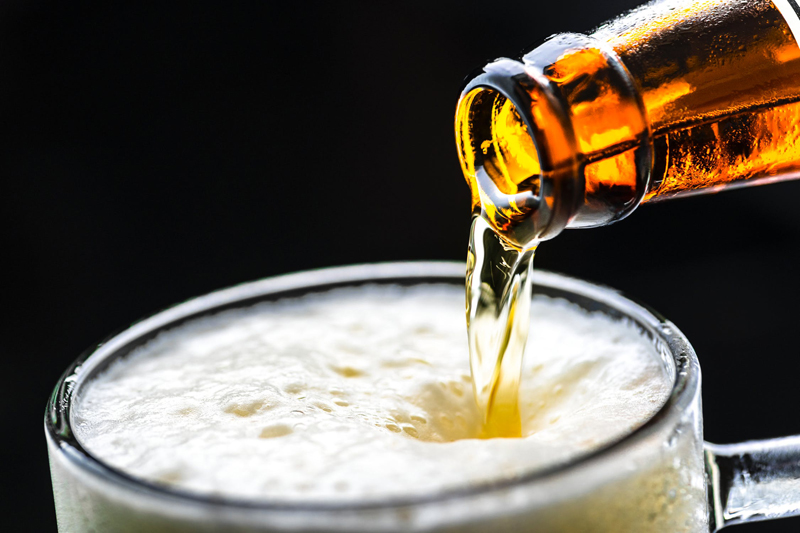 Beerdrinker of the Year is one of the most highly competitive championships in the world of American beer. This is not about who can drink the most beer, although global experience in tasting beer is a definite asset. The winner needs to have a comprehensive knowledge of beer history, brewing traditions, and beer styles, while maintaining dedication and ambassadorship in the name of beer. A quick wit also helps.

Each year, Wynkoop Brewing Company, located in the historic J.S. Brown Mercantile Building in the Lower Downtown area of Denver, Colorado, plays host to the Beerdrinker of the Year Competition. "It takes a ton of knowledge and beer-tasting experience just to get here," affirms Marty Jones, Organizer and Emcee of the event. Each year dozens of curriculum vitae are scrutinized under blind review by a forum of beer experts who select three Finalists for the honor of competing.


This year, contestants for the title played to a standing-room only audience, primed with adrenaline. Surging support from the enthusiastic crowd propelled commercial pilot Phil Farrell of Cumming, Georgia, into the winner's circle on Saturday, February 26, 2011 … FINALLY! "This is great," exclaimed Farrell to a cheering audience. "If anybody wakes me up I'll kick their butt," he continued. "This is a dream come true."

Farrell competed against James Clark of Springfield, Virginia, and Mike Dixon of Wake Forest, North Carolina. Clark is a beer enthusiast who has drank beer in over 15 establishments in four countries last year alone; and Mike Dixon, who has visited more than 600 beer establishments in 44 states and 39 countries, is working to change the beer laws in his home state.

Farrell's beer resume is duly impressive. He is an award-winning Homebrewer and a first-degree Grand Master Beer Judge in the Beer Judge Certification Program. He also serves as representative of the Southern Region for the BJCP. He has tasted beer in every country in Europe, including tiny Andorra, Luxembourg, and Monaco. In 2010, he pursued his beer hunt through 18 countries and drove the family RV over 11,000 miles on a beer trek within 32 U.S. states. "Beer is the greatest gift ever given to the human race and is meant to be shared with others," Farrell said.


His personal home bar is like a sanctuary, decorated in ribbons, medals and certificates – a haven with 6 taps of free-flowing beer, three refrigerators, and a 15-gallon brewing system. He is also owner of the Chicken, mascot of the Chicken City Ale Raisers Homebrew Club, a scrawny rubber chicken who has posed in photographs with famous beer people since June of 2005. In 2010, Farrell preserved the tradition by getting her bronzed. Her twin was born, and they both accompany Farrell on road trips in search of suds.

Farrell also appeared as a Finalist in three previous competitions, but the crown always eluded him. With The Bronze Chicken and Chicken II by his side, Farrell put on the performance of his life, while his wife, Suzie Farrell, beamed with pride. "I think this was the year the stars aligned and I did well in all aspects," said Farrell. "I've known Mike a long time and James is now a new beer friend. I was pretty dialed in all afternoon."


A panel of judges, bedecked in flowing black robes and traditional powdered wigs, came loaded with challenges for the competitors. The cabinet included a healthy dose of past Beerdrinker of the Year winners, brewers from the commercial and homebrew segments and experienced beer writers. The judges were: Tom Ciccateri (BDOTY 2005); Cody Christman (BDOTY 2009); beerwriter and hobbyist homebrewer Jennie Dorris , who has written for 5280 magazine, Boulder Daily Camera, Entrepreneur, and more; Bill Howell (BDOTY 2010); Diane Catanzaro (BDOTY 2007), writer at Veer Magazine in Hampton Roads; Chris Jones, writer at Veer Magazine in Hampton Roads; and Wynkoop Head Brewer Andy Brown. The judges displayed no mercy as they flung challenge-after-challenge at the Finalists. They heard opening statements, splattered them with obscure questions about beer, and presided over a blind beer tasting.

Phil Farrell's closing was like honey on buttered bread. Allotted 90 seconds for the finale, Farrell parodied Billy Joel's "Piano Man" with his own rendition as "Chicken Man," complete with harmonica and apologies to the songwriter:


"Its four o'clock on a Saturday,
The Beer Judges all shuffle in,
There's a rubber chicken sitting next to me,
Asking "Phil when are you going to win?"

"He says Phil will you brew me that Barleywine?
I'm not really sure how it goes,
But it was big and bold before you got so old
back when I wore feathers for clothes.

"la di da diddy da......etc

"Brew me a beer you're the Chicken Man,
Pour me a beer tonight,
'Cause we're all at the bar in the Wynkoop,
And beer gets us feeling alright."

BDOTY Winner Phil Farrell gets free beer for life at the Wynkoop Brewing Company, $250 worth of free beer at his local brewpub Five Seasons North of Alpharetta, Georgia, and prestigious clothing proclaiming him 2011 Beerdrinker of the Year. He also gets his name engraved on the Wynkoop Beerdrinker of the Year trophy.

Triumph at last!


Phil Farrell's Companion Chicken with Emcee Marty Jones


The Chicken with Five Seasons North, Alpharetta Georgia: Symbol of good suds


The Chicken on a Phil Farrell Beer Trip in Anchorage Alaska

Cheers!

Photos are: Phil Farrell, 2011 Beerdrinker of the Year; Phil Farrell with his bronze chicken in the 2010 BDOTY competition; BDOTY Judges (from left to right): Tom Ciccateri (2005), Cody Christman (2009), beerwriter and hobbyist homebrewer Jennie Dorris (has written for 5280 magazine, Boulder Daily Camera, Entrepreneur, and many others), Bill Howell (2010), Diane Catanzaro (2007), Judge Jones, Wynkoop Head Brewer Andy Brown; Competitors James Clark, Mike Dixon, and Phil Farrell during the competition; Farrell's personal basement bar
 
You Should Also Read:
The Bronze Chicken of Beer
Phil Farrell's Funky Fowl Photo Gallery
Beer Ambassador Phil Farrell and His Loyal Mascot


Related Articles
Editor's Picks Articles
Top Ten Articles
Previous Features
Site Map





Content copyright © 2023 by Carolyn Smagalski. All rights reserved.
This content was written by Carolyn Smagalski. If you wish to use this content in any manner, you need written permission. Contact Carolyn Smagalski for details.