Beer Ambassador Phil Farrell and His Loyal Mascot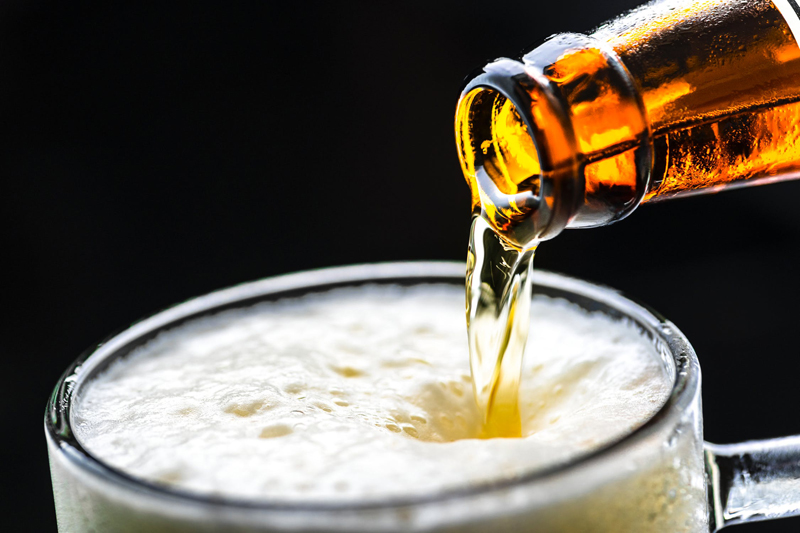 Across the dunes and the sizzling landscape, a visitor could be seen in the distance, blurred by a rising tsunami of sand that charged forward like a team of brazen horses. The melodic incantations of a call-to-prayer broke through the silence, rolling from mosques along the way. On occasion, the visitor would spot a form in customary khumûr and jilbab, milling about, performing daily chores, surrounded by children.

He was an Air Force pilot, a world traveler, of sorts. Throughout a career that took him to the farthest corners of the earth, he found a common thread that seemed to bind people together, that of beer appreciation. One might call him an aficionado of beer, although he would be too humble to speak of himself as such. In this land, he might be called haram…the forbidden one. This area of the world served no beer, under penalty of prison. He took it in stride, sampling every non-alcoholic "beer substitute" available, aware that even this could be considered a provisional luxury in such a conservative culture.


He had tasted beer in over 1000 pubs throughout the world from the northernmost parts of Alaska and Greenland to the tropical climates of the Philippines, Turkey and Wake Island. He could boast that he had a beer in literally every country in Europe, and in places that most Americans have never heard of - Diego Garcia and Andorra, for instance. As he touched upon beer in each country, he gained a greater appreciation of its influence throughout civilization. He studied it, brewed it, competed with it, lobbied for it, and taught people about it. His dedication to beer is one to be admired, and few are at the same level of expertise. In fact, he achieved the level of Master in the Beer Judge Certification Program. Currently, less than 58 judges throughout the world have achieved this status.

By now, many people in the circle of beer will have identified our Beer Traveler as Phil Farrell. So impressive are his credentials that Farrell competed as a Finalist in the National Beerdrinker of the Year Competition at Wynkoop Brewery in February 2007:

"…[Phil Farrell] impressed the judges with Five Seasons Quinte55ense Belgian Quintuple, a 5th Anniversary Beer he personally bottled at the Five Seasons Brewery, his homebrewed Git in My Belly Scotch Ale, BMD (aka Beer of Mass Destruction, and 90 Minute CPA continuous-hopped Chicken Pale Ale), along with his room-rousing rendition of the Schaefer beer jingle and superb ability for beer tasting. As a closing statement, Billy Joel's Piano Man served as the backbone for his own harmonica-accompanied rendition…"Son, can you brew me a memory…"


His mission is to find a beer that will open new horizons for "those who haven't tasted a beer they like…YET." Since June of 2005, he has been traveling with the Chicken City Ale Raisers Homebrew Club mascot – an eighteen-inch, featherless Rubber Chicken! And what a lovely girl she is! Farrell photographs his loyal mascot with as many people as possible, bringing those who are not "beer geeks" into the beer and brewing universe. In addition, those who are already heavily involved with the beer industry – as brewers, writers, bartenders, tasters, distributors, and sensory analysts - are captured in their most creative mode in these snappy photos. His photos number well over 1500. You might call him an Ambassador of Beer.

And who wouldn't want to be shot with her? Everyone looks good next to this scrawny chick, and she seems to create a constant channel of energy that connects all people.
More of Phil Farrell's Funky Fowl Photos here!

Photos: Courtesy of Phil Farrell (from Top) - Phil Farrell and his mascot Chicken; Gainsville Spring Chicken Festival

Cheers!
 
You Should Also Read:
Phil Farrell's Funky Fowl Photo Gallery
National Beerdrinker of the Year 2007 - Diane Catanzaro Seizes the Crown
World Beer Cup - American Brewers Reach World Class Status


Related Articles
Editor's Picks Articles
Top Ten Articles
Previous Features
Site Map





Content copyright © 2023 by Carolyn Smagalski. All rights reserved.
This content was written by Carolyn Smagalski. If you wish to use this content in any manner, you need written permission. Contact Carolyn Smagalski for details.