Jason Harris - Keystone Homebrew Supply Adventure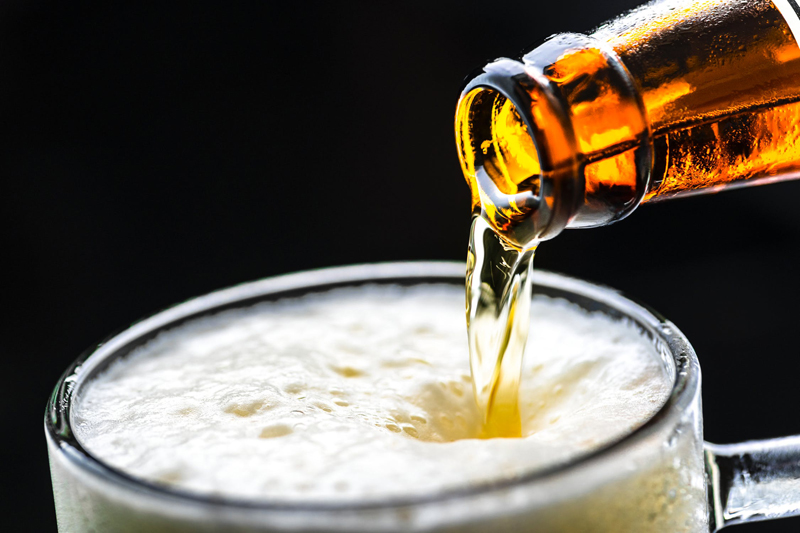 The southeastern region of Pennsylvania boasts the King of Prussia Mall, the largest shopping mall on the East Coast of the United States, and largest shopping mall in the United States of America in terms of leasable retail space, according to Wikipedia. Just fifteen miles northeast is an area known as Montgomeryville. In the 1960s, it was all farmland, but in little more than two decades, it has been transformed into the land of suburban shopping. You could shop 'til you drop … or you could make beer.

In fact, you may want to combine the two worlds of suburban entertainment. In 1992, Jason Harris was fresh out of college and had ambitions to eventually own and operate a brewpub. He opened a little homebrew supply stand in a farmer's market in Montgomeryville. That farmer's market no longer exists, but Harris had moved his business operations into a tiny store on Route 309 and called it Keystone Homebrew Supply. It became the David among Goliaths, but was the springboard that launched many homebrew hobbyists into award-winning status.

Harris opened another tiny store location in Bethlehem, Pennsylvania, and his clientele expanded. He informally assisted in the organization of two Homebrew Clubs: Keystone Hops in the Montgomeryville location and the Lehigh Valley Homebrewers in the Bethlehem location. Each club had their own meeting days – Keystone Hops on the third Thursday of the month at the Montgomeryville store, and the Lehigh Valley Homebrewers on the last Tuesday of each month at the Steelgaarden in Bethlehem.


Jason Harris enjoyed beer brewing, making wine, cider, mead, and soda, and shared his knowledge with his customers and employees in both locations. As they all became more experienced zymurgists, Harris became involved in the Beer Judge Certification Program. He organized the first War of the Worts Homebrew Competition in 1996, and has sponsored this AHA-sanctioned competition annually for the past 15 years. According to the statistics kept by the Beer Judge Certification Program, War of the Worts XV, held in 2010, stands as the second largest homebrew competition ever held on the East coast, logging entries of 816 beers in 35 categories. It was surpassed only by the 1995 World Homebrew Contest held by Boston Beer Company (Sam Adams) in Boston, Massachusetts. This makes it the 26th largest Homebrew Competition in AHA history. The 2011 War of the Worts XVI Competition scaled back a bit with 765 entries in 35 categories.

Bear in mind, that while Jason Harris was involved as an organizer of War of the Worts XVI, he was in the midst of moving his Montgomeryville Store into a new facility, a massive 24,000 square foot store on Route 202, only a scant mile from the old location. His new store opened three days before the War of the Worts XVI Competition. Don Russell, Founder and Director of Philly Beer Week, has dubbed Jason's new Keystone Homebrew Supply store as "Disneyland for Homebrewers."


But I call it "Six Kegs Great Adventure Theme Park." Although it is still undergoing renovations, there is an ample showroom of supplies, ingredients, and equipment for making beer, wine, mead, cider, and soda. A back room with attached sunroom, currently serves as an exam and class room for those taking the Beer Judge Certification Program Exam.

Did I mention that Jason Harris has provided classes for the certification of beer judges with the BJCP for several years? In fact, he is a National Beer Judge through the BJCP, has passed the Wine Tasting Exam given by the Home Wine and Beer Trade Association, and has an Advanced Certificate from the Wine and Spirits Education Trust.

He founded the Keystone Cup Competition in 2008, with the War of the Worts and Malt Madness designated as the qualifying competitions. The Homebrew Club who wins for the year gets its name inscribed on the cup, and members drink from the cup at the final ceremony of the year. Although War of the Worts and Malt Madness, a homebrew competition run by the Lehigh Valley Homebrewers, are sponsored by Jason Harris and Keystone Homebrew Supply, any homebrew club who enters both of these competitions are eligible to win the cup. It is awarded to the homebrew club who gains the most points, as a team, in the two competitions.

Harris has lofty ambitions for his new store. In addition to the current showroom and supplies, it will feature a beer shop and a café, an ample wine-making-on-premise department, a carboy and wine-aging area, massive freezer storage for grapes, a classroom for beer and wine education, and satellite winery sales. "Six Kegs Great Adventure Theme Park" is, indeed, an appropriate moniker for this new playground for homebrewers.


The staff in both locations is well-educated to serve the needs of customers and answer even the most complex questions. Lou Balli, Manager of the Montgomeryville store, is a former New York investment banker who got his priorities straight when he found his passion for homebrewing. He has been with Keystone Homebrew Supply since 2005. In his home set-up, he uses 15-gallon Blichmann pots, 90 quart cooler with bazooka screen, and a 60 foot copper immersion chiller.

Judy Parsons, Manager of the Bethlehem store, holds a degree in Dairy Science and had 10-years of experience at a dairy farm in Bucks County. She gave her husband a homebrew kit one year, but it was she who was soon working for America U Brew. By 1998, she was working for Keystone Homebrew. She is an all-grain brewer who operates a computer regulated RIMS system for crafting her award-winning homebrew.

At the Montgomeryville "theme park", Harris' other employees are highly competent:

• Aaron Fournier is an innovative homebrewer (ask him about his tiramisu beer) and was a 2008 Philly Beer Geek finalist;

• John Stemler has been a hobbyist since 2008, will teach an Intro to Homebrewing class at Keystone Homebrew, and is launching a commercial operation, Free Will Brewery;

• Dave Salaba is a champion winemaker who is a University of California, Davis graduate of the Davis Winemaking Certificate Program, has a degree in microbiology from Purdue University, and is a graduate of the Doemens Academy of Fermentation Studies;

• Peter Lyon is a former history teacher who has become a zymurgist (fermenter);

• John Stecker has been with Keystone Homebrew since 1995, and is a pro brewer who has been on radio and is currently dabbling in filmmaking;

• Jeremy Stork has been with Keystone Homebrew since 1993 and is the king zymurgist at Keystone Homebrew Supply.  He not only makes beverages, but also dabbles in cheese, olives, sourdough starter, and extracting essential oils from ingredients.


With Beer Fox Carolyn Smagalski (yours truly), Jason Harris also co-founded the Philly Beer Geek Competition, a Philly Beer Week-sanctioned event that seeks to "identify, exalt, and honor Philadelphia beer and the people who craft, celebrate, and consume it with enthusiasm and pride." In an annual public competition, a team of judges selects the Philly Beer Geek Champion. The winner is awarded over one-thousand dollars in beer-centric prizes, a wood-and-brass plaque proclaiming him/her as Philly Beer Geek, and the honor of carrying the title for a year. The sponsoring establishment also receives a wood-and-brass plaque proclaiming their establishment as "Home of the Philly Beer Geek."

Harris has also partnered with Beers of Legend, Rocco DiCicco and Jonathan Nitka, to create Clone Brew Wars, a Philly Beer Week homebrew competition in which brewers attempt to clone a world-class beer. Those who attend the event get to taste the beers side-by-side, and vote on the winner who comes closest to matching the imitated beer.

Jason Harris sponsors Brew Days and Book Signings, gets rhizomes as starters for hop growers, sponsors Homebrewer of the Year, and is always thinking about another angle that will give you an  adventure in the world of homebrewing.

Cheers!

Photos are (from top): Keystone Homebrew Supply Montgomeryville - New Location; Jason Harris, as emcee at Philly Beer Geek Competition; Lou Balli, Keystone Homebrew Supply Manager, Montgomeryville; Aaron Fournier in his personal beer cellar; RoccoDicco of Beers of Legend with Jason Harris at Clone Brew Wars Competition
 
How do you brew? Keep the info coming all year:
Brew Your Own (1-year auto-renewal)
You Should Also Read:
2011 War of the Worts XVI
Beer Trivia - Old Beer Facts
Homebrew Tips for the Novice Brewer


Related Articles
Editor's Picks Articles
Top Ten Articles
Previous Features
Site Map





Content copyright © 2023 by Carolyn Smagalski. All rights reserved.
This content was written by Carolyn Smagalski. If you wish to use this content in any manner, you need written permission. Contact Carolyn Smagalski for details.