Beer Trivia - Old Beer Facts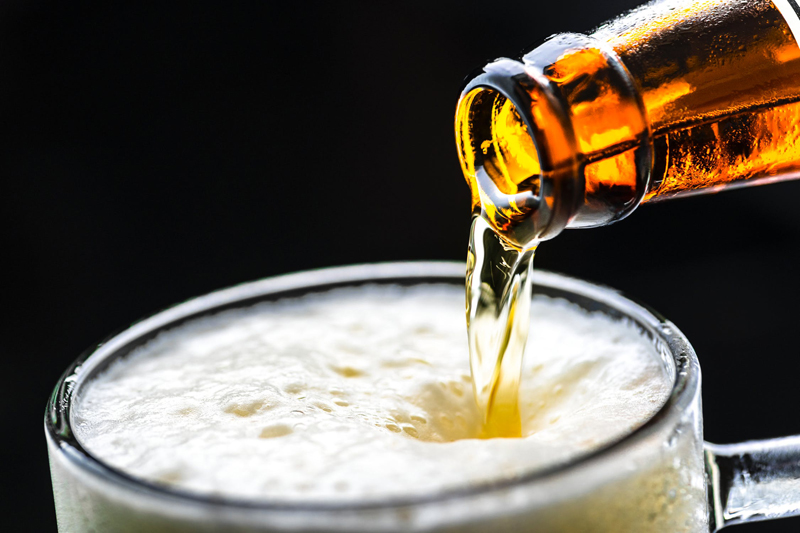 Beer Trivia can be a lot of fun. For those with a great memory for old beer facts, try this challenging Q & A list:

Q. When light beers came on the scene, who launched his version of light beer by placing three bottles of Premium Beer in a six-pack, along with three bottles of water? It was known as a do-it-at-home-light-beer-kit.
A. Joe Ortlieb

Q. In what city was the Blatz Brewery?
A. Milwaukee, Wisconsin

Q. What beer was "the he-man brew that gals love too"?
A. Ortleib Premium of the Henry F. Ortlieb Brewery of Philadelphia.

Q. What was the Griesedieck Brewery affectionately known as?
A. "Slippery Richard"

Q. What American beer was bestowed the nickname, "the green death"?
A. Ranier Ale

Q. What is the oldest brewery in the United States?
A. Yuengling in Pottsville, Pennsylvania – founded in 1829.

Q. In the 1960's and the 1970's, Schmidt's operated three breweries. Where were they?
A. Philadelphia, Pennsylvania; Norristown, Pennsylvania; and Cleveland, Ohio.

Q. By 1970, Grain Belt Breweries was the 18th largest brewer in the USA. In what city was it located – Minneapolis or St. Paul?
A. Minneapolis – it was the Minneapolis Brewing Company.

Q. In Michael Jackson's First World Guide to Beer, what did he call "an endangered species"?
A. Ales.

Q. Where was Champale Malt Liquor brewed?
A. At Tidewater Champale in Norfolk, Virginia, and Metropolis in Trenton, New Jersey.

Q. Which brewery in America is situated in a forested deer park?
A. August Schell Brewing Company in New Ulm, Minnesota. August & Theresa Schell built the mansion in 1885 and had it properly landscaped with gardens and a deer park.

Q. Who had the lead role in the movie, "Take this Job and Shove It"?
A. Robert Hays had the lead role.

Q. What was Mr. Blatz's first name - of the Blatz Brewery in Wisconsin?
A. Valentine

Q. Name two beers that carry a 33 on their labels.
A. Rolling Rock, formerly made in Latrobe, PA(currently manufactured in New Jersey) and 33 Export, largely available in Vietnam in the 70's, now a French beer.

Q. When this state voted in favor of the 18th Amendment on January 16, 1919, prohibition went into effect. What state was this?
A. Nebraska

Q. Name two breweries that delivered beer by hitch-and-wagon to the White House on the day Prohibition was lifted in 1933?
A. Anheuser-Busch and Yuengling Brewery.

Q. What beer was named after Moses Cleaveland of Connecticut, who founded the city of Cleveland in 1796?
A. Holy Moses Belgian Wit Ale, Great Lakes Brewing Company, Cleveland, Ohio, USA.

Q. In a 1948 Budweiser magazine ad, which famous US President was called "our first spaghetti maker"?
A. Thomas Jefferson

Q. Largay Brewing Company of Waterbury, Connecticut, designed a "spinner tray" in the 1930's. What beer did it promote?
A. Red Fox Ale.

Q. What year did Kosmos Spoetzel purchase "the little brewery in Shiner," and establish the Spoetzel Brewery in Texas?
A. 1915

Q. What beer did Latrobe Brewery introduce in 1939, the same year as the first US Airmail drop?
A. Rolling Rock

Q. In 1935, director Del Lord merged the talents of Moe Howard, Larry Fine, Curly Howard and Bud Jamison in this short comedy classic. What was the name of this short film?
A. Three Little Beers

Three Little Beers?
Cheers!

Do you want to know more about beer? Here are two must-have books on beer that are an absolute necessity for your personal bookshelf:

The Beer Book
, written by Sam Calagione of Dogfish Head Craft Brewery and star of the Discovery Channel TV show, BREWED
Tasting Beer: An Insider's Guide to the World's Greatest Drink
by Randy Mosher, also author of Radical Brewing: Recipes, Tales and World-Altering Meditations in a Glass

You Should Also Read:
Beer Trivia for Beer Enthusiasts - Lightning Round
Beer Trivia for Beer Geeks
World Beer Records - Extreme Beer


Related Articles
Editor's Picks Articles
Top Ten Articles
Previous Features
Site Map





Content copyright © 2023 by Carolyn Smagalski. All rights reserved.
This content was written by Carolyn Smagalski. If you wish to use this content in any manner, you need written permission. Contact Carolyn Smagalski for details.