Miniature giraffes have recently been introduced into popular culture. Everyone is asking, "Do they really exist? Where can I get a small giraffe?" Your intrepid African Culture editor has tracked down the truth, secrets, and yes, where you can buy tiny giraffes.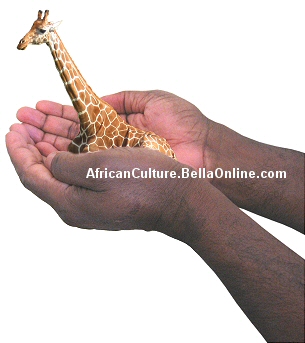 There are two varieties of miniature giraffes: Pygmy and Dwarf. Each variety of giraffe will be discussed in this article.
Pygmy Giraffes
Latin Name:
Giraffe camelopardalis pygmaeus
African Names:
Twiga Ndogo Sana (Swahili)
Pygmy giraffes were unknown to the general world population until about 20 years ago. According to Uncyclopedia.Wikia.com, these miniscule giraffes live in the grasslands of the Okavango Delta in Botswana. The pygmy giraffe grows to only 5 inches tall. Its preferred food are seeds from the very tips of grass blades which are unreachable by other pygmy animals found in the Delta.
You can differentiate a pygmy giraffe from other giraffe varieties by its size and also the paisley-shaped spots on its fur coat.
The population of the pygmy giraffe is hard to determine since these giraffe are hard to find and biologists, although careful, are constantly crushing the tiny giraffe with their safari boots.
Dwarf Giraffes
(Also known as Petite Lap Giraffes)
Latin Name:
Giraffe camelopardalis nanus
African Names:
Twiga Ndogo (Swahili)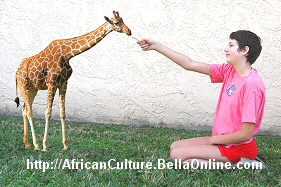 Hannah feeding our petite lap giraffe, Natasha
Dwarf giraffes, although similar to other giraffe varieties, are different in that they have been specifically bred in Russia to maintain a diminutive size. Dwarf giraffes can be as tall as 30 inches and usually weigh no more than 10 pounds. Their gestation period is 420 days.
Dwarf giraffes are generally kept inside a home as a pet. Their favorite food is bonsai leaves, although any small-sized leaves will do. It is best to give them only purified water to drink.
They make excellent pets. Dwarf giraffes are hypo-allergenic, do well around children, and enjoy getting a lot of attention including hugs and kisses.
Recently, dwarf giraffes have made a huge splash in the United States in DirecTV commercials such as
Opulence, I Has It
and I Am Epic Win.
If you are interested in purchasing your own dwarf giraffe, check out Sokoblovsky Farms at PetiteLapGiraffe.com. You can put your name on the waiting list, however, there is currently a wait time of over 70,000 years.
Please note: There are no miniature, dwarf, pygmy, petite lap, miniscule, or tiny giraffes in existence ever. All the images in this article have been heavily edited.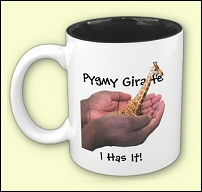 You CAN Have a Pygmy Giraffe!
A mug, iphone case, t-shirt, mouse pad, notecard, and more! You know you love pygmy giraffes. Now you can be the envy of all your friends by showing off your pygmy giraffe items. Send your friends a pygmy giraffe postcard or note card. How about a new case for their iPhone? Or your iPhone? Be sure to get a coffee mug because nothing is better than seeing a pygmy giraffe in the morning!
This site needs an editor - click to learn more!

You Should Also Read:
Giraffe Facts
Pygmy Hippopotamus Facts
African Pygmy Goat Facts




Related Articles
Editor's Picks Articles
Top Ten Articles
Previous Features
Site Map





Content copyright © 2019 by Jeanne Egbosiuba Ukwendu. All rights reserved.
This content was written by Jeanne Egbosiuba Ukwendu. If you wish to use this content in any manner, you need written permission. Contact BellaOnline Administration for details.