Ivy bowl with bead net collar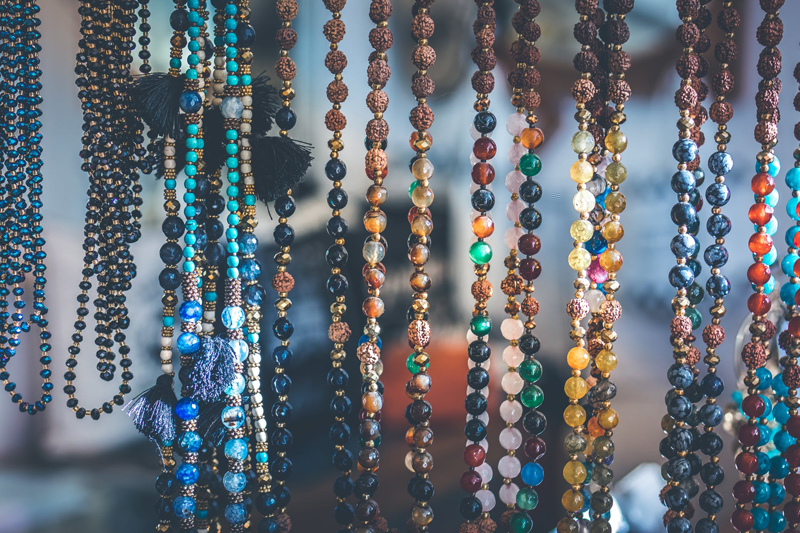 These types of bowls go by a few names, but the most common name I've heard is ivy bowl. They are inexpensive and easily available most craft stores and some party supply stores. Beading a collar for one makes a nice gift for friends who might not wear jewelry, or as a gift to bridesmaids. They are also lovely as small centerpieces filled with flowers. The one in the photo above is one I keep filled in summer with daisies or irises usually.
For this project you'll need:
Experience with single needle right angle weave
Size 11 seed beads in 2 colors
Accent beads- mine are 4 mm fire polish crystals and 6mm rounds
Beading thread
Beading needle
scissors
Ivy bowl with a flared lip
Instructions:
To make the collar for the vase, you start with a single needle right angle weave (RAW) base that's a multiple of 12.
So for this ivy bowl, my base was 60 RAW units. So I made a strip that was 59 units and joined the end units around the bowl to make 60. If a multiple of 12 doesn't fit exactly, it's better to be a little over, it will just rest a little lower on the bowl and the bowl shape will keep it from falling off the bottom. The diagrams are shown flat, but from this point on, they are worked in rounds around the bowl.
Bring your needle and thread to a bottom bead, add 7 beads, and go through the next down bead in the RAW chain, then back through the last 2 beads added. Add 5 beads, go through the next down bead in the RAW chain and back through the last 2 beads added, repeat 4 times for a total of 6 spaces. Using your contrast color, add 15 beads (first scallop) then 2 beads in your main color. Skip 5 down beads on the RAW chain, and go through the next bead, back through the two main color beads add 5 beads, and finish another 6 space section. Repeat that all the way around. On the last scallop, use 15 beads in contrast color, then instead of adding 2 of the main color, you'll go up through the first 2 beads and through the bottom RAW chain they come out of, thread through to the 4th bead in the 7 bead space.
Add 3 beads, go through the center bead of the next space, repeat 4 times. Add 20 beads in the contrast color, and go through the center bead in the next space. Continue around, on the last one, pass needle and thread through to the center bead of the 3 bead space that started the round.
Continue beading, each time, the number of spaces decreases by one, and you add 5 beads on each scallop. So the next round has 4 spaces, and 25 beads for the scallop, then 3 spaces and 30 beads, 2 spaces, 35 beads, and 1 space with 40 beads for each scallop. The last round is the one you add the dangles in, so instead of adding 3 beads and going through the next space, you'll add 3 beads, your choice of stringing pattern for the dangle, back up through the 3rd bead, add 2 and through the next space. Mine was 2 mc, 1 cc, 4mm firepolish, 1 cc, 4mc, 1 cc, 4mm fire polish, 1 cc, 6mm round, 1 cc, 4mm fire polish, 1cc, 3mc, then back through the cc and all the way back up to the first cc added, add 2 mc, and through the next loop. Please look at the diagram, explaining it in words gets long and confusing!
This is what the pattern looks like.
It also makes a lovely necklaces. This is a variation of a technique that's been used in parts of Africa for decorating gourd bowls. Using size 10 seed beads that aren't as uniform as Japanese beads in opaque colors is a wonderfully vibrant look.
You Should Also Read:
Beaded Toggle Clasp
Peyote Stitched Hair Stick
Daisy Chains


Related Articles
Editor's Picks Articles
Top Ten Articles
Previous Features
Site Map



Follow @shala%5Fbeads
Tweet





Content copyright © 2023 by Shala Kerrigan. All rights reserved.
This content was written by Shala Kerrigan. If you wish to use this content in any manner, you need written permission. Contact Shala Kerrigan for details.