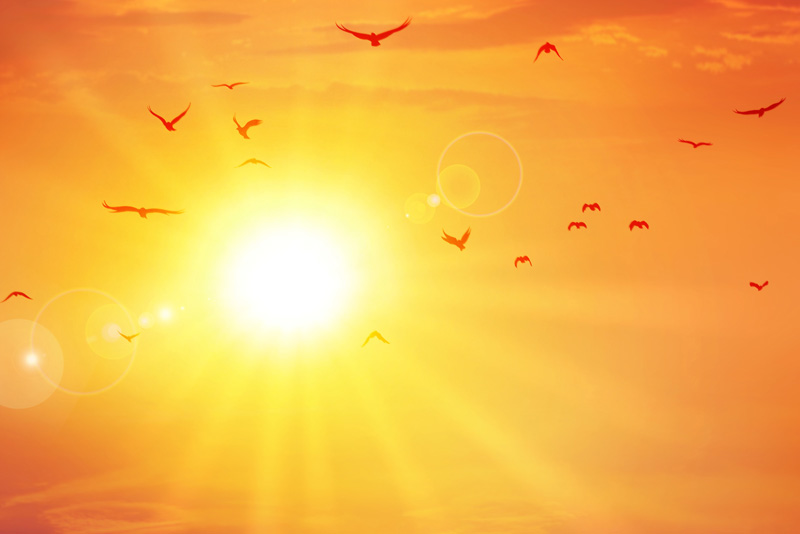 There is an interesting story about the apostle Peter in the book of Acts. (Acts 12:1-19) King Herod Agrippa had been persecuting some of the followers of Jesus. He had them thrown in jail and one of the apostles, James the brother of John, had been put to death. Herod saw that his activities pleased the Jews, so he arrested Peter during the Feast of Unleavened Bread. Peter was put into prison and most certainly would be killed as soon as the Passover was over. This scene takes place on the night before Peter was to be brought out for public trial. He was chained between two guards.
The church in Jerusalem was praying earnestly for Peter and God sent a miracle in the form of an angel to save him. I assume the angel must have caused the guards to stay asleep, but the Bible says that when the angel came in to free him, Peter was also sleeping soundly. So soundly that it took a blow to the side to wake him up.
Now, maybe it's just me, but a jail cell - between two unfriendly guards - doesn't seem like a comfortable place. I wouldn't have been sleeping. At home, in my own bed, I lose sleep over just about any kind of stress - a deadline approaching, large expenses that are coming up, stressful situations at work, disagreements with my husband - or anyone else, company coming, or company in the house. As soon as I put my head on the pillow, my mind starts to mull over the what ifs and the whys and wherefores of every problem.
Peter knew he would be taken to trial the next morning and how could he forget that Herod had just executed James? Yet he was sleeping like a baby.
In finding Peter's secret, I had to take a look at his life. He had been with Jesus, but had made many mistakes - some of them very serious. In the end, he had been forgiven. He spent time with the resurrected Jesus. He received the Holy Spirit at Pentecost along with all the other believers and had been preaching the gospel in some hostile places since that time. Peter wrote in 1 Peter 3:23, that "Jesus entrusted Himself to Him who judges justly." And in 1 Peter 5:7, Peter wrote "Cast all your anxiety on Him because He cares for you." Could Peter have trusted "the One who judges justly" so much that he could cast all anxiety away?
How can I sleep that peaceful sleep that Peter slept? I know Jesus. I have been forgiven. I know His promises. Will I ever feel so secure in Jesus' love for me that I can sleep soundly even in uncomfortable, stressful surroundings?
Jesus said, " I am with you always, to the very end of the age." (Matthew 28:20 NIV)
God promised, "I will never leave you, never will I forsake you." (Hebrews 13:5 and Deuteronomy 31:6 NIV)
Isaiah wrote, " You will keep in perfect peace him whose mind is steadfast, because he trusts in you." (Isaiah 26:3 NIV)
As a prescription for sleep - better than a sleeping pill.

Every night, before putting my head on the pillow, I'll:

Resolve any conflicts with my spouse.

Spend quiet time with God.

Confess any sin that I know I have committed during the day.

Ask God to bring to mind any sins I don't remember or that I don't recognize as sin.

Ask for forgiveness.

Thank God for His blessing on my life.

Remember what the psalmist wrote, "He who watches over Israel will neither slumber nor sleep." (Psalm 121:4 NIV)
With God watching over me, I can sleep peacefully.
You Should Also Read:
Peter's Victorious Faith
Apostles - Peter, James and John
Anxiety or Peace of Mind


Related Articles
Editor's Picks Articles
Top Ten Articles
Previous Features
Site Map



Follow @LynneChapman
Tweet





Content copyright © 2022 by Lynne Chapman. All rights reserved.
This content was written by Lynne Chapman. If you wish to use this content in any manner, you need written permission. Contact Lynne Chapman for details.