Natty Eisbock Beer Geek '11 Talks About Beer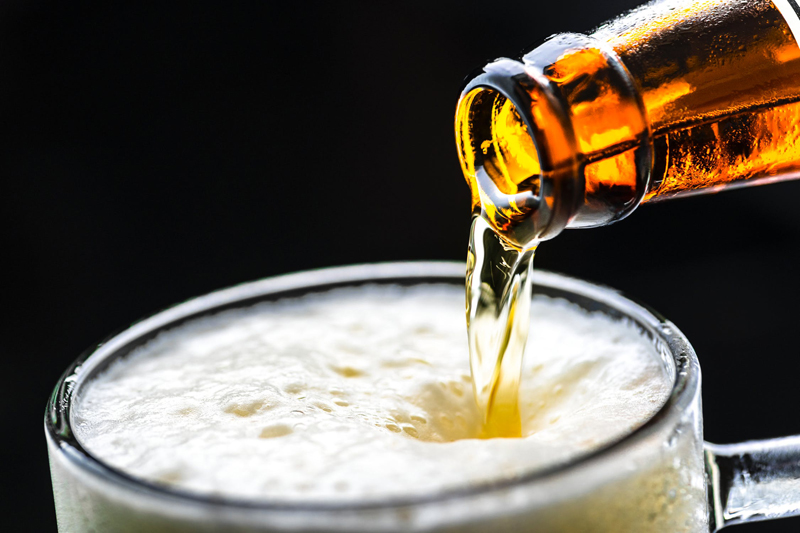 Natalie DeChico, Philly Beer Geek 2011, Talks about Her Involvement with Beer

Carolyn Smagalski, Beer Fox and Co-Founder of the Philly Beer Geek Competition, interviews Philly Beer Geek 2011 Champion Natalie De Chico about the triggers that got her interested in beer.

Carolyn Smagalski: When did you become involved with beer and brewing?

Natalie DeChico: I became involved with brewing at the ripe ole' age of 8. Not drinking, but helping my father brew beer. My Dad has been brewing since 1992 to quench his thirst for good, craft beer.

Around 1992 you couldn't find a huge variety of beer, so he began brewing ales for his friend and himself. He brewed a lot of English Pale Ales, Brown Ales, and Irish Red Ales. Me, being the nosey, hands-on child that I was, always wanted to help him brew.

My dad made me smell the hops and grains and let me taste the wort. Everything smelled wonderful and the wort was sweet and nutty flavored. The wort smelled much better than mom's wine, so I knew what I would eventually drink.

After I graduated from PSU and returned from my England trip, my dad and I brewed a beer to commemorate our travels to England and their pubs. We brewed a beer to honor Kings and Barnes in Horsham, England, a town I student-taught in while in England. The beer was an English-style IPA that had some traditional English Lyle's Golden Syrup in it. That beer is still one of my favorite brews.

We have been brewing together for the past 6 years. A few years ago, my dad was looking online and found a local homebrew club announcing its first meeting at The Hulmeville Inn. We started going to the monthly meetings and enjoyed meeting other homebrewers. It was awesome to see there were other local people brewing, and our club began to take off.


Jeff Louella started the club with about 12 members and meetings on the porch. Now we meet upstairs at The Hulmeville Inn with anywhere from 30-50 people per meeting. While attending the meetings, Jeff Lavin had mentioned he was looking for a bartender with craft beer knowledge and lucky for me, I got a job offer. Between the ALEiens meetings, homebrewing, and bartending at a craft beer bar, my knowledge of all things beer increased dramatically, along with my passion for it all. After four years of teaching and not having a teaching position this year, Weyerbacher's Philly rep, Mike Lubieski, made me aware of a NJ position that Weyerbacher was hiring for. I applied for the position.

Next thing I knew, I was spending a week working in the brewery! 2011 has been a whirlwind of Weyerbacher events, ALEiens meetings and Philly Beer Geek contests. I love every second of it!

C: Did you always like beer?

N: Beer has always been a friend of mine. It has never done me wrong. As much as I have tried, I cannot stomach a glass wine! The same goes for most liquor, except grape vodka. (She laughs)

Growing up helping my dad brew and smelling that wonderful hoppy, malty beer … it was never a question as to what to order at the bars. Don't take this wrong, my father never encouraged me to drink; nor did his brewing force me to drink beer, no, no. I was never allowed to taste his beer until I was 21. It just made it easier to choose that first micro (not macro) brew when I turned 21.

During college, my friends and I would scrounge together enough money for a case of a craft beer once a month. We would treat ourselves to something new each month, something we hadn't tried before.

Luckily, I attended Penn State. We have a few great beer bars out there. Zeno's and Otto's Brew Pub were two of my favorites. Funnily enough, my dad was attending PSU when Zeno's first opened and he was there for their opening night. My mom hung out at Otto's during her PSU years. I frequented Zeno's numerous times after finally turning 21 and my brother heads there on occasion now while he attends PSU also.

Studying abroad in England encouraged my taste and love for REAL ALE also. So yes, I have always and will always love and drink great beer.


C: You always drank "good" beer, didn't you? What made you avoid the macro lagers?

N: The taste, or lack thereof. Also, all the promotion and commercialization of macro beers! Doesn't that tell you something? It is so horrible they have to show tons of commercials and give away so many freebies just to get you to drink their beer.

C: Oh, wait, Natalie! Hold on a minute! Didn't I see you taking a gulp of Natty Ice at the Semi-Finals? Tell me about that.

N: Mmmmm Natty Ice… soooo good and refreshing! Just kidding! (she laughs)

To start, my name Natty Eisbock is a play on Natty Ice, the nick-name for Natural Ice. I used to get called Natty Ice because I might have drunk it a few times in college … hey, it was cheap! I upgraded Natty Ice to Natty Eisbock to reflect what I drink now.

The cans and 40 oz bottle of Natty Ice were a trick. The cans were emptied and cut open, then wrapped around Sly Fox cans. We used to wrap beer cans around our soda cans as a joke when we were kids. I loved seeing everyone's face when I took a sip of the Natty Ice (Sly Fox Pikeland Pils)! The 40 oz bottle was emptied and filled with Victory Summer Love to make sure the beer was close in color with Natural Ice.

Cheers

Photos are (from top): Natalie DeChico with Rosemarie Certo of Dock Street Beer and Natalie's beer brewing dad; Jeff Lavin, Philly Beer Geek sponsor, the Hulmeville Inn; Natty Eisbock cheers contestant, with fake cans of Natty Ice in front of her.

Want to start brewing too? Simple tools begin with a hydrometer test
Hydrometer Test Jar for Home Brewing or Wine Making 12 Inches Tall


Do you KNOW how many professional brewers started with a simple homebrew kit? Maybe it's time to try something new.
Mr. Beer Premium Gold Edition Home Brew Kit
You Should Also Read:
Natalie DeChico Philly Beer Geek 2011 - Interview
2011 Philly Beer Geek Finals Highlights
Competitive Homebrewing


Related Articles
Editor's Picks Articles
Top Ten Articles
Previous Features
Site Map





Content copyright © 2023 by Carolyn Smagalski. All rights reserved.
This content was written by Carolyn Smagalski. If you wish to use this content in any manner, you need written permission. Contact Carolyn Smagalski for details.