2011 Philly Beer Geek Finals Highlights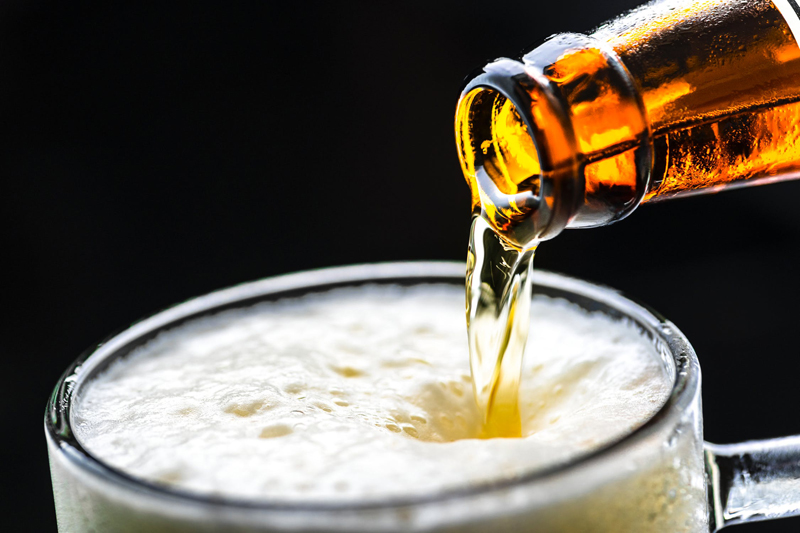 From the beginning, Natalie DeChico presented herself as a winner. This petite young woman had been preparing herself to be the next Philly Beer Geek for months, checking out the websites, asking where Preliminary Rounds were to be held, and studying beer trivia until 2:00 a.m. On May 24th, 2011, she was the only woman competitor at the Semi-Finals Competition at Manayunk Brewery & Restaurant where her small frame stood barely noticed among a field of a dozen hulking testosterone giants.

At the Semi-Finals, the Illustrious Panel of Celebrity Judges was comprised of men, too – eight of them, who proved to be brilliant, raucous, and looking for blood. Many women would have been too timid to compete, but when the judges teased the competitors saying, "What's wrong with all of you? No one has tried to bribe us yet …" Natalie gave a splendid leap from her place on-stage to throw a Franklin C-note at them. The room rocked with laughter. She ran into the crowd, passing out her home-made beer cookies as if she were Famous Amos himself.

No one was surprised when she was named as a Finalist, to enter competition against 5 men on June 9th, 2011. She went into the competition as the strong horse, but it was a long shot, with many convinced that she would show well, but not take the crown. Could she win?


The field was tough. Three of the Finalists – Andrew Pope, Mike Gretz, and Dan Berlin – had been Finalists in past Philly Beer Geek competitions. In this competition that demands knowledge, quick wit, and creativity, experience can be a distinct advantage. But attitude (translate that as "passion") is everything. At the Finals, DeChico arrived in a dress made of hops, with hops in her hair and a 6 karat hop-ring that she attributed to her first love, Newcastle Brown Ale.

Emcees at the Finals were Philly Beer Geek Founders Jason Harris of Keystone Homebrew Supply in Montgomeryville, PA and yours truly, Carolyn Smagalski, Beer & Brewing Editor at BellaOnline. Finalists took their positions, ready for a battle of wits. Judges paraded in, dressed in black gowns and Mardi Gras beads, but foregoing the traditional white wigs due to the unseasonably sweltering weather.

Seated on the Illustrious Panel of Celebrity Judges were:

Doug Marchakitus, Head Brewer of Manayunk Brewery in Manayunk, Philadelphia

Stephen Hawk, Philly Beer Geek 2010 Grand Prize Champion, who had been sponsored by Jeff Lavin at Hulmeville Inn, Hulmeville, PA


Marnie Old, He Said Beer She Said Wine Co-author(with Sam Calagione) and award-winning Sommelier and Drinks Writer of Philadelphia, PA

Tom Kehoe, veteran Owner of Yards Brewing Company in Philadelphia, PA

Rosemarie Certo, Leading Lady in the microbrewery movement of the 1980's-90's and veteran Owner of Dock Street Brewing Company of Philadelphia, PA

Scoats, (aka Mike Scotese) Owner of the Grey Lodge Pub and Hop Angel Brauhaus in Philadelphia and inventor of Friday the Firkinteenth and the Hawaiian Shirt Breakfast on Groundhog Day


Finalists had earned their right to be in the competition. They had won Preliminary Beer Geek Rounds at a sponsoring Beer Bar or Brewpub in either Philadelphia or the surrounding suburbs, and passed through the daunting Semi-Finals for a seat as a Finalist. They had also chosen beer monikers to add definition and individuality in their race to the finish-line. The winner was to take home the title as Philly Beer Geek 2011, plus a cache of prizes valued at over $2800 and all the opportunity that goes with the title.

Philly Beer Geek 2011 Finalists were:

Dan Berlin – Man Full of Trouble – sponsored by Dock Street Brewery & Restaurant in Cedar Park, Philadelphia

Natalie DeChico – Natty Eisbock – sponsored by Hulmeville Inn in suburban Hulmeville, PA

Mike Gretz – Herr Biermikester Gretz – sponsored by Brauhaus Schmitz on South Street in Philadelphia

Austin Litteral – Half Pint – sponsored by Triumph Brewing Company in Old City, Philadelphia

Andrew Pope – The Beer Pope –sponsored by Iron Abbey Gastro Pub in suburban Horsham, PA

Ryan Sloan – Hop Juice – sponsored by Manayunk Brewery & Restaurant, Manayunk, Philadelphia

They came prepared. Mike Gretz handed out cookies decorated with his name, along with a brilliant yellow poster that flashed, "Vote Gretz for Philly Beer Geek 2011."Beer Pope Andrew Pope bribed the judges with select bottles of beer. Even a rare bottle of Dark Lord made it to the Judges' table.

In the first round, the Finalists were treated to a level playing field, with all competitors using whiteboards to answer the same trivia questions about brewing, off-flavors, acronyms, beer history, and the Philly beer scene. Then it got tougher, as each was thrown a twist of fate with beer-to-brewery pairings. Dan Berlin knew that Peggy Maibock hailed from Sly Fox Brewing. But it was a bit unnerving to one of the beer geeks who was asked what brewing company made Hop Angel Brauhaus' Angel Fuel for Judge Scoats. The contestant missed it, even with Judge Rosemarie Certo sitting front-and-center. (Dock Street is the brewer.)


Finalists fielded Free-form questions from the judges, profiled 3 beers in a blind taste-test, and gave little-known facts about their sponsors. Amidst the extraordinary show of geekism, Scoats was proud to announce that his Grey Lodge Pub was indeed on Esquire's list of Top Beer Bars in the United States.

The judges, themselves, showed noteworthy knowledge during the Stump the Chumps segment – one in which each Finalist attempts to query a selected Judge with an impossible question. The judge can use one other judge as a lifeline. When asked by Ryan Sloan to name 3 breweries that existed in Brewerytown that no longer exist – or 2, if they could name the building they had occupied - the judges leaped in with at least 6 or 8. It was impressive.

The Final Round was designed to expose the relationship each Finalist has with beer. Each finalist had been given this final question, with nearly a week to prepare their answer. The 2011 question focused on the Big D – Divorce. "Finalists, this is the beer you loved at one time – now it's the beer you love to hate - the beer you need to divorce yourself from! Why did you love it? Why don't you anymore? And, most importantly, what new beer do you long to replace your former beer-bride or groom with?"

Natalie DeChico entered this final round with plenty of props, while gushing with enthusiasm for her beers – both old (Newcastle Brown Ale) and new (Yards Old Bart). With posters of herself in England with her Old beer, her famous hop ring, and a final, unforgettable "Old Bart with an Old Fart" graphic, her passion was hard to ignore.


The judges had a tough time of it. The top three winners were separated by a fraction of a point, like racehorses in the final heat of the Kentucky Derby. Dan Berlin from Dock Street took third place, despite his incredible trivia knowledge, bright smile, and refined palate. Mike Gretz from Brauhaus Schmitz placed a close second, a painful loss to one who came so close to the sweet spot.

But when Natalie DeChico was announced as Philly Beer Geek 2011, she leaped high enough to touch the stars. Now I understand why they're called "Super Stars."

Cheers!

Photos are (from top): Natalie DeChico wins Philly Beer Geek 2011 with Dan Berlin, Mike Gretz and Andrew Pope in the background; Finalists Austin Litteral and Andrew Pope banter with Judge Marnie Old; Judges Doug Marchakitus, Rosemarie Certo, Marnie Old, Scoats and Tom Kehoe in back row with Judge Steve Hawk in foreground; Mike Gretz tastes bee in front, with DeChico and others in background; Judges Marnie Old, Tom Kehoe, Steve Hawk, and Scoats have a laugh with the Finalists


You Should Also Read:
Philly Beer Geek - Worth the Title
Philly Beer Geeks
The Human Growler Becomes a Legend


Related Articles
Editor's Picks Articles
Top Ten Articles
Previous Features
Site Map





Content copyright © 2023 by Carolyn Smagalski. All rights reserved.
This content was written by Carolyn Smagalski. If you wish to use this content in any manner, you need written permission. Contact Carolyn Smagalski for details.