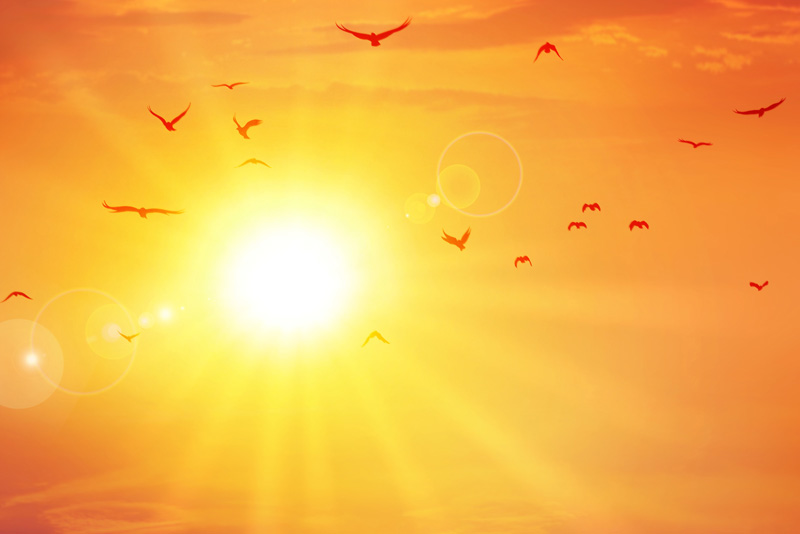 There seems to be so much to be afraid of and to worry about these days. The economy, air pollution, unemployment, terrorism, crime, the opinions of other people, speaking in front of people. The list goes on. Maybe that is the reason that the Bible is full of "fear not" verses. God reminds us over and over that He is in control and He loves us. Trust in Him and in His promises will bring us peace and dissolve fear.
Do you find yourself worrying about circumstances of life? Below are 19 Scripture references in which we are told that we should not be afraid. After each reference is my personalization of the verse. Choose one per day, look up the passage and meditate on its meaning for you. Ask God to help you to realize the truth of the passage.
Psalm 23:4
Even when I walk through the darkest and most frightening part of life, I will not be afraid, because I know that God is close beside me. His power and strength comforts me.


Isaiah 41:13
God is holding onto me by my right hand. He says that I am not to be afraid because He is there to help me.


Exodus 14:13
Moses told the people to not be afraid. They were just to stand and watch God work. In the trials of my life, I will stand and watch God work.


Deuteronomy 31:6
I will be strong and courageous! I won't be afraid or panic. God will personally go ahead of me and He will not abandon me.


2 Timothy 1:7
The spirit of fear is not from God. He gives me a spirit of courage, power, love and self-discipline.


Psalm 27:1
God is my light in the dark. He is my salvation. He is strong and powerful. He is my protection. Why should I be afraid?


Luke 2:10
The angel assured the shepherds that they should not be afraid for he had good news about the long awaited Savior. My Savior is here.


Luke 12:7
God is concerned with my welfare. He even knows the number of hairs on my head. I am much more valuable to Him than the birds that He takes care of everyday. I will trust him to care for me.


Hebrews 13:5,6
I don't have to run after things to make me feel secure. God said, "I will never fail you. I will never abandon you. So I can say with confidence that God is my helper and my protector. What can anyone do to me?


John 14:27
Jesus left a gift for His followers. It was the gift of peace of mind and heart. No one and no thing can give peace like He gives so I don't need to be afraid. I have His perfect peace.


Isaiah 54:4
When God forgives, there need be no more shame or disgrace over past sins, no more fear. He says to fear not; you will no longer live in shame.


Isaiah 41:10
God says not to be afraid or discouraged because He is with me. He will strengthen me and help me with His mighty right arm.


Matthew 10:26
Jesus said to not be afraid.


Matthew 6:34
Jesus said not to worry about tomorrow. I'll take care of today.


Romans 8:15
I am not a slave to fear or sin. I have received God's Spirit as His beloved child.


Romans 8:31
I have the blessings of God's love. God is on my side. Why should I be afraid of anyone being against me?


1 Corinthians 16:13
I will stand firm and be aware. I will be strong and courageous.


2 Corinthians 9:8
God gives me all I need. I will always have enough and even extra so I can share.


Philippians 4:6
I will not worry. I will pray about everything and tell God what I need. I will be grateful for what He has given.


1 Peter 5:7
I can hand over all my fears and worries to God. He love me.


Philippians 4:19
God has proven Himself faithful. He will supply all my needs from His abundance. His glorious riches have already been given to me in Christ.


1 John 4:18
Perfect love - the love I receive from God is incompatible with fear.
There are many more "fear not" verses. Add to this list as you study the Bible.
You Should Also Read:
Fifteen Minutes With Jesus
Living a Holy Life
40 Days to a Richer Life


Related Articles
Editor's Picks Articles
Top Ten Articles
Previous Features
Site Map



Follow @LynneChapman
Tweet





Content copyright © 2021 by Lynne Chapman. All rights reserved.
This content was written by Lynne Chapman. If you wish to use this content in any manner, you need written permission. Contact Lynne Chapman for details.