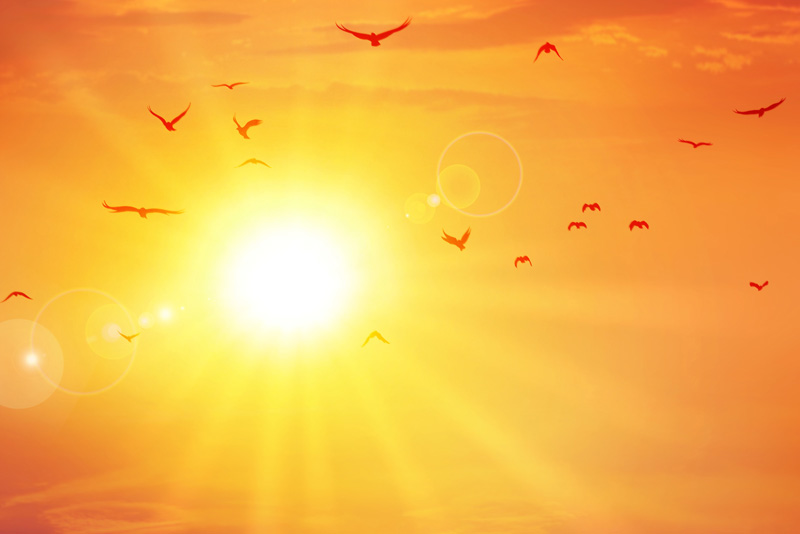 Are you feeling stagnant? Do you want to make a great change in your life? Make a commitment to meditate on God's word everyday for forty days. You may choose to read a portion of the Bible every day or just one verse. Below, you will find 40 promises for the Christian believer. They are a good place to start. Every day for 40 days, read one promise, look up the verse, write it down and refer to it throughout the day and one last time before you go to bed for the night. How does each promise affect you? How does it apply to your life?
Philippians 4:6,7 God promises that I don't have to be anxious or worried about anything. He says that if I present my requests to God by prayer with thanksgiving, He will send peace that is beyond my understanding. He will guard my heart and mind.


Philippians 4:19 God promises that when I give to God, His people, and His work, He will meet all my needs according to His glorious riches. Giving to God does not deplete my supplies.


Ephesians 2:8-10 God promises that I have been saved through faith by God's grace. My salvation is a free gift. It is not something that I have to work for – something that I could never work to achieve. I am God's workmanship.


1 Corinthians 10:13 God has promised that I will not be tempted beyond what I can bear and that when I am tempted, He will provide a way out. In any temptation, I can be sure that He knows what I can stand up to and that He will help me walk away from it.


Romans 8:28 We who are loved by God and who have been called by Him are promised that He will work in all things for our good. It may not be for my comfort but it will be for my good. He wants me to be conformed to the likeness of His Son.


John 14:2,3 Jesus promised that the Father's house has lots of room and that He has prepared a place for me. He has promised that He is coming back to take me to be with Him in Heaven. I will never be homeless.


John 14:15-18 Jesus promised that as one who loves Him, I have the Holy Spirit, the Counselor Who lives in me. I am not alone.


John 14:12-14 Jesus promised that whatever I ask in His name, He will do it. In His name means according to His will. I'm acting as Jesus' representative.


Psalm 40:5 God promises that He has planned wonderful things for me – too many to count.


Psalm 23:6 God promised that goodness and mercy will follow after me for all of the days of my life and I will live in His house forever.


Psalm 46:1 God has promised that He is my refuge and my strength. He is always near when I need help.


Matthew 6:8 My God says He knows what I need before I even ask. I can pray with confidence that He hears me.


Luke 12:31 God promised that I don't have to worry about what I will eat or wear because if I seek His kingdom first (put God before everything in my life), He will give me all that I need.


Galatians 5:1 Christ has set me free. I am not a slave to sin.


2 Timothy 2:13 Even if I am weak, He is strong. If my faith is weak, He is faithful.


Hebrews 10:10 By the sacrifice of Christ, I am holy. By that one time act, I am guilt free and of value to God for His service.


Ephesians 2:19 Although I once felt like an outsider to God, He has made me a member of His own household.


Matthew 5:4 When I recognize and mourn over my shortcomings, God will comfort me.


1Thessalonians 5:24 God promises to complete the work He has begun in me. He called me by grace and will continue to work out my Christian growth.


2 Peter 1:3 God's divine power gives me everything I need to live a godly life. Vital spiritual life is attained through intimate knowledge of God.


Colossians 2:13-14 I was dead in my sin (separated from God) and Christ cancelled the sin and gave me new life in Him.


Hebrews 13:5 God promises that He will never abandon me. He will never leave me.


Psalm 147:3 The Father heals my broken heart and tends to my wounds.


1 Corinthians 13:8 Where in this world everything will fail and pass away, God's love never fails.


1 John 5:14 God hears me when I ask for anything according to His will.


1 John 3:1 God loves me so much that I am called a child of God.


James 4:8 God has promised that if I draw close to Him, He will draw close to me.


Isaiah 46:4 God created me and will protect and sustain me all the days of my life.


Romans 8:29 God knew me before I knew Him and He will conform me to the likeness of His Son.


Ephesians 1:4 Before the creation of the world, God chose me to be blameless and holy in His sight.


Ephesians 1:13,14 As a believer, I have been marked with the seal of the Holy Spirit. He guarantees my inheritance until Christ returns.


Romans 12; 2,3 By God's mercy, I can be transformed by the renewing of my mind and will know what God's will is.


James 1:5,6 If I, in faith and belief, ask God for wisdom, He will give it generously.


Romans 8:26 I am always weak and I don't know what to pray. The Spirit continually intercedes for me with groans that words can't express.


Hebrews 6:17 God does not change. I can count on Him.


Ephesians 3:20 God will do immeasurably more than all I ask or imagine.


Romans 8:11 The same Spirit who raised Jesus from the dead lives in me and will give life to my mortal body.


Psalm 103;12 God has removed the guilt of my sin as far as the east is from the west.


Psalm 103:17 God's love is forever with those who love Him.


Matthew 24:35 I can depend on the Lord. Heaven and earth will pass away but His words will never pass away.
You Should Also Read:
A Biblical Promise for Tough Times
Anxiety or Peace of Mind
Eternal Security


Related Articles
Editor's Picks Articles
Top Ten Articles
Previous Features
Site Map



Follow @LynneChapman
Tweet





Content copyright © 2022 by Lynne Chapman. All rights reserved.
This content was written by Lynne Chapman. If you wish to use this content in any manner, you need written permission. Contact Lynne Chapman for details.