Christian Attitude Adjustment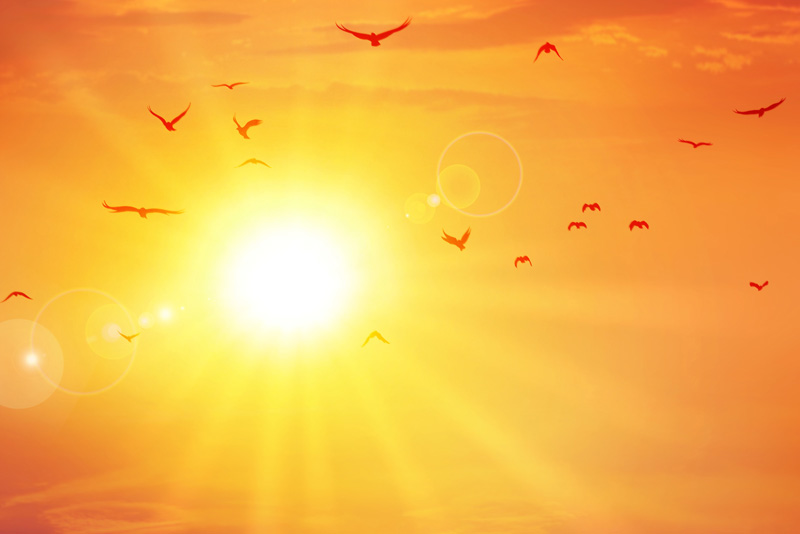 Five or six days a week start off with the alarm clock sounding the opening of the starting gate. Coffee and/or breakfast to be made, showers to be taken, kids off to start their day, dress for work, morning commute, meetings, responsibilities and maybe if there is time, spending time with the family. Just where, in that schedule, do we fit time with God? Prayers are often prayed on the run, at traffic lights or on the way to meetings, but where is the time in God's word? Too much time spent spent away from His word allows thoughts and feelings to crowd in that are not in agreement with His teaching. Our whole attitude begins to suffer affecting our relationship with our Heavenly Father and our earthly family and friends.
This is a 7 day plan for attitude adjustment. Remembering who we are and Who He is is the beginning of a Christian life. Read the Scripture and meditate on the thoughts for each day. It will take barely 15 minutes each day. After the week is finished, find a Bible study plan that requires study every day. Find one that can be done in 15 minutes if that's all the time you can spare. You may discover that you can spare 30 minutes a day or more.
Place your Bible out in a convenient place along with the 7 Day Attitude Adjustment. Begin.
Day 1
Statement: I am not an accident. I was created to be just as I am - uniquely me.
Question: What part of me am I unhappy with? Is it the size of my hips or my ears or my shy personality that bothers me?
Scripture:
God created man (and woman) in His own image. Read Genesis 1:27

God made me and actually formed me in the womb. Read Isaiah 44:2

Day 2
Statement: It is not about me! I was created for Christ.
Question: How am I living for my own agenda and not for God's purpose?
Scripture:
All things were created by Christ. All things were created for Him. All things hold together in Him. He not only created all things but it is through Him that they continue to exist. Read Colossians 1:16

We are God's creation to do good works. Good works that were prepared for us to do by God. Read Ephesians 2:10


Day 3
Statement: Peace comes when I resolutely trust God.
Question: Where is there worry and uncertainty in my life? If my friends were asked, what would they say is the focus of my life?
Scripture:
Perfect, complete peace comes from trusting God completely - keeping thoughts on Him. Read Isaiah 26:3

Jesus gives us His peace. What He gives, He gives perfectly and abundantly. Read John 14:27


Day 4
Statement: There is more to life than just here and now. I was made for eternity.
Question: With this in mind, what changes should I make? What habits from the old life should I stop doing? What should I start doing?
Scripture:
The world we live in, along with everything in it, is fading away. Those who live in close fellowship with God, doing His will, rejecting evil, are unaffected by it. Read 1 John 2:17


Day 5
Statement: This world is not my home.
Question: How should this fact that life on earth is just a brief existence change the way I am living right now? How am I preparing for eternal existence?
Scripture:
What we see with our eyes, the material world, is temporary and fading away. The spiritual world is eternal.
Read 2 Corinthians 4:18

We live by faith, not by sight. Read 2 Corinthians 5:7


Day 6
Statement:It is all for Jesus. God is the Sovereign of all things.
Question: How can I become more aware of His glory in order to praise Him more?
Scripture:
Everything comes from God and exists by His power. It is intended for His glory. Read Romans 11:36

There is one God and Father. He is over everything. To Him be the glory. Read Ephesians 4:6 and Galatians 1:5


Day 7
Statement:I was planned for God's pleasure.
Question: Does God take pleasure in the way I live my life? How can I start doing my everyday chores and obligations for His pleasure?
Scripture:
The Lord delights in His people. He takes pleasure in me. Read Psalm 149:4

Whatever I do, I do for the Lord. He is my boss more than any earthly employer. Read Colossians 3:23-24

God made Himself known to me; He fills me with joy in His presence. Read Psalm 16:11
At the end of this week, my prayer is that you will want to spend more time in God's word. It may require rising earlier in the morning, but it is well worth it.
You Should Also Read:
Fifteen Minutes With Jesus
Fear Not Bible Verses
Learn What the Bible is all About


Related Articles
Editor's Picks Articles
Top Ten Articles
Previous Features
Site Map



Follow @LynneChapman
Tweet





Content copyright © 2021 by Lynne Chapman. All rights reserved.
This content was written by Lynne Chapman. If you wish to use this content in any manner, you need written permission. Contact Lynne Chapman for details.