Tired of eating the same old sandwiches?
Ploughman's Deli Filler
is a great change from that ubiquitous ham & cheese sandwich, and one that is sure to become popular with everyone. Deli Fillers are available at most European grocery stores; they come in dozens of flavors like cheese and onion, crab salad, and coronation chicken to name a few. The following deli filler was copied from one purchased in Asda, a large grocery chain in the UK, and is a new favorite of the Official Hancock Tasters. This filling is best on crusty rolls, but is also good on mixed grain and whole wheat rolls and bread, or whatever is available in the cupboard.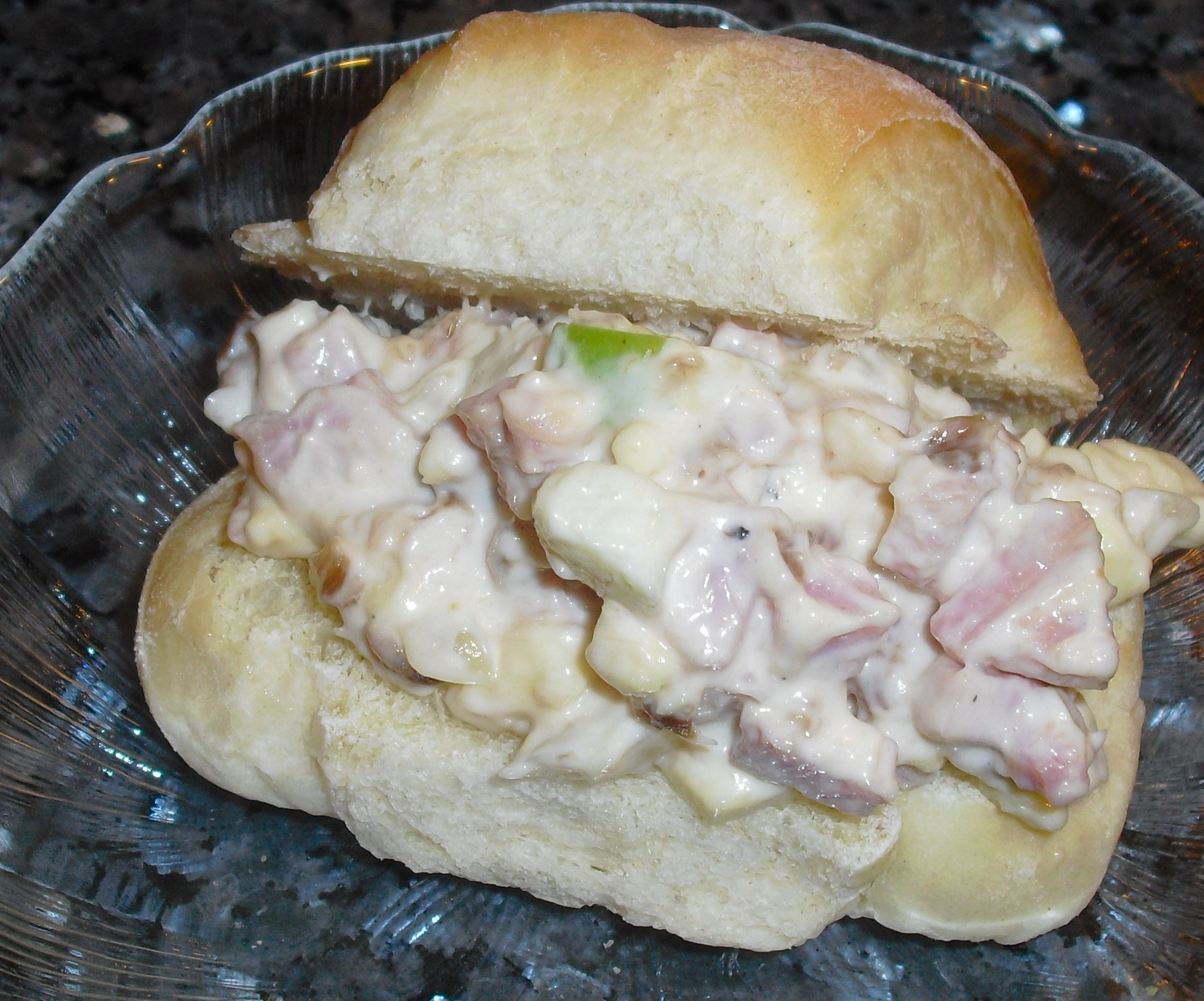 A true "Ploughman's Lunch" consists of bread, cheese, pickles, and salad and/or fruit and is a popular item on the menus of most pubs in Britain. It got its name because these ingredients were sent with the ploughmen who worked outside in cold weather; the ingredients stayed chilled in the worker's pockets. This Ploughman's Deli Filler takes the ingredients and mixes them with a little mayonnaise to create an all-in-one Ploughman's sandwich.
The Brits are really keen on pairing cheese with condiments like chutney, Red Onion Marmalade, or picalilli relish. If there are no homemade Caramelized Onions available, and there's no time to make up a batch of Slow Cooker Red Onion Marmalade, feel free to substitute picalilli relish or a favorite chutney.
6 Servings
1 cup ham, cut in 1/4" dice
1/4 cup caramelized onions from the
Caramelized Onion Module
or
Slow Cooker Red Onion Marmalade
2 tablespoons pickled onions, or cocktail onions, chopped
1 cup English mature cheddar, or sharp cheddar
1/2 cup Granny Smith apples, peeled, cored, and finely chopped
1/2 to 1 cup mayonnaise
lettuce
sliced tomatoes
Mix all ingredients well. Spread on fresh buns and garnish with lettuce and tomatoes.
Amount Per Serving
Calories 261 Calories from Fat 209
Percent Total Calories From:
Fat 80% Protein 13% Carb. 7%
Nutrient Amount per % Daily
Serving Value
Total Fat 23 g 36%
Saturated Fat 7 g 37%
Cholesterol 37 mg 12%
Sodium 501 mg 21%
Total Carbohydrate 4 g 1%
Dietary Fiber 1 g 2%
Sugars 0 g
Protein 9 g
Vitamin A 9% Vitamin C 17% Calcium 0% Iron 3%