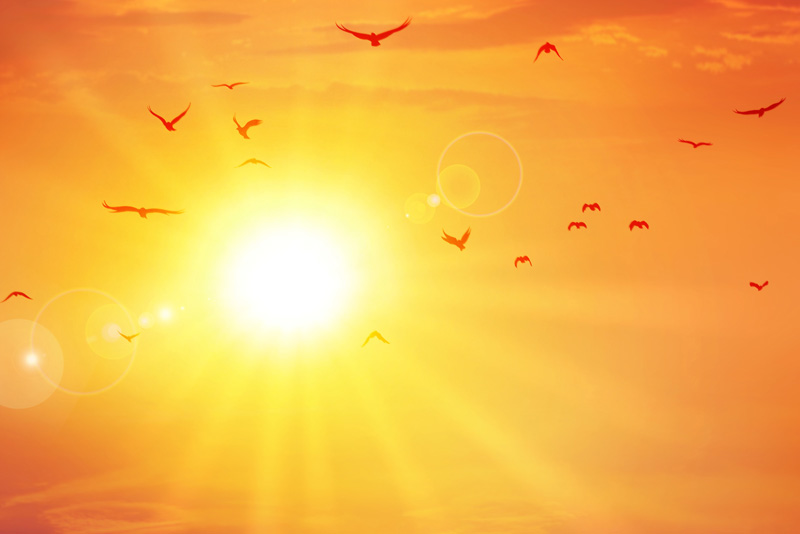 I've been thinking of planning my funeral service- writing it all down so that my loved ones won't have to worry about it. I know that I won't be there to see it or to make sure they follow my instructions but I hope they will. I know that there will be sadness. We miss our close family and friends who pass on. Some may think it is a little weird but I know how I want my funeral or memorial service to be. I want an attitude of celebration. I want the people I leave behind to be happy for me and to know where I am - I'm at the party.
As a Christian, I am fully confident that the end of life here on this earth means that I enter life with Jesus and join the many believers who have gone ahead of me.
After Jesus' death and resurrection, He spent forty days proving to his disciples that real physical life after death is a certainty. He would appear among them, talk to them, allow them to touch His wounds and even ate meals with them. I think He did this so that they would be confident and even look forward to the life ahead after the end of their life here. (Acts 1)
According to the Bible, I know that there is a home for me. Jesus said, in John 14, that His Father's house has many rooms. He said He was going there to prepare a place for His followers. He promised to come back and take us there to be with Him. I think that I can depend on the Creator of heaven and earth to prepare a place that is beyond my greatest expectations.
Jesus taught in Luke 13:29, about the feast in the kingdom of God. When Jesus returns and gathers all His followers it is referred to as the marriage supper of the Lamb. We, the believers, the body of Christ, are the bride. The marriage supper is a great party and celebration.
Revelation 19:9 says, " Blessed are those who are invited to the marriage supper of the Lamb." (NIV)
Revelation 7 tells about heaven. There will be no hunger or thirst. Everyone will be satisfied. The weather will be perfect. The Lamb (Jesus) who is at the center of the throne will be our shepherd. He will lead us to springs of living water. And God will wipe away every tear from every eye.
That is worth repeating. There will be no tears, no death or mourning or crying or pain. Jesus makes everything new. (Revelation 21:4-8)
So, I'm planning a celebration for everyone that I leave behind. If you happen to be at my funeral or memorial service, hug and comfort one another, sing happy songs, glorify Jesus, and know that I am at The Party. I can't wait for you to be there too.
As it says in Colossians 3, don't worry about the troubles of this world, set your hearts on things above, where Christ is seated at the right hand of God. We're going to the party!
You Should Also Read:
Fear of the Gospel
God's Word - Anchor for the Storm
Death and Eternal Life


Related Articles
Editor's Picks Articles
Top Ten Articles
Previous Features
Site Map



Follow @LynneChapman
Tweet





Content copyright © 2021 by Lynne Chapman. All rights reserved.
This content was written by Lynne Chapman. If you wish to use this content in any manner, you need written permission. Contact Lynne Chapman for details.